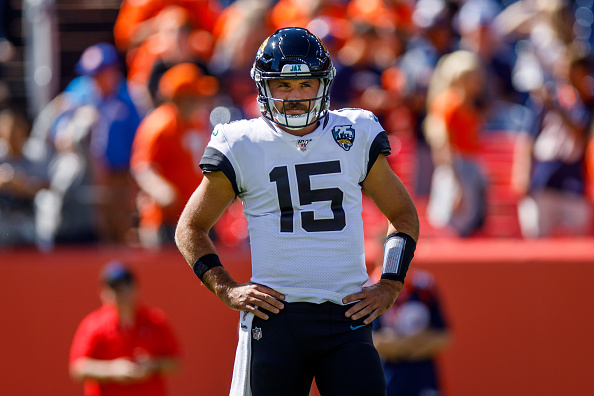 In week three, we saw 20 quarterbacks that are 26 or younger start, which was an NFL record. While some were put in that position due to injuries, few proved that they are capable starters. Others, however, showed that they should stay as backups. This ranking will be based on performance and career projections as they move forward into the season.
Top 20 Quarterbacks Aged 26 or Younger: 11-20
Luke Falk entered the season as the third-string quarterback behind Sam Darnold and Trevor Siemian. After Darnold was diagnosed with mononucleosis and Siemian went down with an ankle injury against the Cleveland Browns, Falk was thrown into action. The Washington State product performed well in relief against the Browns, but his first career start against the New England Patriots was a game to forget, throwing for a total of 98 yards. He is a capable back up at best, but not an every-week starter.
Mason Rudolph was the direct backup to Ben Roethlisberger to start the season, and after a week one elbow injury to "Big Ben," Rudolph will presumably be the starter for the rest of the season. He has kept his team close in each of his first two starts—against the San Francisco 49ers and Seattle Seahawks—losing by a total of six points. He needs more experience to develop a better connection with his offense in order to win those close games, but he has shown promise to be a quality back up.
Josh Rosen could not have started his first two NFL seasons on worse teams. He started for the Arizona Cardinals in 2018, which lead to a complete disaster of a season in which the Cardinals struggled to a 3-13 record. The Cardinals hired Kliff Kingsbury in the offseason to turn them around, but in order to do that, Kingsbury wanted his quarterback. So the Cardinals drafted Kyler Murray and sent Rosen to the Dolphins. He started the season as a backup to Ryan Fitzpatrick and played in their blowout games, but was named the starter in week three due to poor play by Fitzpatrick. However, he has not been too inspiring either. Whether it is him or the rebuilding Dolphins to blame remains to be seen, but it is not looking good in his first two years as a pro.
Teddy Bridgewater has found himself in a good spot re-signing with the Saints. He had the opportunity to learn under Drew Brees for an entire offseason, and with the hand injury to Brees in week two, Bridgewater will play for at least another month as Brees recovers. He has always shown the potential to be a good starter in the NFL but a few injuries in his career had some teams scared of him being a franchise leader. Once Brees comes back, Bridgewater will go back to the bench, but this a great opportunity for him to show teams he can play at a high level and will be looking to sign with a team that needs a short-term starting quarterback this upcoming offseason.
Undrafted out of the University of Houston, Kyle Allen has shown in his two games as a starter that he can play in the NFL. He has a 3-0 record to go along with 759 yards in the air and a 6-0 touchdown to interception line. His play is starting to make the Carolina Panthers question Cam Newton's status as the franchise quarterback as he recovers from a shoulder and foot issue. The Panthers and their fans will closely watch him as the weeks go on to see if he can turn their season around for good and possibly make them playoff contenders in a tough NFC South division.
Minshew Mania is alive and well down in Jacksonville, and for good reason. A sixth-round draft pick out of Washington State, Gardner Minshew has broken a few records to start his career after a broken left-clavicle in week one to free-agent signee Nick Foles. He has a completion percentage of 73.9 and a 110.6 passer rating in his first three games, both are NFL records to start a career. In week four, he also led the Jaguars on a game-winning drive against the Denver Broncos in another good outing. If he keeps this pace up until Foles is healthy again, Minshew might be the best quarterback the Jaguars got this offseason as they search for a playoff spot after a disappointing season last year.
The number one overall pick in the 2015 NFL Draft, Jameis Winston, has not lived up to the expectations coming out of college. He has always had an issue for turning the ball over, as he has a career of 106 total touchdowns compared to 86 total turnovers. This inconsistency has kept the Buccaneers out of the playoffs during his tenure and there have been several questions leading up to this season for his status as the starter. He has always shown flashes of being a capable starter, he just cannot do it on a week to week basis like he did at Florida State.
Mariota and Winston will always be linked together being drafted with the first and second pick in the 2015 draft. Mariota, like Winston, has shown the capability to be the best quarterback on the field, but inconsistencies and injuries have gotten the better of the Oregon Heisman winner. His display as a dual-threat in college has not translated as well in the NFL, as he gets nervous under pressure causing some bad decisions, evident by taking nine sacks against the Jaguars in week three. The Titans might be hesitant to give him a new contract this upcoming offseason as he heads for free agency.
The Giants took heavy criticism after drafting Daniel Jones with the sixth overall pick in this year's draft, but so far he has proven everybody wrong to start his career. He lit it up in the preseason, making some Giants fans wish he could start for the franchise to start the season. After starting 0-2, the Giants benched Eli Manning in favor of Jones. In his first start, he threw for 353 yards with two passing touchdowns and zero interceptions including two scores running. "Danny Dimes" orchestrated a come back win against the Buccaneers, winning the trust of a Giants fan base that has seen better days. He looks to prove some doubters wrong as the season moves forward.
Kyler Murray was drafted first overall to replace Josh Rosen to better fit new head coach Kliff Kingsbury's offensive scheme. He joins Cam Newton as the only quarterbacks ever to throw for 300 yards in consecutive games to start his career, with a little help from a comeback tie to the Detroit Lions in his first start. He has flashed potential to be Arizona's franchise quarterback, he just needs time adjusting to the skill level of the NFL as the concerns of his height have been evident in his first four games with numerous batted balls. Once he and Kingsbury's offensive scheme start to work together, Murray could be a very dangerous quarterback.
Wrap-Up
The NFL is a copycat league. Once a team finds a solution that works other teams try to mimic their success. Certain franchises have found success in using younger quarterbacks, so teams are hoping to get the same spark that others have had. Part two of this list will show which quarterbacks are here to stay for the long run, as their young careers have already shown enough to be a mainstay in the NFL.
Main Photo:
Embed from Getty Images