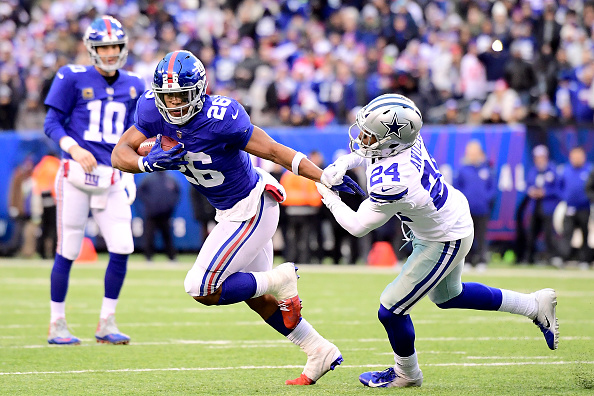 By the time this article hits the ether, the final preseason games will be a full go. Hopefully, you've made note of those diamonds in the rough that will fill out your roster. You've done the mock drafts, read the magazines and your favorite websites. Hell, many of you have already conducted your league drafts. Even after all of those hours of preparation, it wouldn't hurt to take a look at some of the best 2019 fantasy football draft strategies.
Fantasy Football Draft Strategies
Strategy Number One: Running Backs and More Running Backs
All of the fantasy football "experts" agree. Load up on running backs. Why? Because they will, more than likely, miss time with an injury. And, if one goes down, you have another stud to plug into your lineup. If your picking at the top your draft how do you pass on Saquon Barkley, Alvin Kamara, Christian McCaffrey, or Ezekiel Elliott?
Those are guaranteed touches. And with Elliott holding out, it wouldn't be a bad idea to get Tony Pollard.
I've tried to justify Patrick Mahomes at the top of the draft but, it's difficult to build a team around him that's palpable. Don't get me wrong. There is more than one way to skin a cat. If you take the stance that Mahomes is your man, do not waiver. He may even be sitting there in round two or three. Otherwise, there are several quarterbacks projected to score 19-21 fantasy points per game. You can feasibly wait until rounds seven through nine to draft a quarterback such as Philip Rivers, Russell Wilson, and Jared Goff.
The running back strategy will find you filling in those wide receiver spots. In round four you'll find the likes of the Los Angeles Rams receiving core—Brandin Cooks, Robert Woods and Cooper Kupp—Stefon Diggs and young rising stars Kenny Golladay, D.J. Moore, and Chris Godwin.
As you make the turn into round five you'll see Allen Robinson, Alshon Jeffery and Tyler Lockett. Also, Josh Gordon is back and making his way up the rankings.
Be sure to keep your eye on the tight end position. Try to get ahead of the tight end run and target a player you think is going to get volume work such as O.J. Howard, Vance McDonald, Evan Engram, and Hunter Henry.
Strategy Number Two: Zero Running Backs
If you've been at this long enough you've heard of the "zero running back" strategy. This is the strategy of drafting the top wide receivers in the first two or three rounds of your draft. This strategy is mostly recommended if your drafting in the mid- to late round. You can draft Travis Kelce in the first round (ala Rob Gronkowski of yesteryear) and bounce back with JuJu Smith-Schuster, Deandre Hopkins, Davante Adams, Julio Jones, Odell Beckham Jr., Tyreek Hill. The reason this strategy is being touted is simply that the running backs are deep and there will be injuries. The other is that the wide receiver position can be, somewhat, easily predictive on the top ten by year's end.
When I've mock drafted this strategy I've decided to begin drafting running backs starting in round three. That's when I typically add Aaron Jones and Damien Williams or Chris Carson. Other running backs that could be available are Kerryon Johnson and Devonta Freeman.
This is a strategy that I really like. However, if I go past round three without dipping into the running back pool, I feel like I begin to scramble and I don't want to find myself settling for unproven rookies as my RB1 or any running back for the Miami Dolphins or Buffalo Bills (two teams that will be in the hunt for the 2020 NFL Draft's number one draft pick).
Strategy Number Three: Stick to the List
Every draft room will have the person that will just stick to the list and take the best player available. There is nothing wrong with this strategy. Barring injury, this team could absolutely make a run into the fantasy playoffs. Fill in your roster as you make your way through the draft. I think you'll find that you end up with a roster of players with a solid floor and perhaps a capped upside. With that being said, as you fill out your bench players don't be afraid to target players that are in good offenses and will have the opportunity to hit a high ceiling if given the opportunity out of injury to a starter.
It goes without saying that the Los Angeles Chargers' Austin Ekeler and Justin Jackson should be drafted. Melvin Gordon will most likely report by mid-year so that he can gain an accrued year as works toward his ability to maneuver as a free agent). Darwin Thompson in Kansas City and Justice Hill in Baltimore are beginning to gain traction in their respective offenses in spite of the depth charts as is Miles Sanders in Philadelphia.
T.J. Hockenson might not be a sleeper pick. But, I wouldn't be surprised if the rookie becomes Matthew Stafford's favorite target by season's end. There is also buzz of a budding superstar, A.J. Brown, in Tennessee and Miles Boykin for the Ravens.
Take a Stance and Pick a Strategy
Let's face it, it takes luck and the ability to navigate the waiver wire to get your team to the championship. And, if you have a conviction on a certain player, (I for one love Damien Williams) target that player and draft him a round earlier than projected. Go into your draft knowing the room. As previously mentioned, I can count on my league owners overvaluing players from teams that they are fans of. Finally, have a strategy. We all know that feeling of being on the clock and having to scramble for a pick that will make us throw-up in our mouths just a little bit.
Main Photo:
Embed from Getty Images