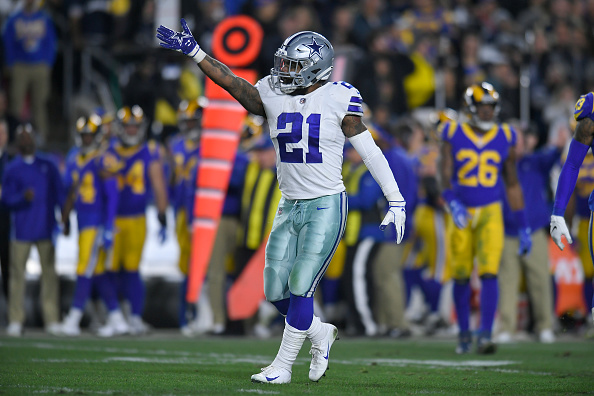 There are a few notable NFL players to hold out of training camp. It's that time of year that teams report to camp and are ready to go. It's also that time of year that players are willing to hold out looking for a new deal. This process can take a while but players usually show up for the start of the regular season. Players who hold out face fines for not showing up for work but that doesn't matter unless they get what they want. Here are some notable players to hold out of training camp.
Notable NFL Players to Hold out of NFL Training Camp
Melvin Gordon, Running back
Melvin Gordon is looking for a new deal coming off a good year. He only played 12 games but he logged 885 yards in 175 attempts, rushed for 10 touchdowns, and had 5.1 yards per attempt. He told the Los Angeles Chargers that he will demand a trade if he doesn't get a new deal. This will not make the Chargers flinch as they have two very capable backs in Austin Ekeler and Justin Jackson. The Chargers have no intention to reach a new deal with Gordon any time soon. It will be interesting to see if Gordon will get traded or how this thing unfolds.
Michael Thomas, Wide Receiver
The New Orleans Saints number one receiver Michael Thomas is coming into his fourth year in the NFL and it's time to get the contract talks going. Thomas has been one of the best receivers in the league over the past few years. He has played all 16 games last season. Thomas recorded over 1,100 yards in each of his three seasons including a 1,405-yard season last year. With Drew Brees getting older and close to hanging it up, the Saints want to make sure they get this deal done for at least one more run at a Superbowl in the Brees era.
Yannick Ngakoue, Defensive End
Yannick Ngakoue is entering the final year of his rookie contract with the Jacksonville Jaguars. Ngakoue has recorded 29.5 sacks in three seasons with the Jaguars while making only $2.03M in base salary. He is a very important part of that defense and they want him back as soon as possible. The Jaguars are optimistic that they will get a deal done before the season starts.
Trent Williams, Offensive Tackle
Holdouts happen because players want a new deal for all their hard work but that's not necessarily the case with Washington Redskins offensive tackle Trent Williams. Although he would like a new deal and that's part of it, that's not the only reason why. Williams isn't happy with Redskins management because of the treatment of his medical situation. He needed off-season surgery to remove a benign growth from his head and he didn't feel that they didn't treat him properly. He would like financial security with two years left on his deal. Jay Gruden said that he expects Williams to be here sooner rather than later.
Ezekiel Elliott, Running Back
The Dallas Cowboys running back Ezekiel Elliott was not seen on the plane with the team and in fact, didn't show up at all. The Cowboys look at Elliott as their running back for years so come and knowing that he wants to secure his spot. In 15 games, he rushed for 1,434 and in his rookie year he rushed for 1,631 in 15 games. Dallas wants him around but what they don't want around is his off the field antics. He was suspended six games in 2017 for domestic violence. He has proven he can be a very good back in this league but what the Cowboys want is to know that Elliott will stop with the antics.
Jadeveon Clowney, Edge Rusher
Jadeveon Clowney and the Houston Texans missed the July 15th deadline to get a new deal done. Clowney still hasn't signed the franchise tag and has until November 12th to sign it or he will be ineligible and will miss the entire season. He has been a huge part of that defense over the years alongside J.J. Watt. Clowney has recorded 19.5 sacks over the last two seasons and had six fumble recoveries with one being returned for a touchdown. He will be the first thing on the Texans' mind as they start training camp and go into the season.
Final Thoughts
All of these players have one thing in common and that is these players being stars or a huge part for their respective teams. These players know their situation better than anyone and they know their value to the team that they're playing for. Most of these deals will probably get done soon or before the season starts. It's just a waiting game from here on out for all of these players waiting for a new deal.
Main Photo:
Embed from Getty Images