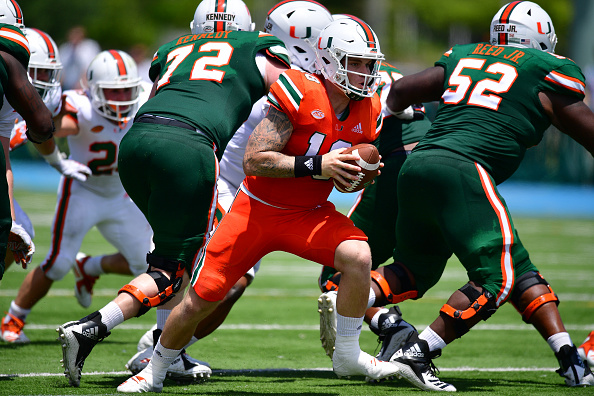 The NCAA Transfer Portal has been quite the hot topic in the last year. Players from all Division I programs, large and small, have taken notice and utilized this new tool. Before this, athletes needed permission from their home school in order to transfer to another school. This caused problems due to the fact that schools often denied or restricted athletes from transferring to certain schools.
What Is The NCAA Transfer Portal?
Making Progress
In the current system, coaches may up and leave a program with no notice or warning. Despite the fact that most coaches lie to the media, athletes, and recruits, none are punished when they leave. This fact is most evident when coaches from the "Group of 5" conference leave for a "Power 5" job. What about the athletes that put in the work and allow these coaches to make millions of dollars? They have to jump through hoops and hope and pray that their previous school and the NCAA agree that their transfer is kosher.
With the implementation of the Transfer Portal, all students must do is to notify their home school of their intent to transfer. The school, then, must put the athlete's information into this database within 48 hours. Once they are listed, athletes may be contacted by coaches from other schools so that they may be recruited. In the old system, schools could get into major trouble if caught recruiting an athlete away from another. Now, once the student appears in the database, it's free game.
It's Not Perfect
This change sounds great, doesn't it? Honestly, it's on its way, but there's work to be done. The rule that athletes must sit out a year for transferring still applies, but students may apply for a waiver for immediate eligibility. In some cases, the home school complies and signs off on the waiver, thus allowing the NCAA to move forward with the process. Sometimes, however, this is not the case. Take Jim Harbaugh and Michigan, for example. The Wolverines have a total of 17 athletes transferring out. Among those are Aubrey Solomon and James Hudson. Solomon and Hudson have elected to transfer to Tennessee and Cincinnati, respectively, and have applied for immediate eligibility. Harbaugh and Michigan have fought both cases and have had each waiver denied. Coaches denying waivers is unethical, no matter the reason. Not to mention the fact that the NCAA had no issue with Justin Fields and Tate Martell transferring for playing time.
By The Numbers
As of today, there are 997 D-I athletes who have elected to transfer out of their current school. That breaks down to 575 from Power 5 schools, 377 from the Group of 5, and 25 from FBS Independents. While most of these transfers are to other D-I schools, 206 athletes have pursued opportunities at the FCS or lower level, while only 27 are "moving up," so to speak. Every single FBS school has at least one athlete either coming or going except one: Navy.
Most Athletes Transferring In
B1G: Rutgers & Illinois (6)
ACC: Miami (FL) (8)
SEC: Arkansas & Vanderbilt (8)
PAC-12: Utah (7)
Big XII: Texas Tech (7)
MAC: Bowling Green State (3)
AAC: Houston & SMU (10)
Sun Belt: Georgia State (4)
C-USA: Charlotte (5)
MWC: San Diego State & Boise State (4)
FBS Independents: BYU (5)
As of today, there are 25 programs who have yet to sign a transfer. Leading the way are two schools from the American Athletic Conference, Houston, and SMU. The fact that they have pledges from ten athletes is impressive considering most schools have less than five. Next is where it gets interesting.
Most Athletes Transferring Out
B1G: Penn State (19)
ACC: Louisville (16)
SEC: Arkansas (22)
PAC-12: UCLA (20)
Big XII: Texas Tech (13)
MAC: Miami (OH) & Ball State (10)
AAC: USF (15)
Sun Belt: Coastal Carolina (15)
C-USA: Marshall (10)
MWC: Wyoming (11)
FBS Independents: BYU & Massachusetts (7)
There are two instances where a program leads its respective conference in both transfers in and out: Texas Tech and Arkansas. The Razorbacks have a staggering 22 athletes transferring out! While all of the Power 5 conferences have over 100 athletes each transferring, the B1G comes out on top with 137. It is worth noting that Penn State is not the only B1G school with more than 15 athletes transferring. Illinois (15) and Michigan (17) are hemorrhaging athletes.
The Cream Of The Crop
Just like with recruiting high school athletes, transferring athletes within the NCAA Transfer Portal is assigned with a rating. At the top is quarterback Justin Fields. The Georgia-Bulldog-turned-Ohio-State-Buckeye leads the way with a perfect 1.0000 rating. With this rating, it can only be assumed that Fields is going to have plenty of hype surrounding him this season in Columbus, Ohio. Former Alabama quarterback Jalen Hurts comes in second with a 0.9700 rating. The new Oklahoma Sooner will also be surrounded by plenty of hype. Look for him to tear it up in the Big XII conference where defense is only a word in the dictionary. Next up is an outside linebacker, Jaelan Phillips. Phillips chose to transfer from UCLA to Miami (FL) and will anchor their defense in the ACC. Lastly, there are four athletes tied with 0.9500 ratings: Parker Braun (guard, Georgia Tech to Texas), Jonah Jackson (guard, Rutgers to Ohio State), Aubrey Solomon (defensive tackle, Michigan to Tennessee), and Bubba Bolden (safety, USC to Miami (FL)).
What's Next?
The NCAA Transfer Portal is certainly an interesting wrinkle in collegiate sports. With the implementation of an early National Signing Day, coaches have had to change their approach to recruiting. The Transfer Portal just adds to that stress. New coaches have taken advantage of the database because they can recruit a player whom they've physically seen play at the collegiate level and can step right in. Here is a simple solution. Let student-athletes transfer. While it may lead to a college football free agency, we will find that it won't be too much different. Just allow the athletes one free transfer. We allow coaches to leave without notice, why can't the athletes that are actually putting in the work? College athletes only have four years of eligibility, why not allow them to pursue better options that could help with their quest for the NFL?
Main Photo:
Embed from Getty Images