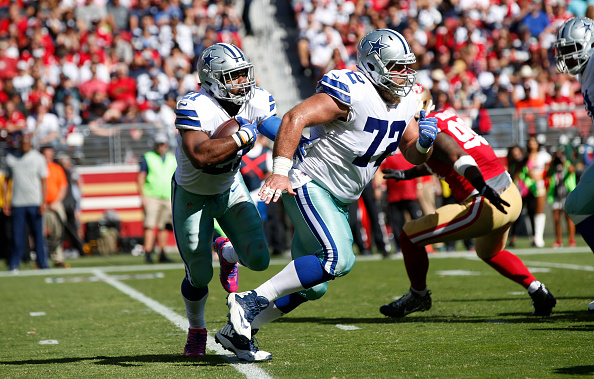 After missing the entire 2018 season, all signs point to Travis Frederick returning to the Dallas Cowboys for the upcoming year. When OTAs began in late May, Frederick was not participating, but now in July, he's fully involved in off-season workouts. To say the Dallas center has made an impact would be falling very short of what he means to the team and the success of their offense. When you think of key foundations of an offensive line, aside from a bookend left tackle, the center is arguably the most important position. It's a role that takes constant communication with the five-man unit in regards to changing blocking assignments. Frederick embodies everything you want at the position and more.
Travis Frederick Changes the Cowboys Offense
Sudden Illness
It was very unfortunate news just as the 2018-2019 regular season was a few weeks away. On August 22nd, Travis Frederick was diagnosed with Guillain–Barré syndrome, an illness with rapid onset muscle weakness causing damage to the nervous system. Recovery windows for this are generally all over the place, ranging from weeks to years. It seems that Frederick received the proper treatment and supportive care because less than a year later, he's ready to go. It's a good thing too because when he's on the field there's not much argument against him being the best center in football.
Unconventional
Travis Frederick was selected 31st overall by the Dallas Cowboys in the 2013 NFL Draft. A move that was questioned by many after they traded down in that round with San Francisco. The concern may have circled around the Cowboys having bigger needs at the time. It was also notable that some of Frederick's athleticism was questionable, recording the second slowest 40 yard dash time (5.58s) of all linemen in the 2013 class. Fast forward six years later and none of that really matters. Frederick is a physical presence with a sharp mind in the moment. "He really knows how to play the pivot at the center position, I think he'd make a good guard too. He's that athletic and not like your prototypical center", was the praise from four-time pro bowler Richie Incognito.
On the Field
What makes Travis Fredrick so dominant is his ability to excel in both the run and pass game. Teams can get by with smaller centers who use their speed, quickness, and sharpness with their mind, but Frederick brings that along with a 6'4 320-pound frame. Think about that kind of brain plus brawn combo.  
In 2019, the NFL is clearly a pass-dominant league and the Cowboys' center plays well to that with his prowess in protection. Travis Frederick has given up a single sack in just over 2,000 snaps since 2014. You read that correctly, one sack. That goes along with an average of one pressure allowed per game during that span. His presence was so obviously missed last season when you measure the pressure. In 2017, the Cowboys allowed 72 total pressures from the interior which was good for seventh best in the league. In 2018 without Frederick, Dak Prescott felt the heat. Dallas allowed 108 pressures from the inside, suddenly seventh worst in the league.
Frederick paves the way in the run game among the best as well. It should first be pointed out that when he was starting between 2014-2017, the Cowboys were top five in rushing four of those five seasons. Individually, according to Pro Football Focus, Frederick received a run blocking grade of at least an 83.0 each season. PFF has been grading players since 2006 and that's a feat matched only by the all-time great Jet's center, Nick Mangold.
A Lasting Impact
It can't be stressed enough how fortunate the Dallas Cowboys are to have their two-time All-Pro center back on the field for 2019. Frederick is still only 28 years old and may have a half-decade of dominant blocking ahead of him. His contract has him rightfully locked up through the 2023 season and as the second highest paid center in the NFL. Along with their staple tackle Tyron Smith and guard Zack Martin, the Dallas Cowboys offensive line should be back to true form for the foreseeable future.
Main Photo:
Embed from Getty Images