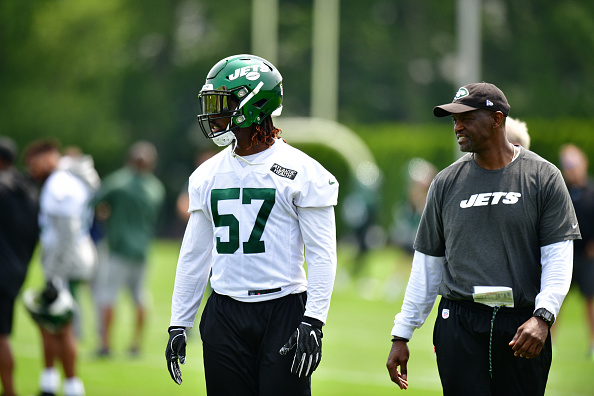 The New York Jets defense is geared to improve big time in 2019. After four years under head coach Todd Bowles, Gang Green is turning the tides. It didn't take long for the team to make a move, as they hired former Browns defensive coordinator Gregg Williams in January. The Jets 3-4 scheme under Bowles started off well in 2015, but steadily declined, finishing 25th in yards allowed in 2018.  Williams has run a more attacking 4-3 style in the past, although coach Adam Gase has alluded to sticking with their 3-4 base defense. While Williams didn't get the best out of Cleveland's personnel the last couple of seasons, he's working with some serious tools moving forward.
Jets Defense Primed For Improvement
Front Seven
The Jets acquired a couple of key defensive players for the center of their unit this off-season. Let's start with the most important, former Ravens' linebacker C.J. Mosley. Mosley can man the middle of any defense not only as a down-hill thumper but proved last year he has the ability to hold up well enough in coverage.  The four-time pro bowler can even be used as pass-rusher, garnering 13 QB hurries last season which was eighth among linebackers last season.
Alongside Mosley stands Avery Williamson.  Williamson had himself an excellent 2018 campaign in the middle for New York with a career-high six passes defended. The former Titan was always known for his run defense plus read and react skills, collecting 100+ tackles three times over the past four seasons. With both Mosley and Williamson in the mix, it makes me believe the Jets will be running plenty of 3-4 looks with one guy as the Mike and the other as the Sam.
One issue the 2018 Jets defense had was getting pressure from the outside. Their leading sack man was outside linebacker Jordan Jenkins who registered seven. Impressively enough though, Leonard Williams and Henry Anderson on the interior had ten between the two. That interior pressure will only elevate more. New York selected Alabama lineman Quinnen Williams with their number three overall pick. Williams is an absolute problem to deal with one on one who brings a disrupting first step. Florida edge rusher Jachai Polite was selected in the third round. He's a wild card as far as how he'll pan out, but you can see New York is aiming for improvement in that area. Gregg Williams will have some fun mixing up that front, finding ways for his big boys to get after the passer.
Secondary
There's an ongoing debate in the football world about the importance of pass rush versus coverage.  While coverage can only hold up for so long, a sound secondary is absolutely necessary for the success of a defense.  The Jets' back end isn't the best on paper by any means, however, with Williams' play-calling, the players and their potential can be maximized.
The leader of the unit has to be third-year man Jamal Adams.  A jack of all trades safety, he earned second-team All-Pro honors in 2018 with four forced fumbles, three and a half sacks, and an interception. He has a hall of fame type game and will be a stud for many years to come. Playing alongside him, Marcus Maye is no slouch himself.  He's been battling injuries as of late, but Maye had a promising 2017 rookie season and will help make him and Adams perhaps the best young safety duo in the league.
The big question lies in the performance of the Jet's outside corners.  Gregg Williams worked with Trumaine Johnson back when he was a defensive coordinator for the Rams.  Johnson is a longer bodied defensive back with a good press coverage ability that will surely be utilized.  On the other side, Darryl Roberts is solid in coverage and has spent some snaps at safety as well.  There could be some struggles individually against elite pass catchers and route runners but a coordinator with the experience of Williams can help cover up those issues.
Primed for Success
There was a time not too long ago when the Jets defense was among the top of the league for a stretch of a half decade. I'm sure the name Rex Ryan rings a bell. Linebacker David Harris is also a name that Jet fans will smile over. C.J. Mosley can become what Harris was as far is his role in the middle of the defense, and that's exactly where it starts and then works its way around into the other units. Sure, you can say it isn't that hard for a team to improve when they already were among the worst defensively the year before. But I think we're talking about a team that will finish top ten in yards allowed or points scored and has the pieces of a top five defense. It's a tall task that takes constant communication, and Gregg Williams can certainly instill that.
Main Photo:
Embed from Getty Images