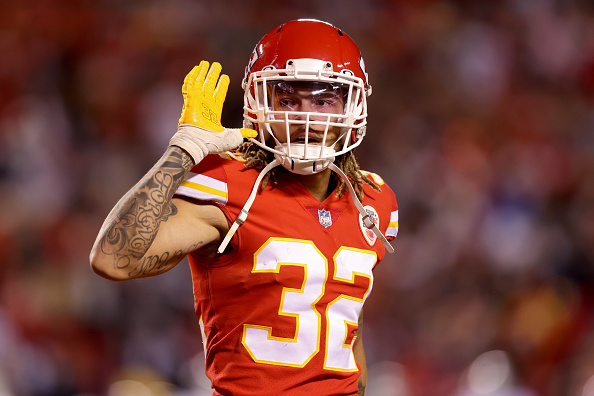 Tyrann Mathieu will be one of the more coveted safeties in this free-agent class. The New York Jets are in need of players to fill both the free safety and strong safety positions. Does a pairing of both sides make sense? Mathieu was just linked to the Jets recently.
.@MikeGarafolo said a team to watch in free agency is the #Jets, 'the owner has a lot of money' & they're ready to spend it + name dropped Tyrann Mathieu (@Mathieu_Era) as a player to watch 'he would be a great fit' + 'he's a culture setter': 🎥 @nyjets, @gmfb #TakeFlight pic.twitter.com/NeAP88ArZT

— Paul Andrew Esden Jr (@BoyGreen25) March 11, 2022
Does Tyrann Mathieu Fit What The Jets Need?
Jets Safety Position Overview
What's going on with the current Jets safety position? Right now, there is no certain starter on the depth chart. Third-year safety Ashtyn Davis is an incredible athlete but lacks the coverage skills and tackling ability to start at the position.
The Jets also re-signed veterans Will Parks and Lamarcus Joyner. Parks was claimed off waivers from the Philadelphia Eagles on December 21. He then started two of three games played down the season's final stretch. Parks recorded nine tackles, one tackle for loss, and one pass defended in his three games with the Jets. He's nothing more than a depth piece.
On the other hand, LaMarcus Joyner was supposed to start opposite Marcus Maye for the Jets in 2021. Joyner signed a one-year contract worth $3 million. This came after an underwhelming stretch with the Las Vegas Raiders. The Raiders lined Joyner up at slot cornerback which was the source of his struggles. Joyner is a traditional free safety who can play in the slot and at strong safety. The Jets signed him knowing that he'd be placed at his normal position. Joyner impressed the coaching staff in training camp but tore a tendon in his elbow just a few snaps into the Jets' Week 1 showdown versus the Carolina Panthers.
The aforementioned Marcus Maye is likely not coming back. Maye was reportedly upset that he was franchise-tagged and both sides couldn't reach a long-term deal. Maye's agent, Erik Burkhardt, tweeted about those frustrations to escalate tensions. In October 2021, it was revealed that Marcus Maye was facing charges from a DUI dating back to February. It's safe to say Maye's relationship with the Jets is beyond repair. Plus, before his torn Achilles, his production began to slip. He's also near 30 years old and the team will probably want to get younger.
Former undrafted free agent Elijah Riley had his option picked up by the Jets. Riley started all seven games he played with Gang Green. He also showed he's nothing more than a depth piece.
What Does Tyrann Mathieu Bring To The Jets?
The Jets love versatility on either side of the ball. Mathieu brings that and excellent production along with him. He also brings a winning pedigree and great leadership. Before the franchise tag deadline, Pro Football Focus listed him as the third-best safety available.
Tyrann Mathieu will be turning 30 years old, so a contract offer north of three years doesn't seem reasonable. I think he'll earn a contract of around $12 million per year due to his age and what's on the market. Spotrac and Pro Football Focus project that Mathieu will earn around $14-16 million per year in his next contract.
In the last two seasons, he's been selected to the Pro Bowl, showing that his age isn't affecting his production. Mathieu recorded 76 tackles, six passes defended, three interceptions, and one defensive touchdown this past season.
Mathieu's terrific playmaking skills will help the Jets create more turnovers. In the past three seasons, he has registered 13 interceptions, tying Quandre Diggs for second-most in that span. Mathieu is also tied for eighth among safeties with 27 passes defended in the past three seasons.
Mathieu is also a good tackler, as he recorded a 9.8 percent missed tackle rate this past season, ranking 33rd among 74 qualified safeties.
Speaking to his versatility, Tyrann Mathieu's snap distribution looked like this in 2021, per Pro Football Focus:
Free safety: 28.1% of defensive snaps
Strong safety: 24.1%
Outside corner: 2.3%
Nickel corner: 20.7%
Inside linebacker: 19.9%
Outside linebacker: 4.9%
Unlike his would-be predecessor Marcus Maye, Mathieu's durability comes as a positive as he's only missed two games in the last five seasons.
On the negative side, he is an inferior run defender and is also pretty undisciplined for a safety.
Per the metrics, the average NFL safety in 2021 committed 2.3 penalties per 1,000 defensive snaps. In his career, Mathieu has recorded 32 penalties over 7,812 snaps, which would put him at 4.1 penalties per 1,000 snaps, exceeding the league average.
[pickup_prop id="20743″]
Speaking about his poor performance against the run, Mathieu recorded a missed tackle rate of 20 percent in that department. That statistic put him in the 14th percentile among qualified safeties. The Kansas City Chiefs defense ranked second-worst at stopping the run and Mathieu seemed to be a key part of it.
Although he played a good amount of snaps around the line of scrimmage, he barely made any plays to stop the run and only made two run stops this season. Now, Mathieu has had some good seasons defending the run but if he has a season like this one, expect the Jets run defense to get worse as the team will likely lose Folorunso Fatukasi in free agency.
The Jets Should Sign Tyrann Mathieu In Free Agency
Although he shouldn't be their number one safety target, the Jets should offer a contract to Tyrann Mathieu in free agency. Now, it was reported that the team would be interested in Marcus Williams but they'd likely rule him out if his market gets too crowded.
Addressing the positives, Mathieu brings great leadership and a winning pedigree to a team that hasn't seen the playoffs since the early 2010s. Mathieu also improves the Jets' pass defense and can play at different positions. His ball skills should create more turnovers for a defense that lacked any playmaking last season.
Addressing his weaknesses, I think it's worth the toss of a coin that you can rely on Tyrann Mathieu to bounce back from last season's lackluster production defending the run. In the past, he's had good production with his run defense.
In terms of penalties, Mathieu will have to cut them if he wants to improve the team as a whole to win more games and be a good example for the younger players.
Main Photo: