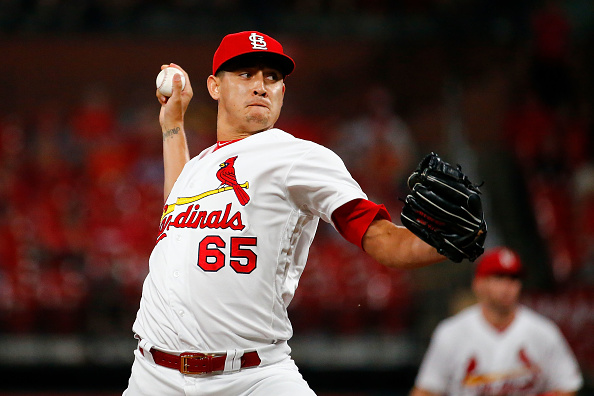 The St. Louis Cardinals starting rotation last year was one of the best in baseball. This season was thought to be the same. Coming into the year everyone thought this rotation would be their best asset and yet again be one of the best but that's not at all the case. The Cardinals top starting pitcher is Dakota Hudson and he has a 3.55 ERA. The second best ERA belongs to Jack Flaherty with 4.28. This is not at all what anybody envisioned and they need help. There are some starting pitchers up for trade that can really help them out and possibly make them contenders.
Three Pitchers the St. Louis Cardinals Could Trade For
Madison Bumgarner
Madison Bumgarner is probably the biggest name out there when it comes to starting pitchers. Bumgarner is not what he was a couple of years ago but is still a valuable pitcher that would help the Cardinals out. He is three and six with 90 strikeouts and a 3.87 ERA. He would instantly become their best pitcher. His ERA is on the high side for him but for the Cardinals, that is what they need in that rotation. The Cardinals are one of the teams on his no-trade list but if they can put a deal together and are in contention, he might make an exception. Also, Bumgarner has good playoff experience so that can help a lot if they make the playoffs. The San Francisco Giants will need to start selling if they want to start the rebuild mode.
Marcus Stroman
Marcus Stroman is having a good year so far for the Toronto Blue Jays. He has 68 strikeouts with a 3.18 ERA. The Blue Jays are not good at all and they will be sellers throughout the season. The Cardinals would love to have a performer like Stroman. He is under contract until 2020 so it will probably require a pretty good package. Stroman has electric stuff and the Cardinals need some of that in the rotation. He has had some shoulder issues which may drive the price down just a little but he has come back on fire so they will probably get what they want.
Matthew Boyd
28-year-old Matthew Boyd has some great pitching ability. He has 112 strikeouts with a 3.35 ERA. Boyd has only given up 11 home runs in 15 games. He has three more years until he is a free agent so he will also bring a pretty good package to the Detroit Tigers. The Tigers are in rebuild mode so dealing him for prospects would be a good idea. The Cardinals would love to have him. He is pitching the innings they seem to lack and he is consistent. The Cardinals would love to have a pitcher like this for the next few years.
The Rotation
The rotation as I mentioned has not been what we expected at all. Miles Mikolas is not close to what he was last season and Jack Flaherty is not doing what they hoped he would do. Adam Wainwright has been better than expected but he is not going to carry the rotation. Michael Wacha is not getting the job done. He has already been injured once this year and when he is healthy he hasn't pitched too good. The only constant is Dakota Hudson and he is a rookie. This Cardinals team will get nowhere if they don't have stable pitching and each of these three guys can bring that.
One More Thing
The St. Louis Cardinals have been lacking "that guy" and all three of these guys can bring some good fortunes to this team. These guys won't fix what is happening with the Cardinals but it will help. The pitching isn't the only thing that's wrong with them but if they get pitching then they will be in close games throughout the season. The rotation needs a new arm but will it be one of these guys or will it be a guy that we have never thought to mention before?
Main Photo:
Embed from Getty Images