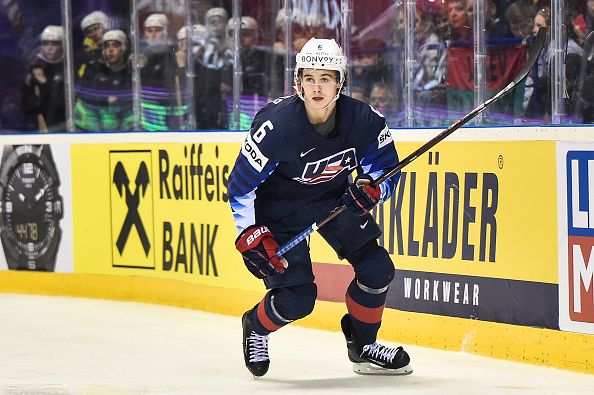 Though the Stanley Cup Final's are still going on, the majority of the league has their focus set on the upcoming NHL Draft.
A lot of people have the same two players going #1 and #2 overall in the 2019 NHL Draft and after that, it's a little unclear. The New Jersey Devils will have the first overall pick followed by the New York Rangers, Chicago Blackhawks, and then the Colorado Avalanche. This draft will be interesting as there are four teams with two first round picks. This year's draft has a lot of good prospects and it starts with Jack Hughes.
Top 5 2019 NHL Draft Prospects
Hughes is projected to go first overall to the Devils in the 2019 NHL Draft. He's a 5'10, 170 lbs center who shoots left. Hughes is the most talented player in this draft. He is a great skater with speed, has great passing skills, and is a huge play-maker. His hockey sense is what makes him the top prospect in the draft. He holds the all-time record with 134 career assists and 197 points for the USA Hockey's National Team Development Program (NTDP). With these numbers and his ability, he can be an elite player in the NHL.
Kaapo Kakko is projected to go #2 overall by a lot of writers. He's a 6'2, 194 lbs winger. He had a great performance at the 2019 IIHF World Championship with Finland. Kakko had six goals in ten games including the game-winning goal against the United States to win the IIHF World Junoir Championship. He had 22 goals, which was most by a player 18 or under in Liiga history. His size also stands out to a lot of teams. This could make him excel in the NHL. He is big, strong and can win battles along the boards. Kakko also has a great understanding of the game. Some say he is "close to complete' which makes him a great choice at #2 for the Rangers.
Writers have Alex Turcotte going anywhere from three to five. He is a 5'11, 185 lbs center who grew up in the Chicago suburbs, making him potentially a perfect fit for Chicago at three. This would be perfect for him. Turcotte grew up in Chicago and idolized Jonathan Toews. He actually plays a simular style to Toews. Injuries had him missing 22 games because of a lower-body injury but was still sixth on USA Hockey's National Development Team in points with 62. He plays a clean and disciplined game. He has the speed and has great puck movement. His size and strength down the middle can prove effective for the Blackhawks.
Dylan Cozens has a great chance to go in the top five in the draft. He is a 6'3, 180 lbs center. Cozens is an explosive young forward who is one of the fastest and skilled forwards in the draft class. He can fill a lot of holes for whoever drafts him. His skills will only get better as he plays at the pro level. His attack is very lethal and is all over the ice. He was tied for tenth with 84 points in 68 games in the Western Hockey League.
Bowen Byram is probably the best offensive defensemen in the draft. The 6'0, 193 lbs defensemen has outstanding vision. Byram is an elite playmaker on the blue line. He can make plays under pressure in the defensive and neutral zone and can play big minutes when it is needed. He led the Western Hockey League playoffs in 2019 with 26 points in 22 games. Byram will probably be the first defensemen taken off the board.
Last Word
There are a lot of high-end prospects in the 2019 NHL Draft. Anyone in the top five has the talent to go number one. A lot of team's futures will be bright and it starts in this year's draft. The Draft will be held on June 21-22 from the Rogers Arena in Vancouver.
Image Credit:
Embed from Getty Images