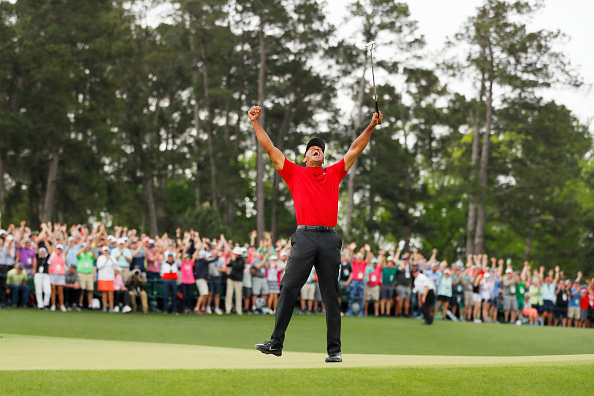 The entire golf world has been watching Tiger Woods and waiting for him to pounce. This weekend at the Masters, with a mixture of skill and patience. He made his unbelievable return to the clubhouse at Augusta to receive his fifth jacket. Let's take a look at some of the best moments and how he achieved this, at one time seemingly unattainable, goal.
Tiger Woods Roars – A Masters Review
The Long Road to Recovery
There were many who said it, sadly Tiger even said it himself. Only a couple of years ago, no one was sure that Tiger would ever be able to not only win but even compete again. Chronic problems with his back had been making it very difficult to even finish a round let alone an entire weekend. The first surgery he had was supposed to ease the pain but didn't seem to work. After recovery time and attempting to return to play, he was still plagued by pain.
While golf may not be a high contact sport such as hockey or football, it still takes its toll on the body. The back, knees, and hips are easily affected by the swinging motion repetition. Tiger started playing golf literally as a two-year-old. Of course, he got a bit stronger over the years. However, the downside of such a powerful drive swing as he had was injuries. Using such strength takes a toll on the body as his began to breakdown. However, not willing to let the dream of coming back to play go. He underwent more surgery and took his time with the recovery and this time, he was able to strengthen and come back.
Did the Time Away Destroy the Game?
Now that his back seemed to be able to handle the rigors of the weekend of golf. The question became, can he get back to his level of play? In the high point of Tiger's career, there was no doubt that he would make a cut and be in competition in every match he played. In fact, it was more of a surprise the times he wasn't at the top of the leader-board. And just the sight of his name climbing the leader-board was usually enough to make more than one golfer start to panic and make mistakes.
In the 2018 season, he was playing, but not as consistent as he could. Tiger made most of the cuts but missed a couple. He played strongly, but not all four days. Then he came in second but couldn't grab a win, until, the last tournament of the year, winning the Tour Championship in true Tiger style. That was the icing on the cake, he knew he could do it, now it was onward to the majors.
A Sunday of Firsts
This Masters had a very interesting Sunday, not just the brilliant play of the golfers. But Mother Nature wanted into this game as well. Since every weather model showed thunderstorms coming for the afternoon. For the first time ever, everyone started morning tee-times. The last group, that included Tiger Woods, teed off at 9:20. Not only were the times altered, the pairings were now triples. In order to get everyone out and done ahead of the storms. So Tiger was playing with two talented players one being Francesco Molinari who was ahead of Tiger at the beginning of the day. The other being Tony Finau who was tied with Tiger.
Grabbing the Fifth Jacket
While Tiger's round wasn't perfect, he had bogies on 4, 5, 10 and 18. He had six birdies to more than offset them and came close to a couple of eagles. The greatest accomplishment of this round was steady patience and perseverance. Something he has taught himself to do instead of always pushing for the longest drive he can make. Sometimes it is better to be more accurate and fifty yards or so shorter and let your short game put you ahead. Augusta can be a very unforgiving course and no matter how many others made an attempt to steal the top of the leader-board. Tiger was the only one to get there and stay.
Then finally, in front of an ecstatic crowd, that included his children, his mother, and his girlfriend. After an 11 year drought of major wins, and a 14 year span from the last time he won at Augusta. Last year's winner Patrick Reed slipped the coveted jacket onto Tiger's shoulders. Completing an incredible storybook comeback.
Last Word
The last word for this article is truly that this is far from the last word for Tiger's story. At 43 years old, he has the experience of few active players. And if this weekend is an example, he has his skill on an even keel with his younger days but tempered with patience. This should keep him on his winning ways. And in no small way, his presence does a lot for the sport of golf. Keeping the excitement level at a fever pitch, and we can't wait for the next round.
Main Photo:
Embed from Getty Images