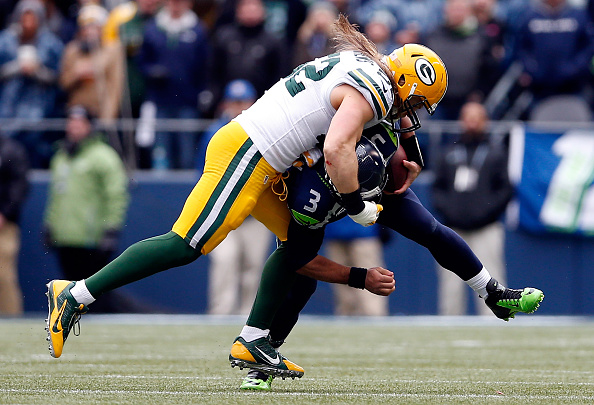 Clay Matthews spent ten seasons in a Packer uniform. He immediately became a fan favorite among the Packer faithful. His long hair and great personality were what fans like about him but his play on the field is what got the fans to fall in love with Clay Matthews. No matter what, he will always be remembered as a member of the green and gold.
A Look at Clay Matthew's Career in Green Bay
Rookie Year
Clay Matthews was drafted 26th overall in 2009 by the Green Bay Packers out of USC. Matthews was considered a walk-on at USC but he is an example of why that doesn't matter one bit when it comes to being great in the NFL.
In his rookie year, he started at linebacker for the Packers. He recorded fifty tackles, ten sacks, three fumble recoveries, and one defensive touchdown. Clay was considered a top two rookie that year as he was named the NFC defensive player of the year and named to the Pro Bowl with that performance. He was the first Packer rookie to make the Pro Bowl since wide receiver James Lofton in 1978. He had a high grade by Pro Football Focus with a grade of 82.8 which was the highest grade for a rookie at that pick since 2006. This was just the beginning of a long, successful career in Green Bay.
Super Bowl Season
Matthews kept up his outstanding play the following season. He finished the season with 60 tackles, 13.5 sacks (fourth in the league), two forced fumbles, and an interception. In his second year, he was named to the Pro Bowl and to the All-Pro team. He was named the SN-NFL Defensive Player of the Year and NFC Defensive player of the year. He finished second as the AP NFL Defensive Player of the Year. The Packers earned a trip to 45 Super Bowl to face the Pittsburgh Steelers. He recorded three tackles, a pass deflection and caused a HUGE forced fumble in the fourth quarter against Steelers running back Rashard Mendenhall to practically seal the deal as the Packers won their fourth Super Bowl and Clay Matthew's first in the NFL.
The Next Few Seasons
In 2012, Matthews was ranked the second-best outside linebacker in the league behind DeMarcus Ware. With 13 sacks and being named to the All-Pro team for the second time in his career, he has earned that title. That off-season he became the highest paid linebacker in NFL history.
In 2013, he only played 11 games due to a fractured thumb. He re-fractured his right thumb in week 16 against the Carolina Panthers and missed the rest of the season. He still led his team with sacks with seven and a half.
In 2014, he started all 16 games. Despite the slow start, he picked it up and finished the season with 11 sacks. He also started all 16 games in 2015 where he had 66 total tackles, with only six and a half sacks but recorded an interception. He helped lead the Packers to the NFC Divisional round against the Arizona Cardinals but they fell short in overtime.
In 2016, he only played 12 games because of Injury. He had a down year with only recording 24 tackles and five sacks but we would never know what his numbers would look like if he played all 16 games.
In 2017, he played 14 games and had 44 tackles with eight and a half sacks. In a week four game against the Chicago Bears, Matthews became the Packers all-time sacks leader.
His Last Season in Green and Gold
2018 was the final year on Matthews' contract. He had his worst year yet in the NFL as he played all 16 games but had 43 tackles and only three and a half sacks. Some say he would've had more if it wasn't for some questionable calls but clearly that still wasn't enough for Green Bay to keep him. Before the season, fans came to the realization that he might be on his way out and it didn't seem real until it finally happened as he signed a two-year deal with Los Angeles Rams. He will go back home and play in the same stadium where he played his entire College career.
Last Word
Clay Matthews will definitely go down as one of the great Packer's players in history. Fans all around are sad that Matthews left but they'll never forget the memories that he brought to the Packers.
Main Photo:
Embed from Getty Images