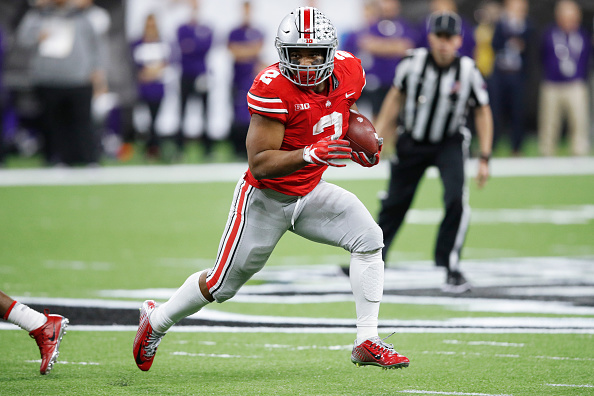 Big Ten Football is full of talent but there are those who clearly standout. While there is no standard metric to measure talent, the guys on this list are here for a reason. The reasons or criteria which put them where they rank range from past performances to recruiting ranking and everything in between. Without further ado, here are the top Big Ten offensive players for the 2019 season.
Big Ten Football: Top Ten Offensive Players
1. Rondale Moore, Wide Receiver, Purdue
Rondale Moore came to Purdue as an undersized wide receiver from the state of Kentucky. He arrived as a true freshman and from day one the college football world was put on notice.
The very first game Rondale had eleven receptions for 109 yards, two rushes for 79 yards and a combined two touchdowns. Yes, we are still talking about the 5-9, 175lb, 18-year-old. To top it all off, those stats were not against a division two team either, those stats were against their Big Ten opponent Northwestern.
What's more impressive is Moore's performance against Ohio State. Greg Schiano's defense was no match for the young man. Moore caught 12 passes and accumulated 170 yards and two touchdowns contributing to Ohio State's only loss on the season.
2. Adrian Martinez, Quarterback, Nebraska
Adrian Martinez played on a team who went 4-7 and yet he makes the list at two, Why? For starters he was named Freshman All-American, Honorable-mention All-Big Ten, Three-Time Big Ten Freshman of the Week, National Freshman of the Week, and College Football Performance Awards Co-National Performer of the Week, all while playing for the 4-7 Nebraska Cornhuskers.
He didn't earn all of those accolades purely based off his passing talent either. Martinez is a more than an accomplished runner, rushing for 629 yards and eight touchdowns during the 2018 season.
On top of all that, Nebraska is bringing in some incredible athletes next year. The Cornhuskers are ranked 19 nationally and 4th in the Big Ten for recruiting according to 247sports.com.
3. Justin Fields, Quarterback, Ohio State
This "free agent" transfer from Georgia made it all the way up to number three based entirely on potential and the talent that will surround him during the 2019 season.
Tua Tagovailoa set the standard for usurping veteran starters and Clemson's Trevor Lawrence followed suit shortly after. Justin Fields was supposed to do the same at Georgia but he just couldn't close.
While his limited stats are impressive – 27-39 for 328 yards – they do not contain enough data to make a true prediction for this rising star. What does raise eyebrows is his 247sports rating. Fields drew a .9998 rating and was the second-ranked football player in the nation for 2018. Who was number one? Trevor Lawrence.
4. Shea Patterson, Quarterback, Michigan
This former Rebel grew up a Michigan fan but was never recruited by the Wolverines. He proved himself in Mississippi as a top-level talent even with the injuries he suffered and eventually made his way up north to Ann Arbor.
Michigan's 2018 season disappointed many fans with the poor performances at The Shoe and in the Bowl game dropping Shea Patterson below the unproven Fields.
The major upside for Patterson is the hiring of offensive coordinator Josh Gattis from Alabama. Gattis described his new offense as "We're a no-huddle team. When people ask who we are from an offensive standpoint, we're a pro spread".
When asked to describe his new slogan speed in space, Gattis replied "The speed in space is obviously trying to put the defense in conflict. We talk about speed in space, that's just not only skill guys or getting our athletes out in space, that's also getting our running backs out, trying to create open holes and putting the conflicts on defense from a run-pass conflict standpoint."
What he said.
5. J.K. Dobbins, Running Back, Ohio State
Every time I hear the name J.K. Dobbins I first think of the Lord of the Rings and then I think about what this guy against Big Ten defenses.
During his inaugural season, Mike Weber was the starter until an injury sidelined him. Dobbins fireman carried them to an 11-2 record rushing for 1,403 yards averaging 7.2 yards per carry. The college football world was beginning to wonder if Ohio State even needed Webber anymore.
Both running backs returned for the 2018 season which hampered Dobbins stats; however, he remained Ohio State's leading rusher and he doubled the touchdowns Webber accounted for, ten to five.
Fun fact from ohiostatebuckeyes.com, Dobbins is "only the sixth true freshman to start a season opener for Ohio State. The others: RG Michael Jordan (2016), RB Maurice Clarett (2002), LB Andy Katzenmoyer (1996), LT Orlando Pace (1994) and QB Art Schlichter (1978)."
6. Jonathan Taylor, Running Back, Wisconsin
Let's see how greatness stacks up against Jonathan Taylor. Future Hall-of-Famer Melvin Gordon rushed for 1,609 yards averaging 7.8 yards per carry and added 12 touchdowns during his sophomore season as a Badger. The sophomore Taylor rushed for 2,194 yards averaging 7.1 yards per carry and added 16 touchdowns.
Gordon went onto to rush for 2,587 yards as a Junior and declared for the draft that year. One year made a huge difference for Gordon and it may do the same for Taylor.
7. Josh Jackson, Quarterback, Maryland
Another "free agent" transfer this time from Virginia Tech. Josh Jackson stunned the ACC during his freshman season, going 236-396 for 2,991 yards and putting up 324 yards rushing.
Jackson's second-year stats were almost non-existent due to an ACL tear he suffered after just three games.
Josh comes to a recovering Maryland team which gave Ohio State one heck of a game in 2018. The game ended with OSU pulling off the victory in overtime.
8. Nico Collins, Wide Receiver, Michigan
Nico Collins, the 6'4″ Pinson, Alabama native, came to Michigan saying Tarik who? and Donovan what?
The 2017 Michigan wide receiver class was arguably one of the best in college football, led by the number one receiver recruit Donovan Peoples-Jones (DPJ), followed by the number 15 recruit Tarik Black. Nico is the tallest out of the bunch but was ranked 23rd in the nation and didn't garner as much attention as the other two.
All of the hype quickly went away. Black was injured two years in a row and hasn't quite recovered and while DPJ was the favorite target, Nico quickly took over as the leading receiver for yards. Should all three remain healthy this season, it may be a toss-up for king catcher of the maize and blue.
9. Nate Stanley, Quarterback, Iowa
This might be a tough sell considering Iowa lost two of the best tight ends in all of college football in T.J. Hockenson and Noah Fant, but here it goes.
Every year Nate Stanley has shown substantial progress, throwing for 2,432 yards in 2017 and 2,852 yards last year. In Iowa's bowl game against a tough Mississippi State team, Stanley went 21 for 31 throwing 214 yards, three touchdowns, and one interception.
Let us not forget the 2017 game against Ohio State where Iowa put a whopping on the Buckeyes in Kinnick Stadium. Stanley led the Hawkeyes to a 55-24 win which included a five-touchdown performance.
This redshirt freshman had an unremarkable beginning to the 2018 season, that is until the game against Indiana. Anthony McFarland went to the Hoosier state and rushed for 210 yards and he followed the spectacular performance up with 298 yards rushing at home against Ohio State where he averaged 14.2 yards per carry.
Now that Josh Jackson is the quarterback, Maryland should be a force to be reckoned with.
The Last Word
If you don't agree with the above list, leave a comment below and tell us at @LWOSports who should be ranked and where you would put them.
Main Photo:
Embed from Getty Images