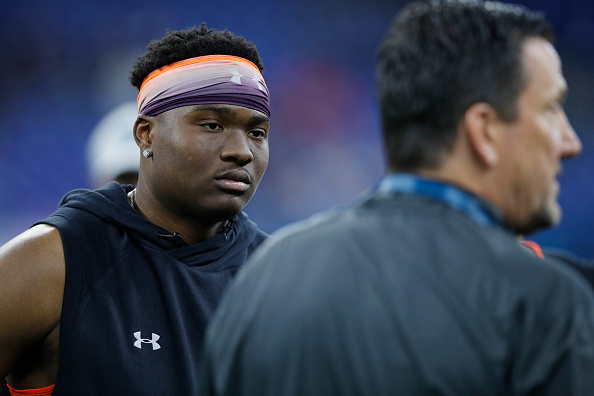 It may be the college football off-season but there's plenty of movement in the Big Ten. A couple of departures, some inbound talent, and draft updates headline what has been an exciting couple of months.
Big Ten Football Update: Josh Jackson to MD, Haskins Won't Go to the Giants and More
Josh Jackson to Maryland
Maryland has become an instant Big Ten East competitor since they added former Virginia Tech Hokie Josh Jackson. Just like everyone else who is transferring, he has gained immediate eligibility.
As a freshman at Virginia Tech, Jackson played in thirteen games completing 236 passes on 396 attempts averaging a 59.6 completion percentage. 20 of those passes went for touchdowns and only nine ended in interceptions.
Jackson complements his passing expertise with an excellent ability to run the ball. Josh rushed for 324 yards and six touchdowns during the 2017 season. Unfortunately, Jackson tore his ACL last season and was unable to compete after just three games.
For Maryland, Kasim Hill and Tyrell Pigrome were expected to compete for the starting job and both of them have announced their intent to transfer after Jackson joined the Terps. However, 247sports is reporting Pigrome will be sticking it out in Maryland.
Haskins Not Expected to Back up Eli Manning
Eli Manning is 38-years-old and the New York Giants are only getting worse. Just this month, Odell Beckham Jr. was traded to the Cleveland Browns in what everyone thought was a clear sign of a rebuild. However, ESPN reporter Dianna Russini went on the Breaking Big Blue podcast and said the Giant have scouted Dwayne Haskins and he "doesn't fit" their team.
While the talented Ohio State grad might not fit their system, I am sure he will land on his feet with a maxed out rookie contract somewhere else, like a team who didn't trade their most talented receiver.
Big Ten Commissioner to Step down in 2020
The current Big Ten Commissioner Jim Delany will resign effective June 2020.
"As we moved into 2020, I thought in my own mind, talking with family — my wife — hey, 31 years is more than enough time to make an impact," Delany said of his decision. "Time for a change. I'm appreciative and thankful for the opportunity, but I think 2020 is the right time."
The Big Ten became the most profitable conference under the 71-year-old's tutelage. Jim became the commissioner in 1989 after Wayne Duke stepped down.
No one has been hired to succeed Mr. Delany at this time.
Michigan on Top of Big Ten Recruiting, Penn State and Ohio State Not Far Behind
According to 247Sports, Michigan leads the Big Ten in recruiting with 277.15 points; Penn State and Ohio State are right behind.
Penn State has a rating of 270.67 and boasts 17 four-star recruits and one five-star. Ohio State was given a rating of 261.18 with nine four-star recruits and three five-star recruits.
Last year Ohio State led the conference but some huge changes at the university have obviously had an impact on the recruiting trail. Former head coach Urban Meyer resigned leaving his former offensive coordinator Ryan Day now taking over the position permanently.
Urban Meyer, Reggie Bush Join Fox Sports
Urban Meyer may have left Ohio State but he's not leaving college football.
Prior to the 2018 season, coach Meyer received a three-game suspension for the improper handling of a domestic violence incident involving an Ohio State assistant coach. The suspension coupled with the headaches he was getting from his brain cyst helped Meyer make the decision to step down from the program.
Now he and former NFL running back Reggie Bush will join Brady Quinn and Bush's former USC teammate Matt Leinart for a Fox college football program hosted by Rob Stone.
This Saturday morning show will compete with ESPN's College Gameday for the fans attention when the football season starts in just a few months.
Latest Mock Draft Has Five Stars from the Big Ten Taken in First Round
CBS Sports put out their latest mock draft on Friday and they predicted five Big Ten stars taken in the first round with three making the top ten.
Nick Bosa was predicted to go second to the San Francisco 49ers, Rashan Gary seventh to the Jacksonville Jaguars and Dwayne Haskins is forecasted at 10 where he will compete with veteran Joe Flacco on the Broncos depth chart.
Iowa tight end T.J. Hockenson is listed at 12 to join the Packers and Aaron Rodgers in Green Bay and Michigan's Devin Bush rounds out the list at 20 with a selection by the Steelers.
Former Wisconsin Quarterback Alex Hornibrook Transferring to Florida State
Alex Hornibrook hasn't officially announced the transfer but Wisconsin's head coach confirmed his intention to leave the school.
"Alex informed us of his decision to leave the team earlier today," Paul Chryst told reporters. "He contributed to a lot of our recent success, and we want to thank him for all he did for our program. We wish him the best of luck."
The only confirmation so far comes from Hornibrook's Instagram page. In a recent post, he is seen standing next to Florida State's head coach Willie Taggart. The picture is captioned "I'm excited to announce that I'll be playing my final year of college football at Florida State. Go 'Noles."
It's safe to assume he's leaving the Big Ten. Although Hornibrook didn't post great numbers in the 2018 season, he did accomplish a lot the year prior. Hornibrook threw for 2,644 yards and 25 touchdowns during the 2017 campaign.
Main Photo:
Embed from Getty Images