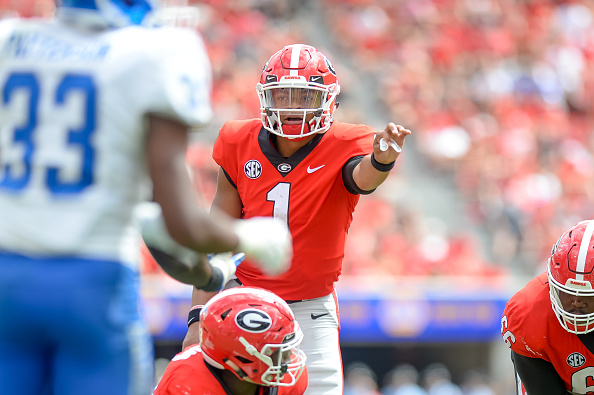 Every year seems to be a complete rotation of the starting 22, whether it be to the NFL, graduation, or transfer. Each season brings new hope to young fans around the nation but some teams this off-season haven't done as well as the others–especially in the Big Ten.
Some Big Ten football teams have won the off-season, some have lost, and some are stuck in the middle. Here he looks at the winners and losers of the off-season for Big Ten conference.
Winners and Losers of the Big Ten Offseason
Winners
Ohio State
What Ohio State needed was Dwayne Haskins 2.0 and what they got was Haskin's arm with the ability to run. Former Georgia quarterback Justin Fields announced his transfer to Ohio and gained immediate eligibility providing the Buckeyes with instant playoff consideration.
J.K. Dobbins returns to Ohio State as the starting running back and will certainly have Buckeye opponents moving their safety's up, allowing Fields the downfield throw.
Penn State
Penn State landed five-star recruit Brandon Smith who was given a .9911 247sports rating. That rating came with an impressive evaluation which stated: "Will develop into an impact Power Five starter over time and has tools to become a first-round NFL Draft pick."
Penn State might struggle at the quarterback position this year since three-year starter Trace McSorley declared for the draft, likely bestowing Tommy Stevens with the starting role. The problem? Stevens was limited to 24 completed passes in his three years with Nittany Lions.
On a positive note, James Franklin is bringing two skilled freshmen at running back in Devyn Ford and IMG Academy's Noah Cain. There's going to be some tough competition in the backfield.
Nebraska
The Cornhuskers were ranked ninth in the Big Ten recruiting a year ago and this year they moved up to fourth. The main reason? The addition of former UCF head coach Scott Frost. This will be Frost's second year but his first full off-season.
Frost snagged the number one player overall from the state of Kentucky, Wandale Robinson. Robinson is a quick, versatile, all-purpose back who has been compared to Purdue's Rondale Moore.
Nebraska also added some incredible talent on the other side of the ball with the addition of Oklahoma State transfer defensive tackle Darrion Daniels. Daniels is a graduate transfer who brings experience and toughness to a team who gave up almost 200 yards rushing per game last season.
Losers
Michigan State
Everyone was looking for the Sparty's to add a gifted quarterback. The reason being the starter from last season, Brian Lewerke, regressed from the 2017 season and his backup Rocky Lombardi didn't impress anyone with his on field time.
So far, Michigan State has only added one quarterback. Incoming freshman Payton Thorne from Naperville, IL, is one of the few power five three-star quarterback recruits who has a legitimate chance to start this coming season and that should put fear into the hearts of Sparty fans.
Maryland
The Terrapins were living the dream. They hired former Michigan coach D.J. Durkin and everything was seemingly going to plan and then disaster struck. One of Mayland's football players died during practice in May of 2018, and although Durkin was found to have done nothing wrong, he was fired nonetheless.
This team still hasn't recovered and no one blames them. Two seasons ago, Maryland ended at 4-8 and last year they completed their run with a slightly better but still mediocre 5-7 record. Ranked 11th in recruiting in the Big Ten, Maryland is only three spots from the bottom.
Rutgers
The Scarlett Knights are at the bottom of the Big Ten for recruiting, descending from the previous years rank of second to last.
When Rutgers first joined the Big Ten conference, they finished the season with an 8-5 record and 3-5 in conference. Since then they have not had a winning record, going 1-11 in 2018 and 0-9 in conference.
So-So
Purdue
The win over Ohio State is having its effect on the recruiting trail. The Boilermakers went from 11th to 5th in Big Ten recruiting according to 247sports.
Two offensive weapons at wide receiver have signed letters of intent and they both hold a rating over 90. Purdue also added top talent with in-state defensive end George Karlaftis.
Why is this team just so-so? Only four of their commits are already enrolled in the university meaning the other guys are missing out on valuable time with their fellow teammates.
Michigan
Fantastic recruiting year for Michigan and also an awful off-season since almost the entire defense will be getting drafted in April.
It didn't help the maize and blue to lose former five star recruit Aubrey Solomon and legacy tight end Tyrone Wheatley to the transfer portal. Michigan fought their way out of the loser category by leading the conference in recruiting, adding solid playmakers like Zach Charbonnet and Daxton Hill.
The Last Word
The Big Ten is going to be a tough conference to compete against and could have a team in the playoff in 2019. The SEC has dominated in recruiting so far – holding all five of the top five spots – but the Big Ten is ripe with transfers. Watch out college football, the Big Ten is coming for you.
Main Photo:
Embed from Getty Images