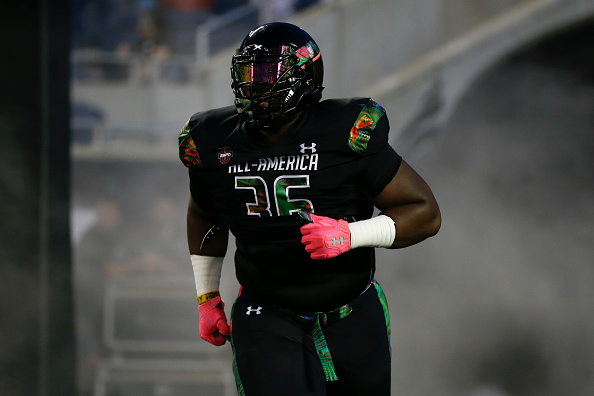 Michigan's 2018 season was filled with up and downs, culminating in a very disappointing final two games. Against their bitter rival Ohio State, Michigan failed to stop the crossing routes leading to a dreadful 62-39 loss. The Wolverines again failed to conquer Florida in the Peach Bowl, losing 41-15, while only recording one turnover in the final two performances.
Many fans provided excuses, stating Devin Bush Jr. was injured or several of the stars didn't play, but those people are missing the point. Michigan lost with the stars of tomorrow, they lost with the starters of next season.
What the final two games should tell Michigan fans is they are in serious need of some incoming talent to step up into the starting role. Here we are going to look at the notable Michigan football recruits of 2019 and what they could provide to the Wolverines.
These Top Michigan Football Recruits Will Make You Optimistic
Daxton Hill, Safety
247Sports Score: .9927
Daxton Hill originally committed to Michigan then flipped to Alabama then back to Michigan. A lot of questions have been raised about his loyalty to Michigan and his potential to commit elsewhere, however, Daxton made it very clear he's here to stay.
"Really, just thinking it over with my family after a few days, a few weeks" Hill stated, "I felt like that was just home for me, and that's where my heart has always been at from the beginning."
Daxton Hill is a 6'0" 188Lbs safety who is the top recruit from the state of Oklahoma. He's incredibly fast with a 4.30 40-yard dash and explosively quick (4.22 shuttle). During his senior year, Daxton accounted for 93 tackles, nine tackles for loss, one sack, and two interceptions.
What's even more awe-inspiring is Hill's play as a freshman at Booker T. Washington high school. He was responsible for 67 tackles, two tackles for loss and two interceptions.
Barton Simmons, director of scouting for 247sports.com compared Daxton to New England Patriot safety Devin McCourty, but Michigan fans may have a different comparison in mind – Jabrill Peppers.
Regardless of the comparison, what's clear is defensive coordinator Don Brown is losing David Long and Tyree Kinnel this off-season, opening several positions for Hill to step into in his first season wearing maize and blue.
Chris Hinton, Defensive Tackle
247Sports Score: .9867
Rashan Gary is leaving Michigan for the NFL draft and most Michigan fans were surprised he stayed past his sophomore season. Nevertheless, Gary's presence on the defensive line was greatly missed against Florida, who ran for 258 yards and averaged 6.6 yards per rush. Clearly, the defense will need some help.
The defensive line was beefed up a bit with graduate transfer and defensive end Mike Danna coming from Central Michigan, but he might not be enough. Incoming freshman Chris Hinton and another defensive tackle on this list – Mazi Smith – could give Michigan what they need on the inside.
Hinton is a 6'4" 285lbs monster from Johns Creek, Georgia who was a two-sport athlete and honor roll student. 247sports writer Charles Power said Hinton "Projects as a multi-year power five starter with the potential to develop into an NFL Draft selection." Hinton is a highly intelligent player who was listed on the honor roll for all four years of high school and is likely to have an immediate impact on Michigan's defensive line.
Zach Charbonnet, Running Back
247Sports Score: .9760
Michigan's top two rushers from the 2018 season are no longer part of the team. Senior Chris Evans was having some trouble academically and is no longer listed on the roster while Karan Higdon declared for the draft.
There will certainly be some competition at the running back position when one of the top Michigan football recruits of 2019, Zach Charbonnet, hits the field. Tru Wilson will be Zach's main competitor – Tru ran for 364 yards on 62 carries, averaging 5.9 yards per rush during the 2018 campaign.
Charbonnet is slightly larger than Wilson at 6'1" and weighs around 220lbs. During his high school career, Zach ran for 4,741 yards which included 62 touchdowns.
Zach's 247sports evaluation states he is an "upper tier Power 5 starter and future high round NFL draft pick if he can stay healthy."
Mazi Smith, Defensive Tackle
247Sports Score: .9536
As previously mentioned, the Wolverines will need some help on the defensive line and Michigan native Mazi Smith will be there to fill the hole left by Gary.
As a senior at East Kentwood high school, Mazi recorded 81 tackles and 18 tackles for loss and there's a clear reason why he put up such staggering numbers; Mazi is listed at 6'3" and 303lbs.
Mazi is big and "has twitch and explosive qualities. Can get off the ball and has quick hands, he just needs to use them more consistently" according to 247sports.com analyst Allen Trieu, he's "tough to move when he anchors in and has a good bull rush. Needs to keep intensity up consistently, but has a true nose tackle build and great power. Can play in even or odd fronts. Size and strength should allow him to compete as a true freshman."
Trente Jones, Offensive Tackle
247Sports Score: .9512
Karan Higdon was the first Michigan running back to rush for over 1,000 yards since Fitzgerald Toussaint did it in 2011 – that is unless you count the quarterback/running back Denard Robinson who accomplished the feat in 2012.
The point is having a 1,000-yard rusher is a direct reflection of the talent on the offensive line which will be returning four out of five starters – offensive tackle and redshirt senior Juwann Bushell-Beatty will be moving on to the NFL.
Standing at 6'6", Trente Jones should give the existing lineman a run for their money and could step up into a regular role depending on his performance preseason. Jones accounted for 69 pancake blocks during his senior season and was a four-year honor roll student at Grayson high school in Grayson, Georgia.
Jalen Perry, Cornerback
247Sports Score:  .9186
Yet another Georgia native stolen from the Bulldogs. Jalen Perry de-committed from Georgia in October of 2018 and announced his commitment to Michigan just a month later. The four-star commit may need to step up into a starting role during his inaugural season should Michigan suffer some injuries.
Jalen is ranked 22nd in the state of Georgia and is the 23rd ranked cornerback nationally. Trieu said of Perry, "given his physical attributes, he has a good chance at early playing time because he should not need to add much size before being ready to compete at the power five level."
Main Photo:
Embed from Getty Images