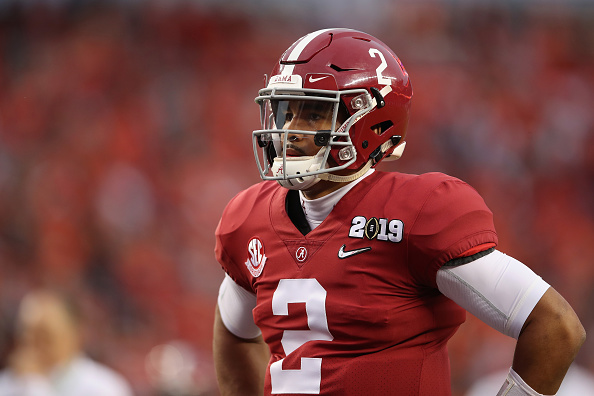 What were you doing on December 4th? Like most of the public, your day was spent still mourning the death of President George H.W. Bush, or maybe you were flabbergasted at the audacity displayed at the week-long Jonas-Chopra wedding. Either way, there was a lot going on and you probably missed all of the NCAA quarterback transfers; especially Kelly Bryant's announcement on December 4th.
Before anyone can understand how the college football transfers work, you must understand the popular term transfer portal. 247sports.com defines the portal as: "Under the college transfer policy when a student-athlete informs a school that he wishes to transfer, that institution has two business days to enter that athlete's name into a national transfer portal. Once the student athlete's name is in the database, other coaches from any school can contact that individual."
Here's an updated look on the quarterback transfer portal:
College Quarterback Shuffle
Justin Fields
Georgia to Ohio State
Trevor Lawrence and Justin Fields, two quarterbacks from Georgia who could change the future of college football and yet neither of them will be attending an in-state college next season.
Lawrence quickly took possession of the starting job and led the Clemson Tigers to the championship game this season and won. Fields, on the other hand, was limited in playing time and ended his season without even making the playoffs.
With the departure of Dwayne Haskins to the NFL, Fields should be a shoo-in for the starting job in Columbus, OH, much to the chagrin of Big Ten defensive coordinators.
Ohio State finished at the sixth spot in the college football rankings while Fields' former team, Georgia finished fifth.
Brandon Wimbush
Notre Dame to UCF
Brandon Wimbush started the season strong at Notre Dame with a win against Michigan; however, he faded quickly. Junior Ian Book proved why it should be the starter and now the fifth-year senior Wimbush is packing his bags for warmer weather.
For the past four years, college football analyst's have been calling on UCF to beef up their strength of schedule, which is a good idea for a school which sits outside of the power five. I agree with the criticism but it is going to be pretty tough to convince power five programs to schedule UCF, who beat Auburn two seasons ago and narrowly lost to LSU last season.
Tate Martell
Ohio State to Miami
Malik Rosier graduated this season from the U, leaving sophomore N'Kosi Perry in his stead. Not so fast said Tate Martell with his transfer, it's now going to be a tough competition in Miami.
In December, Martell was asked about whether he would consider leaving OSU with rumors speculating around Fields potentially transferring to Ohio State. Martell responded, "Why would I leave for someone who hasn't put a single second into this program yet?"
After the season ended, head coach Urban Meyer retired and on January 4th, Fields announced his transfer to OSU. Two weeks later, Martell announced his transfer.
Jalen Hurts
Alabama to Oklahoma
Could Jalen Hurts be the third Sooner in a row to win the Heisman? Obviously, Tua Tagovailoa won the starting job in Tuscaloosa but many critics pointed out the sensational job Hurts did when Tagovailoa went down with the late-season leg injury.
It will be interesting to see how far Hurts will take Oklahoma next season. Two years ago, the idea was floated around to turn Hurts into a running back after rushing for 954 yards as a true freshman. Now Hurts can set a new course for himself leading the team he helped kick out of the playoffs just a couple of months ago.
Kelly Bryant
Clemson to Missouri
Back in September, Trevor Lawrence was named Clemson's starting quarterback much to Kelly Bryant's dismay and Bryant responded. Bryant announced his transfer to Missouri and, in turn, sent the SEC East into red alert status.
Kelly Bryant to Missouri makes all the sense in the world. Oh, wait, no it doesn't. Missouri is the unhappy recipient of a one-year suspension from postseason play for academic fraud. What season will that be enforced? The 2019 season.
This means no matter what Bryant does for Missouri, he has no chance of making the college football playoffs and no opportunity to play in a bowl game.
The only benefit goes to those who love SEC football. Much like Big Ten West, the SEC East is dominated by one team, Georgia. Bryant's arrival in Columbia has put Georgia on notice.
Just a reminder, here's a scenario: Missouri could go undefeated and win the SEC and would not be admitted into the playoffs, while one-loss Georgia and Alabama could still make the trip; the world is not fair.
Undecided
Josh Jackson
Josh Jackson joined many others in the great Virginia Tech exodus without announcing his future school. It's important to note Jackson is from Ann Arbor and is the son of former Michigan assistant Fred Jackson.
Deondre Francois
Deondre Francois was released from the Florida State Seminoles following some accusations from his former girlfriend. The accusations were later recanted and yet Francois is still without a team. FSU's head coach Willie Taggert remained confident in Francois when he said: "I know he'll land on his feet somewhere."
Main Photo:
Embed from Getty Images