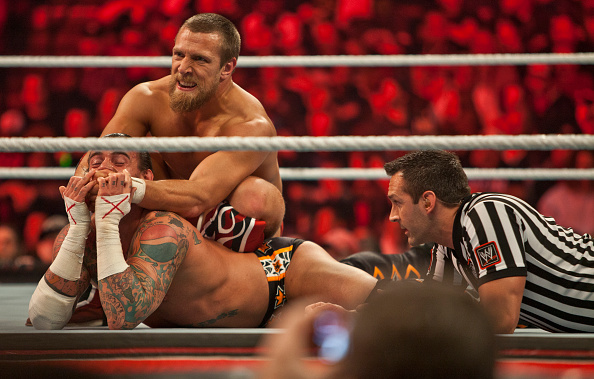 WWE Fastlane, the very name makes you think of hurrying, going fast, or kicking into high gear. This is just what is happening in the WWE year. Fastlane being the last PPV event before the Superbowl of wrestling, Wrestlemania. So in a very real way, this is the playoffs of the WWE. Storylines are happening, changing, firming up and it is put up or shut up time for many of the WWE wrestlers. Let's take a look at some of the biggest and/or most promising to be talked about matches.
WWE Fastlane Preview
WWE Champion Daniel Bryan vs. Kevin Owens
Well, this one is a head scratcher. This match for the WWE championship was originally between Daniel Bryan and Kofi Kingston. Kofi who is not only a fan favorite in the New Day, has also gained enormous favorite and respect as a singles competitor. It seemed after eleven long years he was finally getting his shot. Then to the dismay of Kofi and his New Day partners and the crowd itself. Vince Mcmahon announced that the match needed to be even bigger and he believed the returning Kevin Owens would make it such.
Now sure, Kevin is talented, but many wonder how he could have jumped up the ladder this much to regain a shot when Kofi and quite frankly others seem to deserve it more. Of course, who are we to question Vinnie Mac? In the end however, this can be a great building block on the way to Wrestlemainia and lay the foundation for Kofi to get his shot no matter who wins this match. Although one major advantage the New Daniel Bryan may have is his backup, Eric Rowan. Kevin will have to keep him in his line of sight or his match may end quickly.
Rey Mysterio vs. Andrade
This match is in the preview show and really undercuts both competitors. Rey Mysterio has been wrestling in a way that defies the many years that he has been a professional. His skill level is still amazing and he defies gravity as well as age. Andrade has been performing since his early teens and working his way up through NXT to become champion. He has been on fire in the WWE and with his speed and skill an equal match to Rey's this should not only be a great match but really should have been in the main show. However we hope that they impress enough and are upgraded to a full blown match at Wrestlemania.
The Shield vs. Baron Corbin, Drew McIntyre & Bobby Lashley
In a triumph of blood is thicker than water, the Shield has reunited to take on their antagonists who have been trying to break them and keep them apart for months. The fan favorite is certainly the reunited shield. Of course much like in the championship match there is an x-factor. Elias has been on the side of the former RAW general manager Baron Corbin. Although even with an extra man on their side, if the Shield is running on all cylinders, they will not be able to overpower the Hounds of Justice.
Charlotte Flair vs. Becky Lynch
This is another story-line that has been building for a long time. It also has kept people guessing to if Becky Lynch actually has an injury that they must work the story around. Or if they are just using that line to build up for the match. Either way, they have been heading full steam for their match at Fastlane. While it isn't a title match, it has title implications. The match for the women's championship against Rhonda Rousey at Wrestlemania got taken from Becky and given to Charlotte Flair.
To say Becky took the news badly is an understatement, even though she was put on suspension. She kept coming back for more and more attacks on those who stood in her way. While finally she was given this match, with a couple of stipulations. She must agree that if her injury is aggravated, she takes responsibility for it herself. However, if she does win, the match at Wrestlemania will be a three-way for the championship. Though the Queen Charlotte Flair is not going to be an easy win by any means.
Last Word
With Fastlane being the last stepping stone towards the biggest WWE event of the year. Keep your eye not only on the great matches but tendrils of story lines working their way around. Especially if Triple H or Dave Batista are around, as they are on a build up to detonation by Wrestlemania. Also look for Kofi to pop into Fastlane to make a statement as well. Enjoy.
Main Photo:
Embed from Getty Images