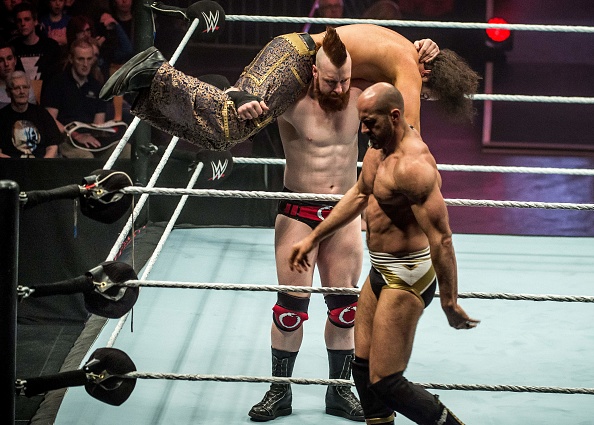 This Sunday is one of the more brutal pay per views, Extreme Rules. The name is exactly what it says, the rules of the matches are much more extreme than the normal matches that happen from week to week. Let's go over some of the most intriguing of the extreme matches.
ALEXA BLISS VS NIA JAX (EXTREME RULES)
Woman's champion Alexa Bliss puts the title on the line in a match with nemesis and former friend Nia Jax. In this extreme rules match, anything goes, steel chairs, trash cans, kendo sticks. All available and legal to use, and this past week both of them got a taste of what it feels like to hit or hit with the unforgiving kendo sticks. While Alexa had a smile of glee when she hit Nia, her tune changed when Nia got the upper hand.
While she was able to run out of the ring to escape. She won't be able to escape that easily this Sunday. Nia is chomping at the bit to get her title back, strength and endurance wise, she should come out on top. But always Alexa has an ace up her sleeve and since the rules are basically no rules. She can easily have someone as back up such as her friend Mickey James and sneak away with a win.
DOLPH ZIGGLER VS SETH ROLLINS (30 MINUTE IRON MAN MATCH)
This match can have a little more mystery to it. In a match for the intercontinental title, they have thirty minutes to get as many pin falls as possible. Unlike a two out of three falls match that you can sometimes see the ending pin coming. This match can have one pin during the whole match or many on each side with the winning one coming at the last second. Or even could end in a tie.
Dolph Ziggler has been a thorn in Seth Rollin's side since he won the title with help from interference from Drew Macintyre. Odds are that he will be an influence in this match as well, however, shield brother Roman Reigns can possibly be an influence protecting his friend. Also, look for a surprise return from Dean Ambrose. The rumor mill is alive that he may return soon and this would be opportune time for him to return to the story-lines.
CARMELLA VS ASUKA (JAMES ELLSWORTH SUSPENDED ABOVE THE RING)
Champion Carmella will be defending her title presumably without the assistance of her lapdog James Ellsworth as he will be locked in a shark cage hanging above the ring. The amazingly talented Asuka has her eyes on regaining the title and is more than capable of taking it back. Sometimes it seems as though Carmella's main talent in the ring is running away. Or screaming when she doesn't get the three count. But she is clever in a devious sort of way and uses whatever she can to get her way. What she will do now with her lapdog heeled remains to be seen.
JEFF HARDY VS SHINSUKE NAKAMURA
This is a match between two high fliers with great talent. However, Shinsuke was recently injured by a dog on his leg which may affect his performance or at least how much he can run and jump. This story-line is a little light compared to others. The battles between AJ Styles and Shiinsuke were hyped a lot more. It is almost a waste of potential hyping to not have more background to this fight. But if both wrestlers are feeling %100 they are two of the best wrestlers on the roster and both have huge crowd interaction.
THE BLUDGEON BROTHERS VS TEAM HELL NO
This has to be the emotional feels fight of the night. After Kane made a surprise return to help former tag team partner Daniel Bryan. To the loud chants of hug it out, that is exactly what they did. General manager Paige wasted no time in putting this match together to take advantage of such a crowd pleaser. Surprisingly, the odd pairing works very well in the ring, however, going up against the brutal Bludgeon Brothers will be one of their biggest challenges. Both of these men equal Kane in size and while they have no real on mic conversation, they don't need it. They let their brute strength do the talking for them. While we know who the crowd wants to walk away with the tag team titles. We will have to wait to see if Kane and Daniel can regain the past chemistry to put out a win.
There are other matches as well including two in the pregame show which starts early at six thirty eastern. With the main show starting at seven eastern. There will be more than enough extreme excitement for all to enjoy. As well as many twists to story lines. Hope you all enjoy.
Main Image: Embed from Getty Images