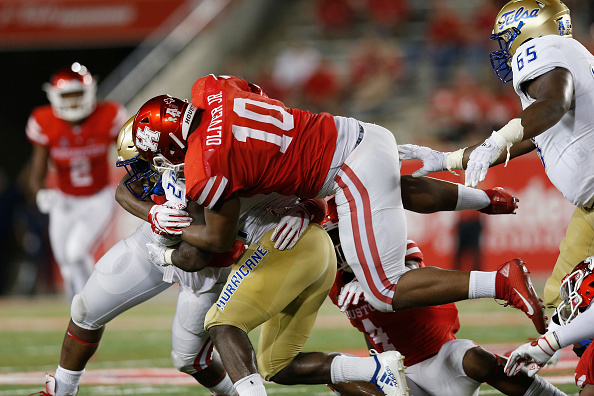 The Buffalo Bills hold the ninth overall pick in the 2019 NFL draft. They have multiple needs to address that include offensive line, wide receiver, and defensive tackle. This year's draft is loaded with talent at the top end of the draft with many talents on the defensive side of the ball. Bills general manager Brandon Beane has said that he is a believer in drafting the best available player, but Buffalo is too close to a contending roster to avoid filling the gaps in the roster. Here are five Buffalo Bills draft targets.
Buffalo Bills Draft Targets
1. Ed Oliver DT, Houston
The Buffalo Bills need to replace Kyle Williams and Ed Oliver can fill that role. Oliver excels at stopping the run and ending plays before they begin. Oliver had 53 tackles for loss in three seasons at Houston. Williams recorded 103 in his 13-season career. Oliver gets in the backfield at an incredible rate, which can help Buffalo's spotty run defense. Oliver will need to improve his ability to rush the passer to be a top player in the NFL. His attitude problems in Houston may sway Buffalo away, but Oliver would be an absolute steal at number nine.
2. Jonah Williams OT/OG, Alabama
Jonah Williams is possibly the best offensive lineman in the draft. Rankings vary, but Williams skill set is extremely unique. Buffalo desperately needs help on the offensive line. Williams has shown that he has an outstanding technique and can go up against top-level pass rushers. Williams dominated fellow top prospect Clelin Ferrell in the National Championship. Jonah is also solid in the run game. This helps separate him from others in this draft class. Williams would be a great fit for Buffalo as a guard or left tackle. Protecting quarterback Josh Allen is a top need for Buffalo this off-season.
3. Marquise Brown WR, Oklahoma
Marquise Brown is the next Tyreek Hill. His small frame and quick speed are very similar to Hill. The Bills have speed at receiver, but they don't have anything close to a Tyreek Hill on their roster. With the evolution of the NFL, a speedster like Brown is a rare commodity that will be sought after. Pairing him with Robert Foster would do wonders for a strong-arm quarterback like Josh Allen. Brown has played with Baker Mayfield and Kyler Murray in college, so he knows what it takes to have chemistry with a young quarterback. Brown might be the first receiver selected in the draft, and Buffalo is in a perfect spot to make that happen.
4. Jawaan Taylor OT, Florida
Jawaan Taylor differs from Jonah Williams when you watch his run blocking. Taylor is a dominant run-blocker with sufficient pass blocking. He is also a player who could move inside, but he can easily play tackle in the NFL. Taylor has shown the potential of a decade long starter and a true anchor for an offensive line. Taylor could easily end up with a few all-pro seasons on his resume. The Florida product would be a great fit for Buffalo's line and could be a day one starter at any position.
5. Rashan Gary DT, Michigan
Rashan Gary has been a name linked to the first round since last year's draft. Gary has had a very successful career at Michigan. Gary has great size but has shown the skill set to play inside or on the edge. He would fit well for Buffalo on the inside. His explosiveness could allow him to develop into an Aaron Donald type player. Gary's stock continues to climb as he is viewed as a raw collection of skills. Buffalo would be extremely lucky to get him at number nine.
Main Photo:
Embed from Getty Images