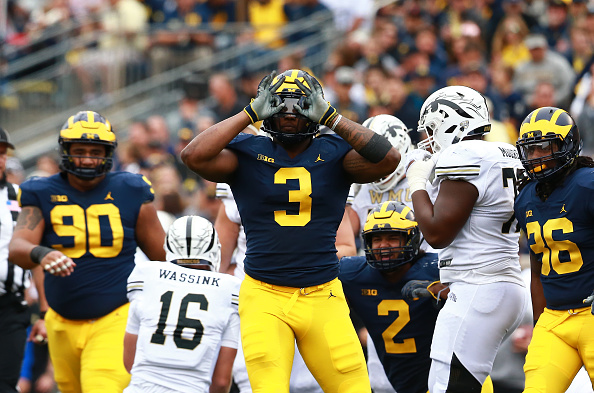 Reloading – a term once predominantly utilized by hunters and soldiers- is now commonplace when discussing college football teams like Alabama, Oklahoma, Clemson, or Notre Dame.
For Michigan, reloading or reconstituting their team is essential; should Jim Harbaugh and company have any chance of reestablishing themselves as the leader of the Big Ten conference, something they haven't been able to do since 2004, and even then they were co-champions. Below are the top Michigan Football departures and their replacements.
Michigan Football Departures and Their Replacements
1. Rashan Gary
Rashan Gary was the number one football player overall coming out of the class of 2016. He will be departing Michigan and will likely be a top-five pick in the 2019 NFL Draft.
Replacement: Kwity Paye
The 6'4" 260lb Rhode Island native came to Michigan in 2017 and has had a lot of success rotating in the feared defense. Kwity Paye has appeared in 22 games, recording 34 tackles, six tackles for loss, one pass breakup, and one forced fumble.
2. Devin Bush
Devin Bush was undoubtedly the defensive quarterback for the top-ranked maize and blue and he is listed as a top ten draft pick in some early 2019 NFL mock draft boards.
Replacement: Josh Ross
Josh Ross is no stranger to Michigan football, his brother James Ross played for Michigan from 2012 to 2015.
"I had the privilege of coaching Josh's older brother (James) for the bowl game two years ago, and the Ross family is just a great family. Josh is a great kid." Michigan's special teams' coordinator and safeties coach Chris Partridge said, "He's physical, he's tough, and he's hard-nosed. He is one of those guys you think about when you think Michigan football and the level of physicality we play with here. He is going to be a middle linebacker for us. We are glad we are continuing the Ross family legacy and that he is following in his brother's footsteps."
3. David Long
David Long came to Michigan from Los Angeles, CA, and became a mentee of former Michigan great Jourdan Lewis, now with the Dallas Cowboys. Long was the corner who Michigan could rely on to be left on an island.
Replacement: Ambry Thomas
Ambry Thomas became Michigan's de facto return man in 2017 and returned a 99-yard kickoff in the 2018 season opener against Notre Dame limiting his playing time on defense. Ambry Thomas is the only glimmer of hope for a defense who is losing their top three cornerbacks.
"Ambry is a real competitor. He is very feisty and another one of our players who I can't wait to get on the field. He is very athletic and played both ways in high school." Coach Mike Zordich said of Thomas, "He was an excellent receiver on offense in high school, so he is an exciting individual. We are glad to have him at Michigan and look forward to working with him."
4. Chase Winovich
Chase Winovich is a fifth-year senior who made a big impact on defense this year. More importantly, he was also the unofficial leader of the "revenge tour".
Replacement: Aidan Hutchinson
Aidan Hutchinson is a 6'6", 270lb true freshman wreaking ball, who was able to account for 15 total tackles on the season.
Starting left tackle Jon Runyan Jr. said of Hutchinson, "He has great strength for a true freshman. Coming in here, he was lifting the same weight as some of the juniors and seniors. That was unbelievable to see."
5. Karan Higdon
Karan Higdon recorded 1,178 rush yards this season, averaging 5.3 yards per carry. Higdon ran for over 100 yards in eight of the 11 regular season games.
Replacement: Chris Evans
Michigan shouldn't lose a step running with the ball with Chris Evans and Tru Wilson returning for next season. Zach Charbonnet, the fourth-ranked running back in the nation, committed to Michigan and is the biggest of the three. There should be some tough competition for the starting role.
6. Zach Gentry
Zach Gentry was a 6'8" quarterback coming out of New Mexico turned Michigan tight end. Gentry embraced the role and as a junior, he has declared for the upcoming draft in his new position.
Replacement: Nick Eubanks
Gentry's declaration means a lot more playing time for Nick Eubanks who had limited production in 2018. Meanwhile, Sean McKeon should take a majority of the snaps, Eubanks will be included in the two tight end set.
Main Photo:
Embed from Getty Images