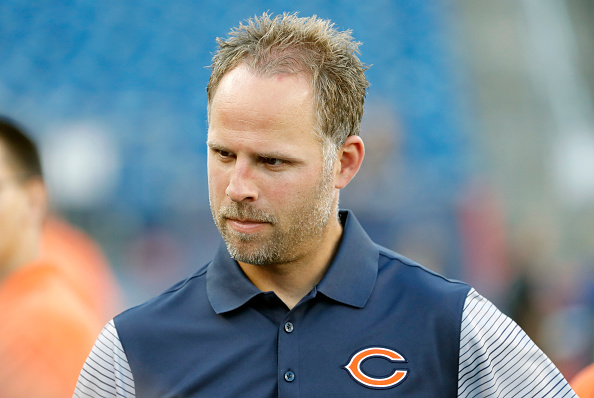 Greg Mattison left the NFL in 2010 to join his close friend Brady Hoke at Michigan. Mattison was the only assistant following Hoke's firing that stayed on with the new organization, but it came with a cost. He was demoted twice and he finally had enough. Mattison, along with linebackers coach Al Washington, decided to make the 184-mile trip to the slightly smaller and awkwardly shaped Ohio State stadium, infuriating the Michigan faithful.
But is it really that bad? It was Don Brown's defense all along and while Greg Mattison was directly coaching Michigan great's like Rashan Gary and Al Washington with Devin Bush, their replacements and the new additions to the Michigan Football coaching carousel might be an upgrade.
Michigan Football Coaching Carousel
Josh Gattis, Offensive Coordinator
Michigan has gone without a true offensive coordinator during coach Jim Harbaugh's entire coaching tenure and many fans still believe it will be hard for him to give up total control.
However, coach Harbaugh expressed his intention to hand over offensive coordinator responsibilities. "We've had some coaches depart and looked at that as an opportunity for our football team to grow and make ourselves better, so that's really what it's been. I've watched Josh long enough to know — and we've talked and had the same philosophy, really, which I liked — but I like the idea of him running it.
Josh Gattis left Alabama after just one year as the co-offensive coordinator and wide receivers coach. Prior to Alabama, coach Gattis was back in the Big Ten as the wide receivers coach and passing game coordinator for Penn State. Gattis has been recognized as an excellent recruiter during his entire coaching career, winning awards like the 2015 Big Ten Recruiter of the Year by Scout.com.
With coach Gattis' help Penn State was ranked as high as second in the nation and while the National Championship game was an offensive disaster for Alabama, Gattis and company had a pretty good year otherwise.
Will He Stay?
Although Josh Gattis agreed to a three contract with Michigan, there is speculation he could leave after one season just like he did at Alabama. Gattis is a North Carolina native and he attended and played safety for the Wake Forest Demon Deacons. Wake Forest's head coach is on the hot seat following a 7-6 season: should that position become open it would be very tempting for Gattis to go back home.
Anthony Campanile, Defensive Assistant
Anthony Campanile is a New Jersey native and former high school offensive and defensive coordinator for the well-known Don Bosco Preparatory in Ramsey, NJ. In 2012, Campanile made the jump to college where he became a defensive assistant with Rutgers. In 2013, the year prior to Rutgers joining the Big Ten, Campanile was moved to the offensive side of the ball as the wide receiver and tight end's coach.
Campanile left the Big Ten to coach defensive backs at Boston College after the 2015 season. Campanile was promoted to co-defensive coordinator in 2018 and maintained his responsibilities with the defensive backs. Coach Campanile played for Rutgers from 2001-2004 and is in a similar situation as coach Josh Gattis in that he could leave should a position open at his alma mater. If Campanile sticks around, he should be able to learn a thing or two from Michigan's impressive coaching staff.
Ben McDaniels, Quarterback's
Ben McDaniels is another former Rutgers coach who hails from Ohio, specifically the city of Barberton. McDaniels's has been coaching since 2003 and his stops include the Denver Broncos, the Tampa Bay Buccaneers, the Chicago Bears, as well as several universities. McDaniels comes from a very successful family, his dad is a legendary high school football coach in Ohio and his older brother is currently the offensive coordinator for the New England Patriots.
Shea Patterson returned to Michigan and yet McDaniels has a slew of talent at the quarterback position.
Sherrone Moore, Tight End's
Sherrone Moore must love frigid cold temperatures. He left the Central Michigan Chippewas as the assistant head coach/recruiting coordinator/tight ends coach to take a position just 140 miles away in Ann Arbor. Prior to coaching at Central, Moore was a graduate assistant and tight ends coach at Lousiville.
Shaun Nua, Defensive Line
Shaun Nua is Greg Mattison's replacement and comes to the Wolverines from Arizona State, where he was coaching the defensive line and learning everything he could from legendary head coach Herm Edwards. From 2012-2017, Nua coached the defensive line at the U.S. Naval Academy. In 2015, the Midshipmen put together a historic season, finishing with 11 wins and a share of the American Athletic Conference Division title. From 2009 to 2011, Nua was an intern and graduate assistant at his former school Brigham Young University. As a defensive end at BYU, Nua was a beast earning a spot in the NFL, playing four years and winning a super bowl ring.
The Returning
Don Brown remains as the defensive coordinator and will take over linebacker responsibilities, Ed Warinner stays as offensive line coach, Jay Harbaugh sticks to running backs/assistant special teams coordinator. Chris Partridge is returning as special teams coordinator/safeties and Michael Zordich will remain on as the secondary/special teams coach.
Main Photo:
Embed from Getty Images