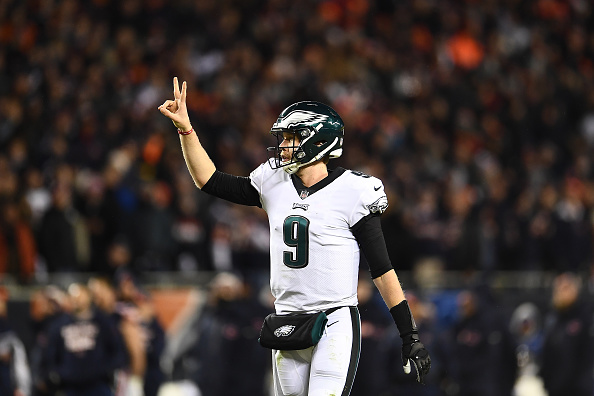 Most people are starting to figure out what I have known all along—that Nick Foles is an exceptional quarterback. Not sure whether it's just in his DNA or whether he had divine intervention on his side. Regardless, Foles finds himself in the same position he was in last season; the possibility of winning another championship right at his fingertips.
Nick Foles Quarterback Extraordinaire
Back in January, we pondered whether Foles was destined for Super Bowl LII. And then they won. Now, 10 months later, we find him in a similar scenario only with fewer wins.
So what makes Foles extraordinary?
We already know about the path that led Foles back to the Philadelphia Eagles—being cut by Chip Kelly back in 2014 then coming back in 2017. What makes Foles extraordinary is his desire to sit behind a capable Carson Wentz waiting for his turn to make a mark, much like he did last year. He has the ability to get a team to rally behind him for a second time and his fearlessness is the key to their success.
History tells us that it is rare for quarterbacks to win back to back Super Bowls. Since the super bowl era, there have only been seven teams who have won consecutive Super Bowls. The New England Patriots, the most recent team, won in 2004 and 2005 defeating the Carolina Panthers and Philadelphia Eagles.
The Eagles are on pace to become the eighth team in history to win the coveted award, and the odds are stacked, to the highest point, against them.
Eagles by the Numbers
Carson Wentz – 7-7 record, 3074 yards, 21 touchdowns, 7 interceptions
Great numbers and a decent record but too often forced the ball to Zach Ertz and on occasion to Dallas Goedert.
Nick Foles – 5-1 record, 1,679 yards, 9 touchdowns, 6 interceptions
Great record and decent touchdown percentage, but almost as many interceptions. He utilizes all the receivers and running backs to his advantage.
Defence under Foles – 1,611 passing yards, 347 rushing yards
Defence under Wentz – 2,988 passing yards, 1,269 rushing yards
Although Wentz has the better stats, Foles has the better defence. Is it because the team plays harder for Foles? Or because the Eagles defence feels they don't have to work as hard with Wentz under centre?
Perhaps Wentz has struggled to see all of his targets – i.e. Nelson Agholor, Alshon Jeffery, Darren Sproles – whereas Foles has gone into the last four games with that fearlessness that has helped him see the field; see things that Wentz can't.
Last Word
The Eagles, who will play the New Orleans Saints on Jan 13th, have the opportunity to do something very few teams have done. Why? They have an extraordinary quarterback named Nick Foles who, even if the Eagles lose, has already gained respect from the top down. If they do win, the Eagles may have to reevaluate who their starting quarterback should be.
Image Credit:
Embed from Getty Images