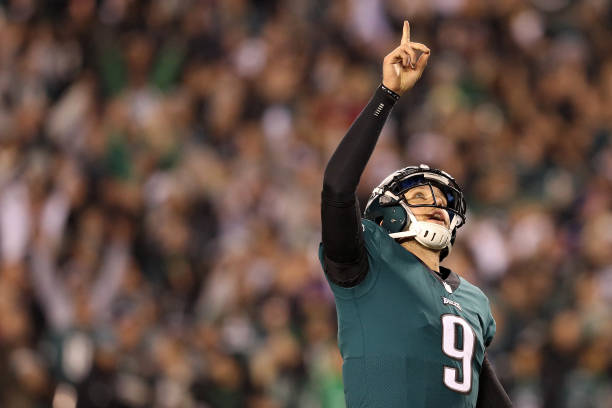 On Sunday, Fox aired the interview in which Terry Bradshaw sat down with Philadelphia Eagles backup quarterback, Nick Foles. Bradshaw asked Foles how crazy it was that if he were to win the NFC Championship versus Minnesota and made it to the Super Bowl, that he would be a backup next year. Foles answered with such assurance knowing that when Carson Wentz is ready take control of his team again, he will. And with that, Foles took the field and creamed the Vikings 38-7.
Why Nick Foles is Destined for the Super Bowl
Foles had the misfortune of playing during the Chip Kelly era. It wasn't that he was a bad coach, although some might argue that two failed teams says otherwise, he was just better suited at the collegiate level. Foles went from being the new face of the Eagles, to being traded away, and back again.
Is Foles destined to be in Super Bowl 52? Here's why the answer is yes.
Foles' early days with the Eagles
Foles was quarterback in Philly from 2012-2014. After starting six of the seven games he played his first year, he went on to have one of the most impressive sophomore campaigns. He threw for 27 touchdowns and just two interceptions which would surely be enough to win Eagles fans over. But when Kelly's regime started to crumble that next season, Foles became a casualty of that war. He was traded for Sam Bradford in 2015, but not before he left his mark with that franchise and that city.
Foles and Keenum side by side
Foles spent one year with the St. Louis Rams where most assumed he would be the starter. Through his 11 games he wasn't very impressive, winning just four. His good friend, Case Keenum,was  next man up and ended up playing the rest of the season out. Ironically, he was also the quarterback on the receiving end of the Eagles' annihilation of Minnesota.
He's headed back to Philly
In March of 2017, after serving as Alex Smith's backup in Kansas City, it was reported that the 28-year-old would be traded back to the Eagles. Foles became a free agent and the Chiefs didn't want to pick up his option. His two-year, 11 million-dollar deal was ideal but he wouldn't be Philadelphia's starter. Why? A starter named Carson Wentz. One thing that worked in Foles' favor was the Eagles new head coach, Doug Pederson, who served as Philadelphia's quarterbacks coach while Kelly was still coach.
Wentz started the first 13 games of the season. Some might say that his play over that stretch was impressive. In fact, Sports Illustrated reported at one point that he would edge out Tom Brady. Unfortunately for Wentz, he tore his ACL during their win against the Rams. Enter Foles. Now, he's given the opportunity to pick up where he left off, starting in Philly. Not only that, but he has the opportunity to right wrongs from not only 2004 when the Eagles faced the Patriots the first time, but also some of his personal wrongs from 2014 before he was traded.
Super Bowl 52
Now, Foles and the Eagles have a grudge match with the favorite New England Patriots in Super Bowl 52. It wasn't the Eagles Jaguars match that was predicted, but Eagles fans don't mind. They are underdogs in this game and like it that way (Just ask Lane Johnson and Chris Long). It will be interesting to see whether Foles can Swrite the happy ending to his narrative.
Main image credit: