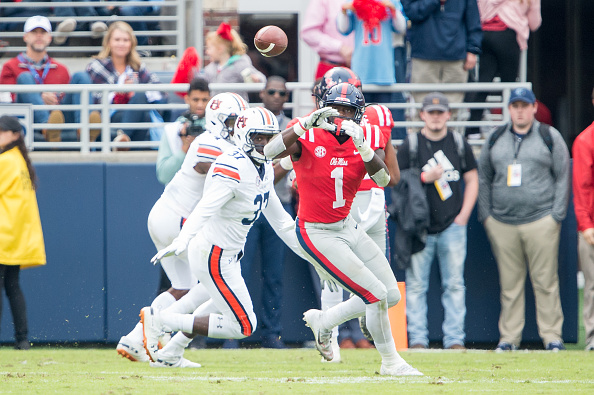 The Buffalo Bills have had an up and down season this year. One consistent thing about their season has been the lackluster performance from their offense. Josh Allen has had trouble getting the passing game going and this is due to a lack of threats in the receiving corps. Zay Jones has put together a solid year, but other than him and Lesean McCoy out of the backfield, there has been little to utilize. Players like Robert Foster and Isaiah McKenzie have come in and produced in small bursts, but nobody on Buffalo's offense has been a consistent threat this season. If Buffalo could get a true number one receiver on their roster, their offensive woes could be fixed on the spot. A.J. Brown could be just the player to change Buffalo's offense if he enters the draft.
A.J. Brown: The Player Who Can Change Buffalo's Offense
Junior wide receiver A.J. Brown is a projected top receiver in the 2019 NFL draft. He finished the regular season this year with 75 receptions, 1,252 yards, and 11 touchdowns. This all comes in only 11 games played. The 6'1 225 pound Ole Miss product has the frame of an NFL receiver. Brown's Ole Miss team plays in the always tough SEC, and for Brown to post these numbers only adds to the impressiveness of them. The Bills haven't had a 1,000-yard receiver since Sammy Watkins in 2015. Brown could be the number one receiver Buffalo saw Watkins as when they drafted him in the top 5 of the 2014 NFL draft.
Buffalo will likely have a top ten pick in this year's draft which puts them in a good position to get Brown. Buffalo also has other needs that could be filled with their first-round selection. However, Allen needs a reliable target to continue his development. The expected free agent receivers don't offer much in the realm of number one potential and Kelvin Benjamin's time in Buffalo looks like it may be over. This makes Brown seem like a great choice for Buffalo in the draft. If Buffalo selects Brown in the draft, they may have another Stevie Johnson, who had 3 consecutive 1,000-yard seasons with Buffalo, on their hands.
Main Photo:
Embed from Getty Images