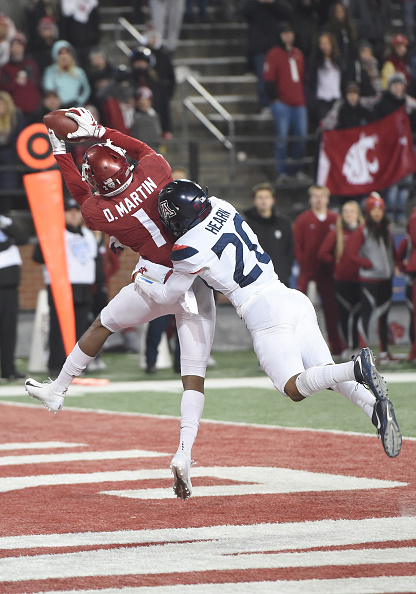 Gardner Minshew and the Washington State Cougars derailed the Arizona Wildcats. Washington State is currently ranked eighth in the College Football Playoff rankings. As all football teams do, they have aspirations of making the College Football Playoffs. In order to make the College Football Playoffs, they need help from other teams.
By help, they need teams ranked higher than them to lose. Then they need a variety of teams to win in their own conference championship game. They can only do so much. For now, they are focusing on winning one game at a time. They focused on receiving a victory facing Arizona. Washington State takes care of business at home blowing out Arizona with a final score of sixty-nine to twenty-eight.
Gardner Minshew breaks the school record with seven touchdown passes in a single game.
Minshew made his case to be considered as a Heisman Finalist. He threw for 473 yards, 7 touchdowns, and 0 interceptions, going 43/55. The entire night he adds plenty of time to survey the field and throw to any of his athletic receivers. He threw a touchdown to six different receivers. Minshew was sacked a total of two times all night, that's how flawless his offensive line was playing.
The passing game was rolling because the rushing game was strong. As a team, they rushed for 123 yards and two touchdowns off of twenty-three carries. Similarly, their defense was rolling.
Yes, they allowed twenty-eight points, however, they were flying to the ball. It seemed as if every tackle they made there was always multiple Washington State defenders, never one single defender on the tackle. They forced the Wildcats to punt the ball five times. Furthermore, they forced three fumbles as well. They were able to limit the explosive plays that the Wildcats are able to complete. The Cougars coverage on defense all over the field was impressive.
They were able to contain Arizona's' quarterback Khalil Tate from scrambling and making plays with his legs as well. What could have been a trap game for the Cougars ended up being a statement win. There was nothing stopping the Cougars. The only obstacle in their way was themselves or the grass.
Washington State firing on all cylinders.
Additionally, perhaps one inference on why they were clicking on all cylinders is because they were all having fun. They were playing team ball and having fun all at the same time. Gardner Minshew their quarterback was enjoying himself on the sidelines cheering on his defense. The entire team fed off of his ability to let loose and enjoy the moment. For instance, Mike Leach even displayed a little bit of a smile during the game.
Washington States' performance proves why they should be considered for the playoffs. However, they still have one more regular season game. If they win they make the PAC 12 Conference Championship game. Furthermore, if they lose then they lose their chance of a possibility to be considered for the playoffs.
Nonetheless, they are eligible for a bowl game with only one loss and ten victories. If it wasn't for the slim loss to USC perhaps they would have been ranked higher and have a higher percentage chance of making the playoffs.
Main Photo: