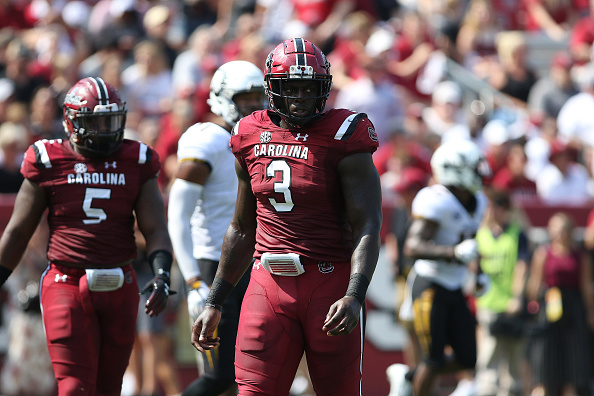 The 2019 Draft looks stocked with defensive line talent. The consensus top three players in the draft are Nick Bosa, Ed Oliver and Quinnen Williams, all defensive menaces on the line. On top of that, there's several more first round talents along the Alabama line, as well as Clemson's defensive line.
There are 12 defensive linemen in my top 32 players on big board. In the draft, teams must find their balance between positional needs and drafting talent. While many teams will draft the best player available, there are also several top tier teams that just need to plug a hole to win. These teams will generally opt for a specific position over the best player on the board. With so much talent along the defensive line, some high-end talent may fall to day two. This SEC star could find himself in the conversation for a first round draft pick, but should he fall to day two, don't underestimate his abilities.
Background
In 2008, Kinlaw's mother moved the family from D.C. to Maryland. With just a short move, you wouldn't expect such massive implications, but there were. A partner pulled out of the business opportunity that caused the family to move, and now they were left without a home. Leesa James, Kinlaw's mother worked tirelessly to provide for the family. She ultimately showed him how much hard work it takes to be successful, and now he strives to help her move into a house of her own.
Kinlaw was a four-star recruit. He was one of the best players in the state of South Carolina and received offers from Alabama, USC, Tennessee and Ole Miss but he decided to stay in his home state and attend South Carolina. He was originally listed in his recruiting profile as a strong-side defensive end. With his size and strength, it seemed like an obvious decision for the Gamecocks to kick Kinlaw inside. Now, in a 3-4, Kinlaw has the pass rush ability to beat offensive linemen to reach the quarterback.
High School
Kinlaw was a regular on the team from his sophomore season through his senior season at Goose Creek High School. As a sophomore he had nine tackles for loss and two sacks while playing in 11 games. He also had four passes defended in his sophomore season, and he clearly had the potential to be a star from a young age.
In his junior season, Kinlaw only played six games, and so his production doesn't look to have improved, but his per game numbers did spike. He finished with five tackles for loss and one sack, but he had seven quarterback hurries and another four passes defended. He made less tackles per game, but tackles do not define defensive linemen in the same capacity as plays around the line of scrimmage.
As a senior, Kinlaw played in eight games. He broke up one pass and made 40 total tackles. His sack numbers and tackle for loss statistics were unavailable.
College Career
Accolades
Kinlaw started his career as a freshman at Jones County Junior College. He was named a Second-Team All-American, and was recruited to the high profile schools from there. He was named as MACJC South Division's Most Valuable Defensive Lineman. Also, as a JUCO prospect following his freshman season, he was labelled as a consensus top 20 player for college recruitment.
After getting to South Carolina, he dropped 40 pounds before starting his sophomore season. He earned the team's Nutrition Award, handed out by the coaches following each season.
Athlon Sports named Kinlaw to the preseason All-SEC Third-Team. Following his sophomore season in 2017, the other platforms did not feel Kinlaw deserved preseason All-SEC nods. It seems clear though that Kinlaw will be named to these conference teams by every voting party at the conclusion at the 2018 season.
Statistics
In his freshman season playing JUCO, Kinlaw finished with 8.5 tackles for loss and 4.5 tackles as a strong-side defensive end. He also made 26 tackles and proved himself as one of the best players in all of junior college.
After dropping considerable weight, Kinlaw played in 13 games and started 10 of them. He kicked inside to defensive tackle and made two tackles for loss while finishing with no sacks. He did have one forced fumble though, and even though he may have not had unbelievable production, it was an important season. Kinlaw was adjusting to a new position and a new weight, but improved significantly and set himself up for success.
The success became clear as a junior this season as he's been terrorizing offensive linemen weekly. Through seven games this season, Kinlaw has 24 tackles, seven tackles for loss, and three sacks. His numbers are much improved from last year as his technique is more refined. Kinlaw's numbers are up there with some of the best in the nation, and he should see a 13th game this season, allowing him to show out in a postseason game as well.
NFL Traits
Javon Kinlaw is one of the most explosive players in college football. His burst off the line of scrimmage is reminiscent of Michigan's Maurice Hurst of last season. His power is very visible and he gains momentum as he picks up speed. If you plan to stop Kinlaw, you better get your hands on him right away. Kinlaw's size and strength will be one of the best in the draft should he declare, and he has flashes where you see his absolute dominance.
Kinlaw's appeal comes from his upside. Being a former defensive end, Kinlaw is still learning the new position. He is learning the technique and moves that will help him win consistently as a defensive tackle. The power is there, the physical measurables are definitely there, but he is still working on turning his flashes into consistency. His production already shows that he can win several times a game, but if he can refine his game, the football world will take notice.
His dedication to the game is very obvious as well. Dropping 40 pounds in an offseason is incredibly difficult and it just goes to show the work he is willing to put in to make the NFL. This is only Kinlaw's second season playing at defensive tackle, and there is still plenty of room for growth. From his strength and power, to his hand usage as a former defensive end, his ceiling may be as high as any other play along the defensive line in this draft.
Conclusions
Kinlaw knows what it takes to be successful. He's grown up with a difficult life, spending a short time homeless and moving cities somewhat regularly. He also went through junior college before making his way to South Carolina. Now, being on draft boards, Kinlaw will put himself in the best position to reach his ultimate goal of giving his mother her own home.
On the field, if Kinlaw does declare following his junior season, he could see himself drafted on day two due to the extremely deep draft along the defensive line. Kinlaw is an extremely talented player with a very high ceiling. He is still refining his game and adjusting to the inside. For whichever team does select Kinlaw, they'll get a big, powerful, versatile player along the defensive line who can be a difference maker in the line of scrimmage battle.
Main Photo:
Embed from Getty Images