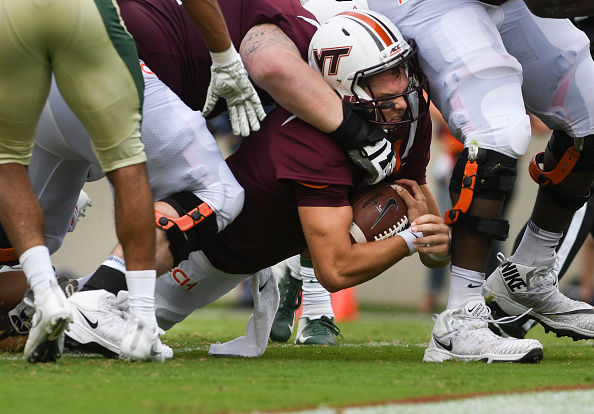 Hurricane Florence and college football both plan to be a huge threat to the entire east coast this weekend, providing damaging winds, torrents of rain and a lot of heartbreak. While we here at LWOSports are going to leave hurricane analysis to the experts, this hurricane has undoubtedly already left a mark on College Football this weekend with a bunch of games cancelled already, and possibly more to come.
Here is a breakdown of all of the games cancelled due to Florence and how it effects each team's season and bowl game chances.
Hurricane Florence and College Football
Marshall @ South Carolina
The latest game to get cancelled on this slate, Marshall at South Carolina was to be a potential bounce back game for the Gamecocks, after they absorbed a 41-17 beating from the Georgia Bulldogs. Outside of Georgia, the SEC East is up in the air for grabs, with Kentucky, Florida and Missouri seriously competing for that 2nd place spot.
South Carolina may struggle to get Bowl eligible if they can't shake off the blowout to Georgia. If Kentucky, Florida and Missouri are all losses, South Carolina will struggle with their Western Division opponents Texas A&M and Ole Miss and end up with six losses potentially, making them bowl ineligible.
Marshall, on the other hand, isn't a pushover Other Five conference team. They are arguably the third best team in the C-USA behind Florida Atlantic and North Texas. Marshall is 2-0 and fixing to head to North Carolina State before starting conference play. This doesn't hurt their bowl chances at all.
West Virginia @ North Carolina State
West Virginia enters the game ranked 14th in the country according to the latest AP Poll. I personally have them ranked as the 13th best team in the country, the second best in their conference. The defense has been stout so far, and quarterback Will Grier looks every part of a Heisman candidate so far. There aren't too many teams in the Big 12, all that remains on this teams schedule, that will challenge them.
North Carolina State, however, enters a year of uncertainty. Senior quarterback Ryan Finley has returned, however he has lost almost every offensive skill position player that was an impact last year. North Carolina State appears to have dodged a bullet here with the cancelling of this game, opening the opportunity to finish the season with a winning record.
East Carolina @ Virginia Tech
East Carolina surprised people last week with a blowout win over North Carolina, 41-19. Otherwise, they were expected to be among the worst teams in college football this season. They still may, it depends upon how North Carolina finishes the season as they have already looked to be among the worst in college football.
Virginia Tech is one of the best teams in the ACC. Arguably, at the moment, they appear to be the second best team behind Clemson in the conference. The AP Poll has them ranked at 12, personally I have them at 18. Being one of the more dominant teams in the ACC, Virginia Tech doesn't have too much to worry about with Bowl Games.
UCF @ North Carolina
UCF is currently ranked 19th on the AP Poll, as where they sit with me. They are a beast in the Other Five conferences, having been undefeated last season. UCF has continued to appear as a juggernaut and were on a crash course to destroy the North Carolina Tar Heels.
North Carolina, as mentioned earlier, may be one of the worst teams in college football, possibly THE Worst in the Power Five conferences. It doesn't help that several of their players are still on suspension for illegal handling of money. They probably won't make a bowl game themselves, but this cancellation will give them one less loss in that awful column.
Main Image: Embed from Getty Images