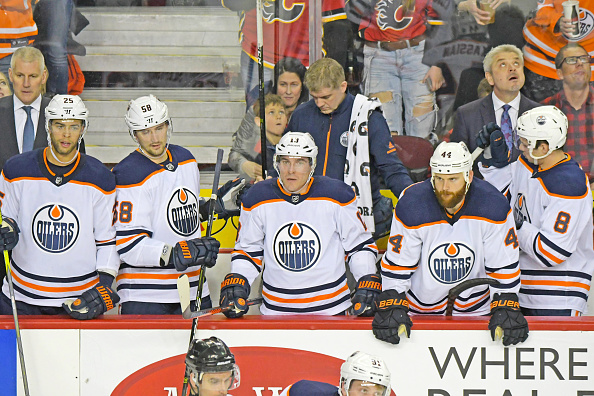 We've Covered the Eastern Conference, and we've covered the Central Division. Now let's take a look at the Pacific Division.
NHL Pacific Division Predictions.
Vancouver Canucks-
You lost your franchise stars to retirement but you got yourself quite the tandem in Brock Boeser and Bo Horvat. You're more than likely not going to make the playoffs this year but you have a bright future in front of you, some more solid drafting should get the job done and giving your prospects time to develop should make you contenders in about 3 years.
Edmonton Oilers–
Connor Mcdavid more than likely is going to have another fantastic year despite the fact that he has next to no depth on offense on the team. Devils fans should be dancing in the streets that Peter Chiarelli traded Taylor Hall there for cap space. More than likely nothing happens this year but if a few things go right you could sneak into the wild card race.
LA Kings–
Let's face it, your core is aging and you're beginning to run out of chances at deep runs. If i'm the GM i'm not blowing it up yet but i'm getting the dynamite together. Try stocking up some youth for the future. Ilya Kovalchuk could bolster what little offense you have if he and Jeff Carter both stay healthy. Playoffs for you but it'll be close.
Anaheim Ducks–
Congrats on getting swept. Like the Kings and Canucks your franchise faces, Getzlaf and Perry are aging. You have one of the deeper defensive cores in the league and hopefully Gibson can play worth his contract.
You could make it but a few things need to go right.
San Jose Sharks–
Even when you had no expectations you lost. Thornton is nearing the end so if he gets hurt again you're done. Wilson, blow it up. Please. Evander Kane had one of the most productive years he's ever had finally being in the playoffs. So keep him and Jones, maybe Couture but beside them let everybody go and start building it up.
Calgary Flames–
I don't get you. You have a boatload of young talented players but can't seem to put it together. One issue that has plagued you for years is you haven't had a solid goalie since Miikka Kiprusoff retired. Hopefully this inconsistency doesn't plague you for years to come. If the flames play to their potential then they could give Vegas a scare in the race for the division. If not then no playoffs for you.
Las Vegas Golden Knights–
Congrats in relieving the blues one claim to fame. You lost a leader in James Neal but got one of the better centers in Paul Stastny. With the draft capital your team has to work with they should be contenders to keep an eye on for some years. More than likely you'll win the division.
Arizona Coyotes–
You could potentially turn a corner this year. You've got some depth up front and one of the better defensemen in the league in Oliver Ekman-Larsson. Your big question is if Antti Raanta can stay healthy. He's a solid goalie but his injury problems will hurt you. You could sneak into the wildcard but that's a big if.
To wrap these hot takes up here's how i see the NHL playoff brackets working out, this isn't in a particular order it's just who i see making it.
In the eastern conference we have:
Washington
Tampa
Boston
Pittsburgh
Philadelphia
Toronto
Florida
Columbus (Barely, if not them then the Hurricanes)
And from the west we have:
St. Louis
Winnipeg
Vegas
Chicago (barely)
L.A. (barely)
Anaheim
Minnesota (provided a miracle happens)
Arizona or Calgary, with a big (BARELY) in front of either team.
The last word
The beautiful thing is more than likely i could be totally wrong come next April, isn't hockey wonderful?
Think your team could be in the mix? Feel free to follow @LwoSports on twitter or my personal account @Nero_Alucard and we can talk hockey!