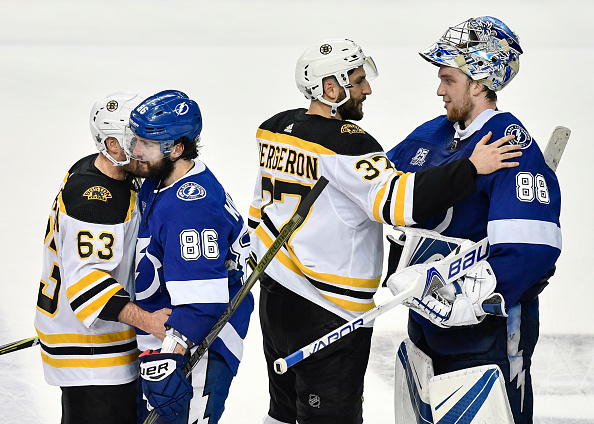 The wonderful thing about hockey is that the league has, and this may shock you so get some headgear ready in case this blows your mind, parity. Momentum can and often does change on a dime so these hot-takes more than likely could be totally inaccurate by the time the All-star break rolls around.
The NHL season is only a few months away from starting, so here is a quick hot take of how the Eastern Conference may play out.
NHL Eastern Conference Predictions 2018-2019
Atlantic Division
Tampa Bay Lightning – You went all in last year, acquiring rentals for the playoffs like Chris Kunitz and J.T. Miller, and you choked against the Capitals. The Lightning core still has gobs of potential but sooner or later your window is going to close. If Tampa plans on actually accomplishing something this time other than losing to the eventual conference champions, the time is now.
Boston Bruins – Much like your 'friends' in the sunshine state you took advantage of the Rangers fire sale and went all in only to lose to Tampa Bay. Now if the youth you drafted take that next step you could make it back to the playoffs this year. Acquiring Jaroslav Halak to back up Tuukka Rask was also a smart move. If the Bruins make it, Boston will more than likely end up in another dogfight in your division.
Toronto Maple Leafs – So you guys won the offseason this year. You got a bonafide star in John Tavares. Too bad your defence still has more questions than it can answer and you need a solid backup for Frederik Andersen. If you lose in the first round again don't fret, cap hell will more than likely force either William Nylander or Mitch Marner out of town.
Florida Panthers – You put on a heroic surge in the second half last season and fell just one point short of making it to the dance. The Panthers still have a solid core up front but the biggest question is Roberto Luongo's age and stability. Can Luongo play younger than his age?
Detroit Red Wings – Congratulations Red Wings, you are finally doing what you should've done about 5 years and rebuilding. Ken Holland had one of the better drafts he's had in ages but knowing him he'll probably leave them to rot in the minor league system. Now if a few things go right then Detroit could sneak into a wildcard spot but don't expect them to go anywhere. If not, embrace the rebuild.
Montreal Canadians – You are going precisely nowhere. N-O-W-H-E-R-E. And because of that absolute albatross of a contract that Carey Price has, the Canadiens will be hard pressed to get anywhere remotely close to a winning season. That and Max Pacioretty – one of the only things you have that remotely resembles offensive talent – is getting run out of town.
Ottawa Senators – Do I even need to say anything? Erik Karlsson is more than likely going to be traded, Mike Hoffman is gone, Matt Duchene blew up in your faces, and Craig Anderson can't stop a beach ball. Nowhere fast is where Ottawa is going.
Buffalo Sabres – The Sabres got themselves a generational talent in Dhalin but the roster still has more holes in it than a target range. In about three years Buffalo should be resembling a contender. Nowhere now but the future is bright.
Metro Division
Washington Capitals – Congrats on FINALLY shaking that spirit of playoff underachievers of the east. Washington lost some key pieces like Jay Beagle and Philipp Grubauer, but the Capitals are still a contender. Just remember that it's hard to get to the top and even harder to stay there. The entirety of the NHL has the defending champs in their sights.
Pittsburgh Penguins – The hunter has become the prey. The Capitals finally sent Pittsburgh home for the summer. The core is still one of the better in hockey but the fact is the window is closing. That and your defense is so suspect it should have its own mugshot.
Philadelphia Flyers – Philadelphia has two main things holding it back, coaching and goaltending, and one of those issues could be resolved in a few years. The Flyers better pray Carter Hart develops a lot faster, but also pray that he's as good as advertised. Find a coach too.
New Jersey Devils – They're young and hungry. The only thing the Devils need right now is a veteran or two if they plan on making noise this postseason. We're truly living in an anomaly when it's the Devils of all teams that have one of the fastest and most exciting to watch teams in the league.
Columbus Blue Jackets – They were up 2-0 on the Capitals and choked. That and Artemi Panarin might leave town because your city has no nightlife to speak of. If the Jackets plan on going anywhere, this is the year to do it. If not, then you may have to have a fire sale.
Carolina Hurricanes – The biggest issues right now are goaltending and defense. Now provided Petr Mrazek and Scott Darling both have rebound seasons, that just leaves the defense as the biggest question on your team. Carolina could sneak into a wildcard spot but will more than likely get blown out.
New York Rangers – The Rangers are mid fire sale and still have Henrik Lundqvist's unmovable contract on their hands. More than likely, New York is going nowhere. Have fun in the basement acquiring draft capital.
New York Islanders – Tavares finally left. The Islanders have Matt Barzal and a young forward core, so they could make it somewhere if both the defence and the goaltending step up. More than likely, no playoffs for the Islanders.
Image Credit:
Embed from Getty Images