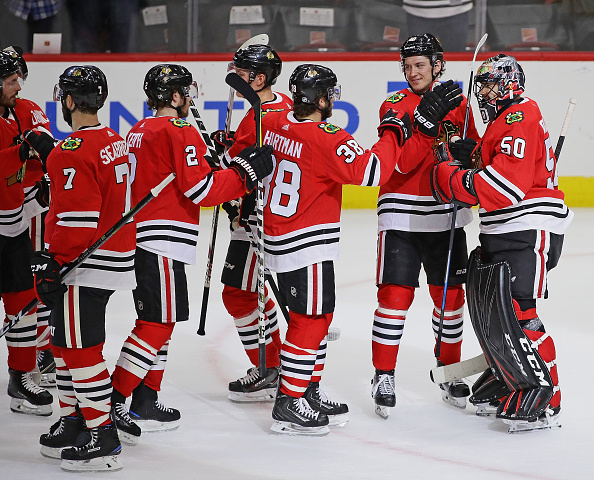 Well, since I handled hot takes for the Eastern Conference, I might as well get started on the Western Conference. I'm going to be handling the Central Division and one of my colleagues is handling the Pacific… So let's get this hot take festival on the road!
Chicago Blackhawks
There are a lot of "what if's" with this team. As a native of chicago i want to be optimistic but there are a lot of questions against this team. If Corey Crawford is healthy will he be able to play at least 60 games this year? Will the youth (Nick Schmaltz, Alex Debrincat, etc.) be able to develop and take that next step? Will Brandon Saad and Jonathan Toews both have bounce back years? And what of losing Marian Hossa? Will not having his contract allow us to sign our youth and maybe bring back the breadman as rumored? There's too many what ifs with this team to give a solid prediction. Speak to me again after about december.
Nashville Predators
You guys are still contenders. Now Pekka Rinne has to prove he's not this generations' reincarnation of Roberto Luongo and actually hold it together when you make the playoffs. It's either that or more than likely a fire sale in the next few years.
St. Louis Blues
Once again the St. Louis faithful are singing the blues because the team re established its historic penchant of blowing it at the absolute worst possible moment to blow it. You still have stars in Vladimir Tarasenko, Jake Allen and Schwartz but who knows if that's going to be enough. Losing Paul Stastny doesn't help the matter either.
Dallas Stars
You guys won the off season last year and fell apart after Ben Bishop got injured. Provided he stays healthy you guys could potentially be in a dogfight for the division or outright win it if a few things go right, just don't do any more wasting of Seguin and Benn though. Promise?
Winnipeg Jets
More than likely you guys have a dog fight with Nashville or Dallas for the division. The conference as a whole is stacked so be prepared for a bloodbath.
Colorado Avalanche
Congrats on absolutely saving Joe Sakic's job last season. Considering the haul he got for letting Matt Duchene go to the absolute madhouse that is the Ottawa Senators, the future is bright for you. You could sneak in via a wildcard spot but more than likely you're going nowhere. Take solace in the future though.
Minnesota Wild
That was very easily one of the last chances you'll get with your current core. If you choke or don't make it this year expect a massive fire sale. You already cost your old GM his job Wild so if you screw it up again more of the front office is going.
Think I'm Wrong? feel free to tweet me @Nero_Alucard or @LWOSports.
Main Photo: