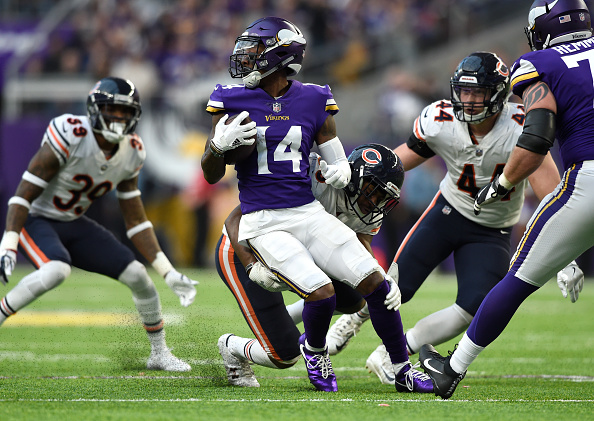 In this series of articles here on the Last Word On Sports, we will be breaking down each NFL division starting every Monday, preparing for the upcoming 2018 NFL Season. We will highlight strengths and weaknesses of each team and make our best analysis and predictions for this upcoming season. Let's continue with the NFC North Breakdown.
2018 NFL Breakdown: Minnesota Vikings (12-4)
You may have noticed that this series has listed the teams from the bottom of the division up to the top… Wait a minute, that means the Minnesota Vikings place second in the division with a 12-4 record? That is right. 12-4 with key losses to the Super Bowl Champions, splitting with the Green Bay Packers, losing to the Los Angeles Rams and New England Patriots. Yes, I know the Pats don't look the same, but people say that every year. I know the Vikings still have a dominant defense. Yes, Dalvin Cook is returning after his dominant start of last season. No, I don't expect the Vikings to be better after adding Kirk Cousins. What stands out to me is that they have four key games in the first five weeks, and five in the first eight. New quarterback, being thrown into the fire, so Vikings fans had better pray for a fast and smooth start or they will fall behind.
Strengths
As much as I want to say the skill positions on offense are the strength of this team, I cannot. The Defense has zero holes. Out of the eleven starting players in a nickel set, I would have to say the weakest spot is the slot corner, but everywhere else is loaded. Hard to run against, hard to pass against, and hard to outcoach because they are all so fundamentally sound. Look for them to be the #1 defense this year.
Weaknesses
To continue, this is a team with almost no weakness. The right side of this offensive line isn't as stout as they would want. Having to go against the defensive lines of the Rams, the Philadelphia Eagles, and the Packers twice, will make this weakness stand out if they don't work cohesively.
Team MVP: Dalvin Cook
Dalvin Cook was the 3rd leading rusher when he tore his ACL in October. A rookie that also shared snaps with veterans Latavius Murray and Jerick McKinnon on the team. Last year we saw rookie running backs Kareem Hunt and Alvin Kamara jump on the scene being versatile backs. Cook can be better than both. He has a great power run game, great speed, and excellent hands out the backfield. Him getting going early will make the transition to Kirk Cousins quite seamless.
Breakout Rookie: Jalyn Holmes
A fourth round pick to break out on a stacked defense? At Ohio State, he played behind studs like Joey Bosa, Nick Bosa, Tyquan Lewis, and Sam Hubbard. Mainly a rotational lineman, he still stood out on the Buckeyes defense. Guess what he will be doing in Minnesota? That's right, everything he did at Ohio State: Playing fresh, no pressure to lead the defense, just come in and do your job. If he excels the starters stay fresh and the defense is even better for it.
Main Image Credit:Embed from Getty Images