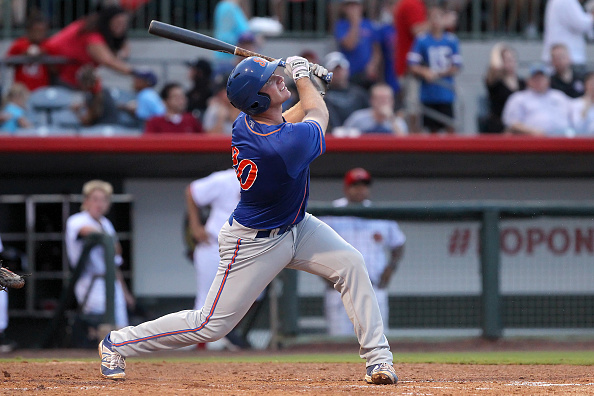 Peter Alonso is off to a tremendous start to the 2018 season. The Tampa kid has risen his way up the ranks, and is inserting his name into the Mets future plans. Alonso has the full potential to be a tremendous first baseman in Queens one day. Let's take a look at how Alonso got here.
Draft/College Career
Peter Alonso was drafted in the second round with the 64th overall pick of the 2016 MLB Draft out of the University of Florida by the New York Mets. Over his three year career as a Gator, he slashed a stellar .316/.407/.517 with 23 home runs, 124 RBI's, and 34 doubles in 157 games.
Alonso helped lead UF to a College World Series appearance during the 2016 season. In that 2016 season, Alonso's junior year, he hit .374/.469/.659 with a team leading 14 home runs, 18 doubles, and 60 RBI's.
Like many others, Alonso told NJ.com that his bat is his strongest asset to his game. I've always been a hitter, always been able to swing the bat really well," he said. "That's been pretty consistent throughout my whole life and definitely one of the biggest strengths of my game."
Quick Stint in Brooklyn
Pete was seen as a highly touted offensive prospect, but certainly had to improve his defensive skills at first base. On his defense MLB said, "He's a first baseman only with well below-average speed, though his hands and footwork at the corner infield position should be adequate."
He showed that right away, as he tore the cover off the ball in the NY Penn League with the Brooklyn Cyclones. In 30 games, he slashed .321/.382/.587 with five home runs, 12 doubles, and 21 RBI's. He also made zero errors in 235 innings at first base. He was chosen to represent the Cyclones and the Mets organization in the NY Penn league All-Star Game.
Two Steps Forward in 2017
Alonso started out the 2017 season with the Class-A St. Lucie Mets, and as the organizations tenth overall prospect. He again quickly showed what he was capable of as he smacked 16 home runs and posted a slugging percentage of .516 and an OPF of .878 in 82 games in the hitter friendly FSL. His defense however, appeared to still be an issue as he committed 18 errors in 78 games.
He was promoted to Double-A Binghamton, and played in 11 games there. However, he still showed his true potential as he put up solid numbers. In a very small sample size, he hit .311/.340/.578 while smacking two home runs and four doubles.
By the end of the 2017 season, Alonso was the Mets 7th best prospect. MLB's Prospect Pipeline said of Alonso's power, "If he can continue sticking to his solid game plan, that will allow him to tap into his tremendous raw power more consistently."
Video Game Start to 2018
Pete Alonso has come out guns blazing in 2018. He has certainly caught the attention of the Mets, their fans, and MLB scouts. He has been increased all the way up to the Mets No.4 prospect, and is the 7th best first base prospect. Thus far in 35 games with Binghamton, Alonso has hit 9 home runs with 30 RBI's, and has an unreal 1.124 OPS. He was named the Double-A Eastern League Player of the Month for April.
Binghamton manager Luis Rojas had some very high praises for the slugging first baseman. "He's probably the best hitter from the right side I've seen since I've been in the Mets organization .. You're talking about a pure hitter with power. It's one of those rare combinations," Rojas told in NY Post.
What's Next?
Pete Alonso has certainly put his name in the Mets future plans at first base. There is no doubt the kid can certainly mash the baseball. Alonso is not just a power hitter, but can also hit for a decent average. He has also been working on improving his defense during the Instructional League and in Binghamton this year.
However, there isn't a clear path to the Majors right now, as he is likely still trying to leapfrog Dominic Smith on the depth chart. With Smith locked in at Triple-A, Alonso will likely stay in Double-A for the near future so that he can play the field at first base everyday.
You should not be surprised if the Mets begin to field trade offers for Dominic Smith around the deadline. This would be no knock on Smith, it is just an attempt to clear a path for Alonso to Queens. Peter Alonso is certainty a name for Mets fans to know for now and the future.
Main Photo: