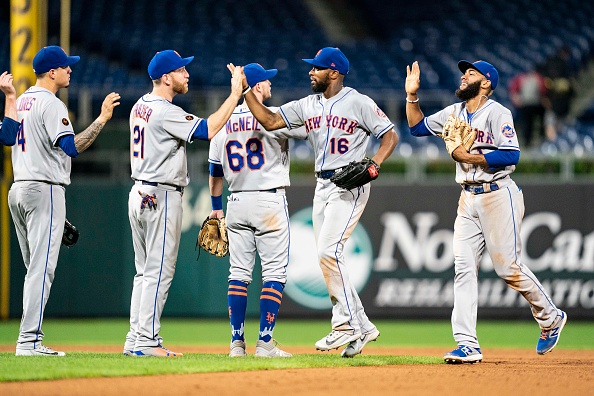 The 2018 season has been rather disappointing for the New York Mets. As of yesterday, they were officially eliminated from playoff contention. However, of late they have been playing better baseball. The Mets are 7-3 over their last ten games, and are tied for the best winning percentage in September with an 11-5 record. Here are some positives to take away from the Mets strong finish to the regular season.
Development of Young Stars
The Mets hottest players in the months of August and September have been Jeff McNeil, Amed Rosario, and Michael Conforto. McNeil has done just about everything right since being called up, and has all but locked down the 2019 starting second baseman job.
After miserable starts to the season, both Conforto and Rosario made huge strides in the right direction in the second half. Conforto just set a career high with a six RBI game, and has 15 home runs, 45 RBI's, and a .893 OPS since the break.
Rosario has emerged as a star at the top of the Mets order. In his past 28 games he is hitting .298/.327/.479 with four doubles, two triples, three home runs, and seven RBI's. Going forward, the Mets could have a real scary top of the order with Rosario, McNeil, Brandon Nimmo, and Conforto.
Emergence of Young Bullpen Arms
In a lost season, the Mets have seen a ton of their young arms come up and pitch very well. With the bullpen being a huge question mark going into next season, some of these talented young arms could be cementing themselves roles with the big league club.
Daniel Zamora and his wicked slider has been very solid in a brief stint since being called up. Over just seven major league innings, the Stony Brook product has a pair of holds, a 3.86 ERA, a 1.14 WHIP, 14 strikeouts, an 18.0 K/9, and is unscored upon in nine of his eleven outings.
Drew Smith has been terrific after some early hiccups. Over 24.1 innings, he has a 1.85 ERA with 14 strikeouts, and has allowed just five earned runs. Hard throwing righty Tyler Bashlor had to refine some command issues, but he certainly has big league level stuff too.
The Big Three in the Big Apple
The Mets starting pitching has always been their strong suit. In 2018, the story is no different. Jacob deGrom is having himself a historical season, he is the favorite to take home the National League Cy Young. Noah Syndergaard has shook off injuries and mid-season struggles, and is pitching like ace again.
However, most impressively for the Mets rotation in 2018 has been the domination of Zack Wheeler. Wheeler has pitched like an ace all year. But in the second half particularly, he has absolutely dominated. Wheeler leads the majors with eight wins and has the third-lowest ERA in the majors with a 1.32 mark since the All-Star break.
Heading into 2019, the Mets are looking at one of, if not, the top rotation trio in the league. They have three legitimate aces at the top of their rotation. Granted, this will only happen if Wheeler, Syndergaard, and deGrom can all stay healthy.
Last Word
The Mets really do have solid core of young, talented ball players. If they add one or two bats, a couple of bullpen arms, and call-up Pete Alonso we could be looking at a much better ball club than this year. It's quite simple, the Mets need to spend money and get younger, that is all. Enough is enough Wilpons, spend some money this offseason and let the kids play!
Main Photo: