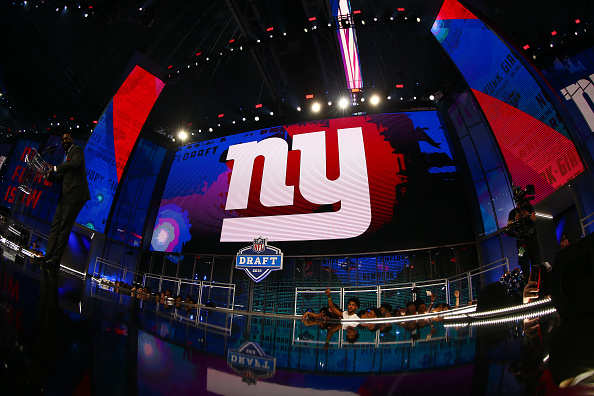 The New York Giants had an incredible 2018 draft, filling multiple needs while setting themselves up for the future. GM Dave Gettleman did an incredible job in his first draft with New York. With six picks, three offense and three defense players now look to help turn the team around. The value of selections was very impressive, and the picks allow for faster improvement then before the annual league meeting. Saquon Barkley, Will Hernandez, and Kyle Lauletta lead this class towards a promising future, and will make the next decade successful and exciting for Giants fans.
Saquon Barkley provides instant star-power in Giants 2018
From the start of the draft process, Gettleman fell in love with the former Penn State RB and knew that was his guy. He scouted multiple top QB prospects including Josh Rosen and Sam Darnold, however he could not pass up a generational prospect. As the best RB prospect since Adrian Peterson, Barkley is a rare talent with no major flaws. He provides help in the passing game and is lethal on screen plays and check downs. There are few players as dynamic with the ball as Barkley, and the attention he brings takes pressure off Eli Manning. Having an explosive RB to take responsibility off of Eli could allow him to play a few more productive seasons. He also provides a asset on special teams, with two kickoff return touchdowns last season. Barkley looks to be an immediate contributor, and could be the next face of the franchise in New York.
Will Hernandez
Will Hernandez was a possible first round pick, and surprised many by falling out of day one of the draft. It was a tremendous value to select him at 34th overall. He provides instant help up front, and can contribute and start day one. After losing both Justin Pugh and Weston Richburg to free agency, OL was a major hole of need. The OL struggled last season especially Ereck Flowers. Losing the top two OL with little depth made the Hernandez pick even more necessary. The former UTEP Miner is a gruesome force up front, and playing with a physical and dominant nature can bring back the power football the Giants are known for. Gettleman wants to bring back the physical game Big Blue has succeeded with, and Hernandez brings that mentality for the next decade.
Kyle Lauletta
The former Richmond Spider likely was not the QB choice most fans anticipated, however he is a promising prospect who has a great opportunity to learn behind Eli. He is praised for his leadership and footwork, however he lacks the arm strength necessary to succeed on sundays. This could become the next Favre Rodgers situation, as a young signal caller learns from an all time great. Because of the Barkley selection, Eli likely has a few years left so Lauletta can learn and develop. He has experience in the shotgun and under center, so he will be able to perform in any formation. Last season he completed 65% of his passes, so with a little grooming he looks like a promising prospect and possible replacement for Eli.
The Giants look better now than most fans expected after the draft. Along with key free agent signings Nate Solder and Jonathan Stewart, these draftees will be able to contribute and turn the team back into a contender. The Sixers use the phrase trust the process, this process looks very promising. They may not win much for a few seasons, however this draft makes for a very promising future in the big apple.
Main Photo: