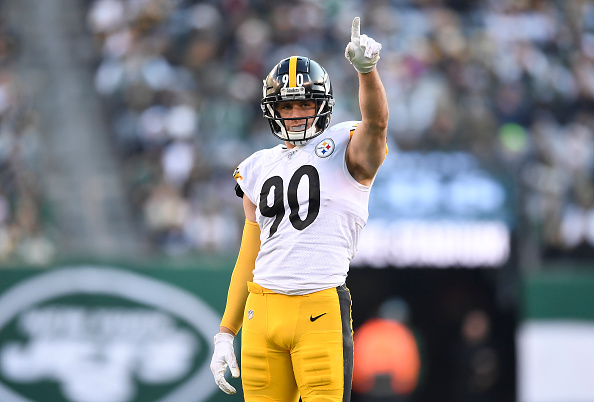 The first 2020 Monday Night Football matchup will be Steelers vs Giants. Surely not the most eye-opening matchup, but it will mark the return of Steelers quarterback Ben Roethlisberger. Pittsburgh will look to rebound in 2020 after missing the playoffs in the last two seasons.
Let's look at four keys for the Pittsburgh Steelers as they look to defeat the New York Giants at MetLife Stadium.
Pittsburgh Steelers vs New York Giants: Keys For a Pittsburgh Win
The Pittsburgh Steelers were the best in 2019 at getting to the quarterback, registering 54 sacks. Ultimately, edge rusher T.J. Watt led the team in sacks with 14.5. Watt was also in the running for NFL Defensive Player of the Year. Also, he led the league with eight forced fumbles. T.J. Watt proves he can effectively get after the quarterback and force quarterbacks to cough up the ball with ease. Impressively, Watt is not the only defensive player who can get to the quarterback effectively.
Cameron Heyward and Bud Dupree are compliments to Watt's presence as well. Dupree had a breakout season in 2019 by registering 11.5 sacks and 16 tackles for loss. Heyward registered nine sacks last season at the age of 30.
Let's also mention the New York Giants are playing three starters on the offensive line. Rookie Andrew Thomas will debut at left tackle. Former Dallas Cowboys tackle Cameron Fleming will play right tackle. He will face the vicious T.J. Watt. Nick Gates will start at center. Veteran left tackle Nate Solder opted out in July. Jon Halapio and Mike Remmers were released.
For the Steelers, getting to the quarterback doesn't seem like an issue. But, one thing that can mess with Daniel Jones' performance is forced fumbles. Jones had a solid rookie year for the Giants last season. But, one thing that he was scrutinized for was ball security. Jones led the NFL in fumbles with 18 and fumbles lost with 11. In camp, he has worked excessively to slow down his fumbling woes. Will Jones' ball security improve against a feisty Steelers' pass rush?
Offensive Line Must Click
The Steelers will present three new starters on the offensive line Monday. Two of those are Matt Feiler at left guard and Zach Banner at right tackle. Veteran left guard Ramon Foster retired in the offseason after 11 seasons. Feiler slides inside to the left guard position. Banner won the right tackle position in camp after battling with Chukwuma Okorafor.
Zack Banner will make his second start as a pro. Banner made one start in 2019 with the Steelers and played 14 games. He saw 22 percent of offensive snaps. The offensive line will also be without right guard David DeCastro as he is out with a knee injury. Veteran guard Stefen Wisniewski will start in his place. Wisniewski played in 11 games for the Kansas City Chiefs last season, starting two of them.
The mainstays include left tackle Alejandro Villanueva and center, Maurkice Pouncey. In order for the offense to succeed, the Steelers offensive line needs to gel quickly. It all starts up front.
After having a star-studded rookie season in 2018, Saquon Barkley mightily regressed in 2019. Notably, Barkley had been battling a high ankle sprain for a decent amount of 2019. Granted, he barely eclipsed 1,000 rushing yards. Last season, Barkley set career lows in rushing yards and rushing touchdowns.
Thanks to it being a new season, Saquon Barkley is back to full health and strength. Barkley will face a Steelers' defense that ranked 14th in rushing defense last season, allowing 109.6 rush yards per game. Not horrible statistics but could be better. Everyone is aware of what Barkley is capable of at full strength. We saw him explode in his rookie season in 2018 at full strength. Offensive coordinator Jason Garrett will look to help Saquon Barkley rebound. The Steelers will have to watch out.
Take Advantage of a Young Giants Defense
In the offseason, the New York Giants added several names to the defense. Former Carolina Panthers cornerback James Bradberry will debut as Big Blue's number one cornerback. Former Green Bay Packers' linebackers Blake Martinez and Kyler Fackrell were signed to improve the linebacker core. Veteran defensive back Logan Ryan was added for extra depth. Ryan will likely be a rotational piece. Edge rusher Markus Golden was re-signed.
Regardless, the Steelers can expose the holes in the Giants defense. Outside of Golden, the Giants have no other edge presence. Although, Lorenzo Carter has had a pretty good camp. In the secondary, Big Blue will debut three new cornerbacks this season. James Bradberry, nickel Darnay Holmes, and Corey Ballentine will make their 2020 debuts. Ballentine saw limited time at cornerback for the Giants and only played when Grant Haley was benched in 2019. Also, rookie Darnay Holmes will make his NFL debut. Holmes will face James Washington.
It appears Ben Roethlisberger can buy time in the pocket if no one is coming at him. The question is: Is Ben Roethlisberger's arm healthy enough to throw the ball downfield? The Giants ranked 28th in passing defense and Pittsburgh will be ready to expose Big Blue. The Steelers offensive line ranked 12th in pass protection. On the other hand, the same cannot be said for the run blocking.
Pittsburgh ranked 30th in run blocking last season. Let's also mention that Steelers' running backs averaged 3.7 yards on the ground per carry. Not good enough. The unit ranked 30th in adjusted line yards. Also, Steelers' running backs were stuffed on 23 percent of run plays. The Giants were mediocre at defending the run last season, ranking 20th. For James Conner to succeed, the Steelers will have to make good run blocking a priority.
Final Words
Steelers vs Giants should be an interesting way to open Monday Night Football in 2020. Obviously, the game will be played with no fans. The Pittsburgh Steelers will look to head back to the playoffs after failing the last two seasons. The New York Giants are hungry to be relevant once again, hoping their young quarterback progresses throughout 2020.
Steelers vs Giants will be fun to watch!
Main Photo:
Embed from Getty Images