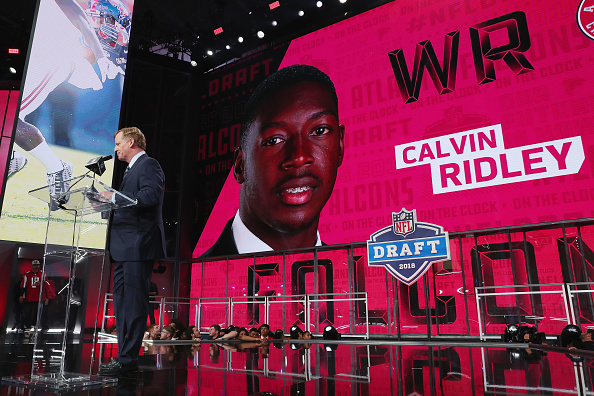 The 2018 NFL Draft proved to be everything we thought it would be. Crazy, intense, and just plain downright unpredictable. There are some teams here that made some interesting decisions and teams that I think flat out lost. Here are my takeaways from the first round.
2018 NFL Draft takeaways
Best pick of the night
#26 – Atlanta Falcons – WR Calvin Ridley, Alabama: I know that a lot of people think Julio Jones is on the way out. However, I think this pick keeps him in Atlanta, if he truly was looking to leave. Atlanta has now drafted the to best receivers to come out of Alabama in the last twenty years, and they will both be playing together. Oh, and by the way, the offensive coordinator there, Stave Sarkesian, schemed and coached Ridley in a national championship game. That is a scary notion to conceive.
Ridley is my top ranked receiver in this Draft. He has everything that you want to see in an NFL wide receiver, and there isn't much you can knock him for. Inexplicably, he fell down the draft board to 26, even after a good, successful draft process. Its a win-win for the Falcons and Ridley, who now get to chase new levels of offensive production with a stacked team.
Surprise of the night
#29 – Pittsburgh Steelers – S Terrell Edmunds, Virginia Tech: Everything about this pick was surprising. First, linebacker Ryan Shazier, who left a Monday night game unable to walk last season, walked across the stage, with assistance, to announce the pick. Then, the Steelers inexplicably took Edmunds with Ronnie Harrison and Justin Reid still on the board.
This pick is a simple case of "Our draft board is in shambles." The draft went so unexpectedly that instead of trying to make a better pick, they stuck with the guy they thought would be there. Teams will continue to let prospects fall like this very often when the expected teams to take them don't touch them.
Winner of the night
#1 – Cleveland Browns – QB Baker Mayfield, Oklahoma / #4 – Cleveland Browns – CB Denzel Ward, Ohio State: With the rivalry between Oklahoma and Ohio State, it's interesting to see Cleveland take these two guys. However, they got a star at quarterback who is going to take over the locker room in Cleveland with his unique leadership, and a guy who can develop into a shutdown cornerback on the other side.
Cleveland missed a golden opportunity here to take Minkah Fitzpatrick, had they done that it would have been incredible. However, Ward is a good cornerback too, and a hometown hero. It was a great night for Brown's fans.
Worst pick of the night
#15 – Oakland Raiders – OT Kolton Miller, UCLA: What were the Raiders thinking here? Kolton Miller with Connor Williams still on the board? I was never all that impressed with Miller, and had five offensive tackles rated ahead of him. He never showed the dominance that you want to see at UCLA, and Josh Rosen was murdered behind that offensive line he played on.
We will see if John Gruden is right here, but he doesn't exactly have a good history of drafting players. In 1999, he took offensive tackle Matt Stinchcomb with the 18th overall selection. In 2001, it was safety Derrick Gibson at 28 and quarterback Marques Tuiasosopo in the second round. Totally a John Gruden pick.
Looser of the night
#2 – New York Giants – RB Saquon Barkley, Penn State: The Giants really missed out with a few players they could have taken and really changed the franchise. I know, I understand why they took him. Barkley is a home run hitter, a game changer, a great running back. But with Bradley Chubb or Quinten Nelson still on the board? Sam Darnold? It's not the smartest move.
A great running back is a good piece to have. However, a running back is only as good as the offensive line who is blocking for him. This year's class at running back is a very deep one. There is plenty of running back talent that will be sitting down the board in the third round. With other needs, I think the Giants will look back on this night and regret who they took down the stretch.
Main Image Credit: Embed from Getty Images