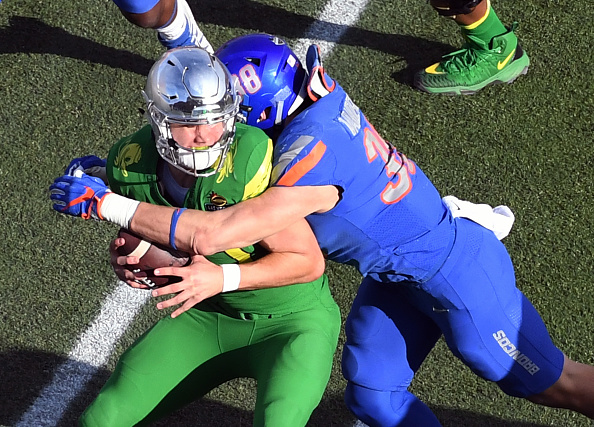 Can you feel it?  The energy of the NFL Draft is almost upon us.  For many football fans, it is the most exciting three days of the year.  I will be taking you through my predictions and analysis for every potential Cowboys selection, without using possible trade scenarios.  There is sure to be some activity with other teams on draft day since Dallas now has 10 total picks after being awarded 4 compensatory slots.
2018 Dallas Cowboys Mock Draft 
Team needs: LB, WR, DT, OL, S, TE
There is a trait that the Dallas Cowboys look for when scouting their potential draft picks, elite athleticism.  That is the trait that most scouts associate with Vander Esch. He is extremely versatile, instinctive, and has a nose for the football which is why he is being compared to Luke Kuechly.  Leighton had very balanced production against the run and pass, has great lateral movement, and is great in both coverage and blitz packages. He has just one year as a starter and needs to add on to his frame to help take on blockers at the next level.  Recently there was at least one team who red flagged him for an injury concern with his neck but many other teams aren't concerned and are still likely to look at him mid-first round.
Second Round (Pick 50): Christian Kirk WR Texas A&M
There is just something intriguing about a guy who scouts have given the nickname "Baby Beckham".  Kirk had great production in 2017 even with inconsistent Quarterback play going for 71 receptions, 919 yards, and 10 touchdowns, while also being a quality returner.  He has good size at 6'2" 200 pounds, solid speed evidenced by his 40 yard dash time at the combine, but needs to work on his explosiveness. Several teams reported that he interviewed very well at the combine as well.  Scouts love that he catches solely with his hands and is an above average route runner. Kirk has trouble separating at times, but is exceptional in the open field once the ball is in his hands.
Third Round (Pick 81): Tarvarius Moore FS Southern Miss
Moore has what teams look for at the Free Safety position, speed, length, and athleticism.  He handles man coverage better than most at his position, mainly because he has smooth hips and fluid feet.  At his pro day he ran a 4.32 40 yard dash, has a 38.5 inch vertical, and an 11 ft 1 inch broad jump which has to remind Cowboys fans of why Dallas was so excited about Byron Jones.   Moore shows up in run support, and his speed shows up on tape as he closes distances fast. Where he can improve the most is getting better at attacking the ball at its highest point, fighting off blocks, and adding more mass to his frame.  There is a lot to work with here as he was only a starter for 1 year.
Fourth Round (Pick 116): Nyheim Hines RB NC State
After last year, teams will be looking for Alvin Kamara replicas in the mid rounds, and they might have found it in Nyheim Hines.  His size will most likely keep him from becoming an every down back, and he needs to improve as a receiver. He has explosive speed though, and Offensive Coordinators will view him as a matchup nightmare for opposing Defenses.  Hines uses his stiff arm very well and is tough with yards after catch. His talent is very raw, but very real. Teams will want him to improve his blocking and vision, as he had trouble at times finding the hole on cutbacks.
Fourth Round (Pick 137): P.J. Hall DT  Sam Houston St
There may not be a Defensive Tackle in this draft with the career production that Hall had at Sam Houston St.  Over his 4 years there he accumulated 86.5 tackles for loss, and 42 sacks. He doesn't have the best size at his position as he is a generous 6'1" but what he lacks in size he makes up for it with power and quickness.  While he showed the ability to fight off double teams, he will need to refine his frame as teams believe he played with too much weight last year and it affected his conditioning. This pick becomes even more important with the constant off the field distractions from David Irving.  Although the story was retracted, the Cowboys have to be nervous with Irvings past suspension.
Fifth Round (Pick 171): Cole Madison OL Washington St
Madison will be a project at the next level because of the quick pass offense he was in at Washington St, but he has great athletic ability and has the frame to bulk up as well.  One of his best traits is blocking on the move which many offenses will covet, and why a move to Guard is his most likely destination. He gets upfield, is quick off the snap, and makes great use of his arm extension.  While he gets a little too tall at times, a good offensive line coach can refine his techniques and elevate his game to starter potential.
Sixth Round (Pick 192): Peter Kalambayi EDGE Stanford
Kalambayi perplexes a lot of teams because of his athletic ability and uncapped potential, which a lot of times didn't translate on the field. Many have said his production doesn't match up with his traits.  He is good at the point of attack, has great closing speed to the football, and fights off blockers well, but needs to work on his pass rushing skills and instincts. Rod Marinelli is known to get the most out of his players and is the perfect match to develop his technique and improve his football knowledge.
Sixth Round (Pick 193): Darius Phillips CB Western Michigan
Phillips will have a lot to prove because of his size as teams will try to exploit him in the run game if he plays inside in the slot.   If he had better measurables he would be much higher on draft boards because of his ball hawking abilities and how well he handles man coverage.  He has good instincts in zone coverage as well, and he anticipates routes and throws extremely well. As a former receiver he has tremendous ball skills but he often gets caught looking into the backfield too much, and needs to work on his block shedding.  
Sixth Round (Pick 208) Durham Smythe TE Notre Dame
Smythe's biggest trait that will be coveted by Dallas is his exceptional run blocking, as he sometimes looks the part of an offensive lineman on tape.  He is good when the ball is thrown his way, but only had 20 targets last year at Notre Dame. While he needs to work on his release and route running, he is not afraid to go over the middle and make catches in traffic.  
Seventh Round (Pick 236): Greg Senat OT Wagner
Senat is a player who has yet to grow into his frame.  At 6'6" and only 302 pounds he has plenty of potential to add mass to help him with the rigors of dealing with NFL Defensive Lineman.  He is very athletic, has long arms and great instincts but needs to work on his leverage as he gets out of position often. It may take a couple years to refine his technique but with the right Offensive Line Coach he could be well worth the wait.  
Main Photo: