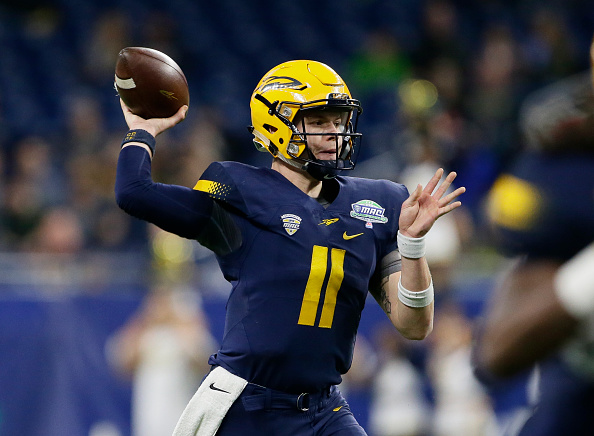 Overview
Name: Logan Woodside                                                                                                                                   Position: Quarterback                                                                                                                      Height: 6'2″                                                                                                                          Weight: 201 pounds                                                                                                             School: Toledo Rockets
Combine Performance Data                                                                                                     40-yard dash: 4.79 seconds                                                                                                              Vertical jump: 31.5 inches                                                                                                    Broad jump: 8 feet, 5 inches                                                                                                     3 cone drill: 6.94 seconds
Logan Woodside 2018 Draft Profile
As the draft process continues, late round prospects start to pop into relevancy. Many people try to predict the next Tom Brady or James Harrison, studs who ended up falling when it came to the NFL draft. Well, to find the late round stud of this draft there is no need to look further than quarterback Logan Woodside.
Logan Woodside is a fifth year senior out of Toledo. He became the full time starter his sophomore season after Alabama transfer Phillip Ely received a season ending injury. He had a solid year, but nothing special. Ely was healthy during the 2015 season, so Woodside was subsequently redshirted. Next season he made up for lost time by leading the NCAA in touchdown passes with 45 his junior season, as well as completing 69 percent of his passes for 4,129 yards and 9 interceptions, which was enough to earn to him first team All-MAC honors. Unfortunately, he saw a step back in production his senior year, throwing 3,882 yards with 28 touchdowns and 8 interceptions.
Strengths
Solid accuracy on short to intermediate throws
Tremendous anticipation
Ball placement ability is the best out of any college prospect
Makes very little mistakes
One of the best footwork out of all college prospects
Can make plays with his legs
Good recognition of coverages; deciphered defenses in both pre and post snap
Weaknesses
Inconsistent on deep throws
Played in a shotgun system; little to no experience under center
Has a tendency to throw above the heads of his wide receivers
Decent arm strength
Slightly undersized; only 206 pounds
Needs to learn how to slide
Teams With Need at Position: Arizona Cardinals, Buffalo Bills, Cleveland Browns, Denver Broncos, Los Angeles Chargers, New England Patriots, New York Giants, New York Jets, Pittsburgh Steelers
Projection: 5th round to undrafted
Bottom Line
Woodside has all the tools to be a successful NFL quarterback. He's an accurate passer, can lead his receivers to make plays, and his mechanics rival Josh Rosen. I mean last year he had no help from his receivers (constant drops) and still put up solid numbers.
However, he is in no way a day one starter. He will need to transition into an NFL offense, as he played mostly shotgun at Toledo. It will greatly benefit him to sit behind an above average, veteran starter like Ben Roethlisberger or Philip Rivers. But, with the right coaching, he has the talent to be a solid starter in the NFL.
Main Photo: