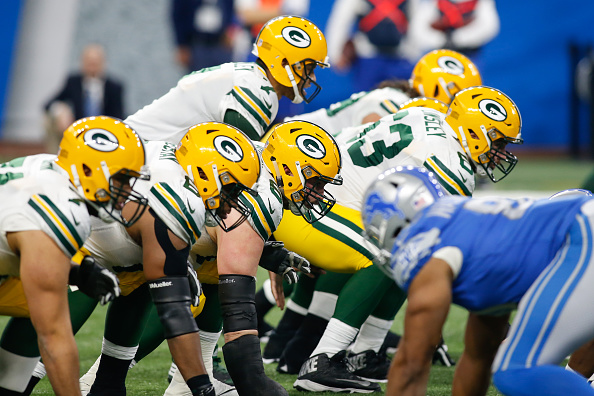 This past season was a rough one to watch for Green Bay Packer fans. The team missed the playoffs for the first time in eight years. They also lost the franchise QB to injury, and the supposed excellent backup left some questionable play. Packer fans were left with a lot to be desired. As fans and analysts alike, we declare the Green Bay Packers bounce back starts here. Here are three things that I believe to be the most important things to watch this bounce back season.
What Can Go Better for the Packers in 2018 – Green Bay's Bounce Back
In the 2017 season, fans were privileged to see the coveted second year jump of some key players on defense. Blake Martinez and Kenny Clark went from somewhat productive rookie seasons to breakout sophomore seasons, avoiding the dreaded sophomore slump.
Second Year Leaps
This 2018 season we hope to see major improvement for some other key players. Kevin King was drafted to be the number one cornerback. Even though he had a productive season, injuries kept him from showing his true potential. As a rookie he lined up across from some of the leagues best in Dez Bryant, Julio Jones, and Antonio Brown gaining undeniable experience to help him prepare for his second year leap. With his shoulder surgically repaired and the sufficient rehab, King is someone to watch.
Josh Jones was drafted as a Swiss army knife defender. Physical enough to play in the box and blessed with good enough ball skills and speed to play in the back end, his future looks bright. The game may have been a little fast for him his rookie season, but he still managed to make instinct plays and show flashes of his potential. With the departure of Morgan Burnett, his path to the field and becoming a mainstay in the defense is wide open.I see a very intriguing battle for the starting spot between veterans Kentrell Brice, and Marwin Evans, and now second year Josh Jones.
Aaron Jones, and Jamaal Williams were a bright spot in the 2017 campaign. Packer fans should be very excited for the backfield competition this offseason, and throughout the season because with these two and add in Ty Montgomery, our backfield looks solid. Watch for these key second year players to make their leap and the success of the season will be greatly affected by them. Also look for undrafted free agents Michael Clark, and Donatello Brown to make leaps and have consistent roles in the offense and defense respectively.
New On-Field Leaders
Another key is filling the leadership roles on offense and defense. Jordy Nelson, who was a fundamental part of the offense for the past 12 seasons easily was the leader and mentor for the receiver group, if not the entire offense. His role of being the always calm and confident example on offense will need to be replaced. Will Davante Adams be able to fill that role? Will someone else, other than Rodgers, step up and take on that leadership role on offense?
The loss of Morgan Burnett provides another major hole that needs to be filled, in production and leadership. The proof is in the pudding, the Packers' defense wasn't the same without him. He was the leader of that defense. By wearing the headset he was to make sure the defense was lined up correctly. In his absence during the season Clinton-Dix wore that communication headset and the extra responsibility affected his play.
Who fills in for Burnett? Blake Martinez is the safe bet. In most defenses the MLB is the leader because they are in the middle and can see the whole field. On Tuesday Martinez shared with Packers.com what he learned in his initial conversation with new DC Mike Pettine. "There's going to be more calls for me to make and more freedom for me to make call out there," Martinez said. Watch for these new leaders to continue their growth and to stand out this season.
Cohesion in New Offensive/Defensive Systems
I think the biggest thing to watch will be the cohesion of the new systems that will be in place. To start on defense, Clay Matthews' whole time in Green Bay was under Dom Capers system. Blake Martinez just took his big leap in that same system. Mike Daniels and Kenny Clark both made major strides as well. Rookies such as Kevin King, Josh Jones, Vince Biegel and others will be spending another offseason/preseason learning a new system. How will that effect their growth? Will it be a positive or a negative?
We know that Pettine's defenses are top of line by leading 3 top 10 defenses in previous years. The only question is will every one buy in? The same goes on the offensive side of the ball. Rodgers is already comfortable in the system lead by McCarthy and Philbin. They have a championship history that only includes Bryan Bulaga. No other offensive player was around for that Suer Bowl Run. What makes this interesting is because in the recent history of Green Bay change hasn't been a big part. The changes in the coaching staff brings an intrigue that has not been present since 2011.
Main Photo: