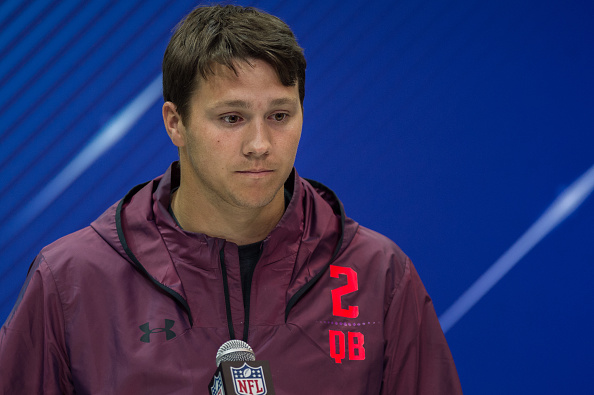 The NFL combine concluded this weekend in Indianapolis, it's time to take a look at those few NFL hopefuls that should have turned GMs heads on day two of the combine, which featured quarterbacks, wide receivers and tight ends.
Combine Stock Risers: QBs, WRs, and TEs
Chark was near the top of nearly every combine drill among wide receivers, including his lightning quick 4.34 40 time, his 40-inch vertical jump and his 129-inch broad jump. He was not talked about very much coming into the weekend, but the 6'3 wideout made his presence felt in Indy. Don't be surprised if his name is called sometime in round 2 of the draft.
Gesicki blew away the competition in nearly every category. The 6'6 pass catching specialist had a 41.5-inch vertical jump, besting the next best tight end by nearly three inches. He ran a 4.54 official 40 yard dash time, just as fast as Georgia running back Sony Michel. Gesicki was also the quickest in the three-cone drill and put up 22 reps on the bench press. While he is not much of run blocker, NFL coaching staffs should be in love with the Nittany Lion. How good was Gesicki's combine? Just take a look at this post from the NFL comparing him with some NFL stars. While Gesicki was already being viewed as a 2nd or 3rd round pick, he could easily be the first tight end off the board to a tight end needy team like the Saints or the Jaguars.
Callaway was suspended for the entire 2017 Gator season and flew under the radar as the combine kicked off. However, he made his presence felt almost immediately at Lucas Oil Stadium, running the third fastest 40 yard dash time among wide receivers, officially clocking in at 4.41. His speed was never a question when playing at UF and he showed scouts that he did not lose a step during his suspension. He looked totally comfortable during the hands' drills, but especially during the gauntlet drill. He could be a great deep threat at the next level and should be viewed as a late day two pick if teams can overlook his off the field issues
Allen has been regarded as one of the top QBs in the draft and for good reason. He has one of the strongest arms of any prospect in the last decade, as evident from him casually throwing a ball 50(!) yards from his knees(!) and hitting the bottom of the goal post. Allen showed off his cannon arm in the passing drills last weekend as well, launching a 70-yard beauty at one point. He ran a 4.74 40 yard dash time, leading the top-ranked QBs. The questions surrounding Allen all had to do with his accuracy throwing the football, but he may have silenced some critics with his performance. He was precise with his short quick throws and accurate on the intermediate routes as well. If a team was considering drafting Allen in the top 10, they have no reason to shy away based on his performance.
Image Credit:
Embed from Getty Images