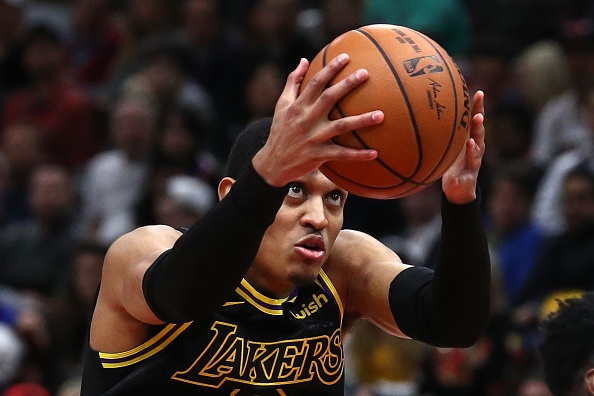 The Cleveland Cavaliers certainly put on their work shoes when they arrived in Boston on Sunday afternoon. In their first game after three monster trades at the deadline, the new look Cavaliers were more than impressive in action against one of the best squads in the East in the Boston Celtics.
Trade Deadline Cleveland Cavaliers Takeaways
The Cavaliers traded away point guard Isaiah Thomas and power forward Channing Frye to the Los Angeles Lakers for point guard Jordan Clarkson and power forward Larry Nance Jr. Shortly after that move, a three-team trade went down that sent shooting guard Iman Shumpart to the Sacramento Kings for point guard George Hill; while small forward Jae Crowder and point guard Derrick Rose went to the Utah Jazz for shooting guard Rodney Hood. If that's not confusing enough for you, they then traded shooting guard Dwyane Wade to the Miami Heat for a 2nd round draft pick in 2024 that is so heavily protected that they probably won't ever see it.
Cleveland pulled off a lot of big moves at the same time. Here's the summary of what Cleveland did.
They fixed their point guard problem
Rose and Thomas are both very skilled players. Both are former All-Stars. Both are explosive scorers and can distribute the ball. However, neither player worked in Cleveland. Rose has struggled to stay healthy and on the court. He seems distant from the rest of the team and disappeared for the second time in the last year for an extended period of time. Thomas is undersized. It didn't seem like the Cavaliers players could figure out how to use him.
So instead of struggling on with the players that they had picked at the beginning of the season, Dan Gilbert blew it up and added Hill and Clarkson. Hill is a skilled player who has watched his career go down the drain this year in Sacramento. He wanted a change. He's excited to have a real chance at a title.
Clarkson is a role player who is capable of coming off the bench and scoring twenty points any night. He's averaged 15 points per game over the last three seasons. It's a new addition to the Cavaliers roster – a role-playing point guard.
Let's face the facts. Rose and Thomas are both used to playing thirty-plus minutes a game. Someone starting over you and splitting minutes is not a role that either player has traditionally played. They were both asked to play this role. Thomas was injured, and when he came back there was no chemistry between him and the other Cavaliers. Rose lost the teams respect when he disappeared again. Both players struggled terribly accepting the roles that they were assigned.
Hill is a player who has been a starter and a role player. He has played both roles very well. He's comfortable splitting time. Clarkson has spent the last few years as a bench player. Again, he's very comfortable splitting time. So by adding two very talented scorers to the mix, who score points while splitting minutes, Cleveland has overloaded their weakness and made it a strength at the point guard.
LeBron looks focused again.
Let's face it. LeBron James has looked out of focus and plain downright tired the last few weeks before the trade deadline. I wrote a piece here about why the Cavs were struggling. Part of the reason was LeBron didn't seem interested.
It showed more and more as the month of January dragged into February. LeBron stopped going up for rebounds. He settled for jump shots.
Sunday afternoon, LeBron looked energetic again. He was putting his triple-double numbers up and going after the ball. He was finding teammates, getting boards, driving inside. LeBron appeared to be in classic form again.
The players who aren't used to role-playing are gone
Wade has been an all-star pretty much his entire career. Now that he is thirty-six, there are many more talented shooting guards in the league than him. Wade is still learning to accept this. He has been a star his entire career. Learning to accept a bench role has been a challenge for him. Also, remember that Wade won championships with James.
Crowder has been a starter for most of his career in Boston. He's not used to a bench role. Iman Shumpert was clashing with Wade and J.R. Smith.
The Cavaliers moved all of their distractions to other teams. They added younger players who haven't been starters at some point in their careers and added players who could get through this regular season.
Don't worry, Cleveland fans
Cleveland appears to have made some of the moves of the year so far with the trigger-happy trade deadline. So far, those moves are paying off big dividends. The team as a whole can only go up. As the players learn how to play with each other more as the season progresses, one can only fear what the Cavaliers will bring. Here come the Cavaliers!
Main Photo:
Embed from Getty Images