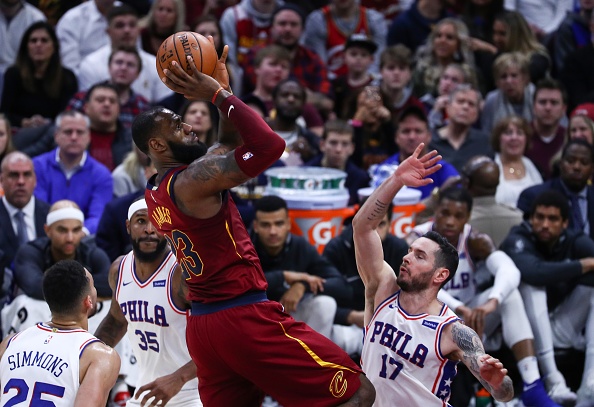 Cleveland has a history of crumbling sports franchises. However, it's looking like a Cavaliers finals return is in the makings this season.
Cleveland isn't a city built for believing. It's industrial scenery, full of empty factories and warehouses scattered throughout the limits, certainly doesn't inspire hope to the residents living there. Nor does it inspire visitors to move their lives there in the hopes of a better life. Cleveland has struggled to maintain hope for longer then most people have been alive today. One day, fifty years ago, those factories and warehouses were the future of a great city, bustling in a stable economy booming before the Vietnam War.
5 Reasons why the Cavaliers will play in the NBA Finals
Now, those days are but distant memories to grandpa's sitting on their front porches in rocking chairs relaxing under the smoke-filled skies of the industry. The days of Paul Brown and Otto Graham reinventing football, Jim Brown dominating on the gridiron, and the Cleveland Indians dominating major league baseball are the legacies of the city. That legacy holds the city of Cleveland together.
Ever since LeBron James' prodigal sons return to Cleveland's basketball team, it has been almost non-stop success for the Cavaliers. The last three NBA seasons have ended in NBA Finals runs, including a win in 2016. LeBron is the face of Cleveland in 2018.
This season has been a roller coaster ride for Cav fans. The team started with a hot win over Boston game one, went into a slump before rebounding on a 13 game wining streak. After a 19-2 run going into Christmas, the Cavs lost to the Warriors on Christmas Day, and have gone 3-8 since then.
Here are five reasons why the Cavaliers will rebound after this sloppy part of the season and head to the Conference Finals in May.
1. LeBron James
This man is legendary while playing when it really counts. His playoff form is simply legendary. He averages 28.4 points per game in playoff contests, slightly better then his career regular season average 27.1. He has always played bigger in the playoffs when the game goes down to the line. King James can single handedly make a team a playoff contender. LeBron is the King of the NBA right now, and he's not about to be dethroned anytime soon.
2. Chemistry will form around Point Guard Isaiah Thomas
Isaiah Thomas missed the entirety of the 2017 offseason rehabbing his hip, and missed too much time to form the chemistry we normally see teams playing with at this point of the season. Jae Crowder is the only Cav player who played with Thomas at another team, and he was sent over in the trade that sent Kyrie Irving to Boston and landed Thomas in Cleveland.
The truth of the matter is that his teammates are learning how to play with him. He's such a small player (5'6″) and plays a particular style that his teammates have to learn how to find him. Cleveland is a smart team, and they should have it figured out by the time the All Star break comes around.
3. Cleveland's roster is loaded
Isaiah Thomas, LeBron James, Kevin Love, and Dwayne Wade have all been named All Stars recently in their careers. That's not including solid rotational guys like Jae Crowder, JR Smith and Kyle Korver. This team is so stacked, it's very hard to imagine this team not storming through the playoffs.
4. They're 5th in the league in scoring
This team is scoring a lot of points. Averaging 109.7 points per contest, they aren't a pushover offense. They scored 124 in the latest loss to the Thunder, and it marked the eighth time this season they have scored 120 or more points in a game this season. Six players are averaging over 10 points per game, LeBron leading the charge with an average of 26.8.
5. Players are trying to win
One of the biggest story lines of the early season was Dwayne Wade taking a bench role as a rotational player instead of playing as a starter. It is the first time in his career where he isn't playing as a full time starter, and he is doing well averaging 11 points per game in 23.3 minutes of action. This team is playing unselfishly, putting aside their ego's for the best of the team. As a result, the bench is averaging 41.1 points per game. That's third in the NBA.
Cleveland is a city always looking to the horizon. Always looking ahead to the future. Imagining it's sports teams winning championships. It's a sports city. It always will be. This team is playing for the city of Cleveland. They're going to be playing in the NBA Finals again this season.
Main Photo: