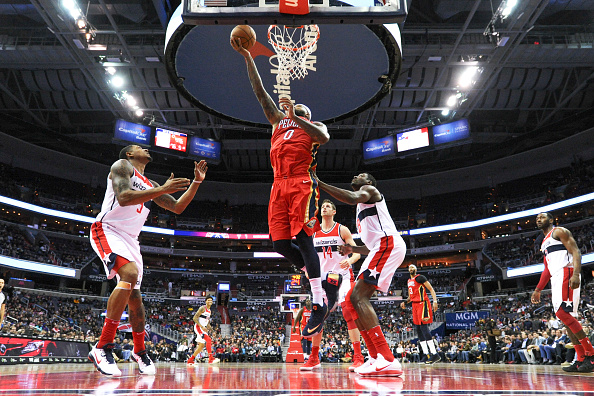 It's not very often that we see an injury epidemic sweep over the NBA landscape.
This has been the "Year of the Injury" across all sports. High profile athletes to the likes of Aaron Rodgers, J.J. Watt, Odell Beckham Jr., John Wall, Gordon Hayward, Jeremy Lin, Michael Pineda, David Wright and more missed time due to vicious injuries.
In a normal season, we aren't used to seeing so many big-name stars miss time with major injuries in the same year. 2018 appears to be showing no signs of letting up.
NBA All-Star Injury Bug is decimating the NBA
Since the NBA All-Star rosters have been revealed, three All-Stars have gone down with injuries that will force them to miss substantial time. DeMarcus Cousins, center for the New Orleans Pelicans, went down with a torn Achilles last week and will miss the remainder of the season. Just three days later, Washington Wizards point guard John Wall announced he was undergoing knee surgery and would miss six to eight weeks. Then hours after that, Cleveland Cavaliers power forward Kevin Love broke his hand and is expected to miss six to eight weeks.
What has brought on this current blast of NBA injuries?
The Physicality of the NBA
Many people outside of NBA fans and analysts believe that basketball is a soft sport. While there is not as much contact as football, basketball is very much a real contact sport. Former NBA stars Shaquille O'Neal and Charles Barkley have said on many occasions that the game is faster now then it was in their time. When a game speeds up, this causes more contact and more wear and tear on a players joints.
Try running up and down a court thirty times, take fifteen jump shots and then come back and talk about how your knees feel. While the contact in basketball isn't so much colliding with other players (although that does happen often), there is a wear and tear factor unlike other sports. Basketball will leave you thoroughly exhausted at the end of a game.
The Regular Season is 82 games long
82 regular season games is a long season. The NBA has always been a test of endurance for players, both mentally and physically. Not only does the regular season drag on a long time, but the playoffs are four rounds of seven-game series. That's potentially 110 games over a season lasting almost 250 days. If you play the title series, you have one of the shortest off-seasons in team sports, with just three months off.
Players have always discussed the potential of shortening the season, especially now with the games being faster paced. The NBA has always been a player-oriented league. If a star player is out, it hurts the value of the team. In football, it's always the next man up. A left tackle with a hamstring pulled missing the game isn't going to cause a ticket sale drop. A starter in the NBA going down for a game hurts the value of the product to fans. So until the NBA sees a hit in the pocketbooks, realistically, there isn't much of a chance that the NBA will do anything to fix the season length.
Players are more refined
The explosion of sports becoming a very real career path and focus in American media has been good for the NBA, as well as all sports leagues. Coaches are spending more time teaching players intangibles instead of letting them go out and just practice their jump shot. The mentality and focus of training have shifted. So the stars in the NBA now have to excel in multiple crafts, not just dominate in one or two.
When the style of coaching and teaching evolves into something more refined, it changes the sport. In this case, the average player is better then he used to be. Think of the NBA stars of old. Jerry West was an incredible on-the-ball defender and jump shot artist. His weakness was the paint on both sides. He wasn't a great scorer inside and he didn't defend it like he defended the post and the perimeter.
Michael Jordan was the first star in the game who could do everything well. That's why his name is held with such respect and reverence. No one had ever been close to being the complete basketball player Jordan was.
Nowadays, the average NBA player has a special skillset where he excels in a certain area. Look at Jae Crowder. He's a terrific defender, but not much of an offensive player. Look at Boban Marjanovic. He is a great rebounder but is very average everywhere else.
The stars of the NBA now have to be complete players. They can't have one or two skills that they specialize in and they survive with that skill. They have to excel in three or four, sometimes even five, areas to be considered great. This is because the way that the game is coached and taught has refined itself.
Competition
The NBA is easily the most competitive sports league in the world. There are hundreds of colleges in the USA alone, not counting all of the basketball organizations all over the world, that provide the NBA talent. Only 450 players are on active NBA rosters, and other players are always trying to take any one of those spots. With competition comes more effort. With more effort comes harder play. With harder play comes more injuries over a long season.
This is something we should come to expect as the faster offenses and deep shooting teams continue to expand across the NBA. It's only a matter of time before the NBA takes a real look at fixing the injury issue.
Main Photo:
Embed from Getty Images