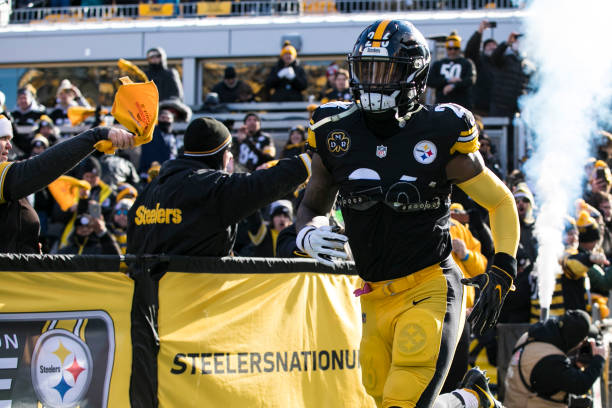 The Steelers season consisted of endless drama from the start to the end. Week by week there was negative headlines surrounding this team. There are far to many instances to list, but I will highlight the main ones.
The Saga That Was the Steelers Season
Le'veon Bell hold out
The Steelers all-pro running back was clearly unhappy with his contract entering the 2017 football season, so he decided to hold out of training camp as well as the pre-season.
Al Villanueva stands alone
Before a game against the Chicago Bears on September 24th, Mike Tomlin had told his team that they will be united during the national anthem. He gave the team an option, and that was to either stand together or kneel together. But, the players couldn't come upon an agreement on one way or another so Tomlin ordered them to stand in the tunnel for the anthem. Villanueva, an army vet, made the decision to stand alone on the field apart from his teammates. This caused a huge stir among everyone.
Ben Roethlisberger doesn't "have it anymore"
Following a loss to the Jacksonville Jaguars in week 5, Big Ben had told reporters that maybe he doesn't have it anymore after throwing 5 interceptions.
Martavis Bryant requests a trade
Bryant was extremely unhappy with his diminishing role in the Steelers offense due to the emergence of rookie wideout, JuJu Smith-Schuster. He had requested a trade from the Steelers if they hadn't planned on using him. They even benched him in the game against the Lions in October.
Todd Haley and Ben Roethlisberger
Haley was caught on camera screaming at Ben in multiple games. Ben has been very vocal about his disconnect with Haley. They have had a strained relationship basically throughout Todd Haley's tenure. He requested that QB coach, now offensive coordinator, Randy Fichtner was on the field instead of in the box. Haley didn't want anything to do with being in the box.
Players looking ahead to the Patriots
Before the Steelers playoff game against Jacksonville, a few players were guilty of "looking past" the Jaguars. Many believed that they could not come into Heinz Field and beat the Steelers, but they did indeed. Mike Mitchell, for example, came out and said, "We're going to play them again. We can play them in hell, we can play them in Haiti, we can play them in New England…We're gonna win." Once the Steelers lost to the Jags, these comments were nothing but an embarrassment.
Le'veon Bell retirement
Bell, the day before the teams first playoff game, had made comments on his contract and his future. He demands to be paid as the top running back in the league, therefore he doesn't want to be franchise tagged once again. He stated that if he does get tagged again, he will consider retirement. These comments were extremely ill-advised right before a matchup against Jacksonville.
These are the main instances that have occurred throughout the Steelers season. Many distractions that possibly led to an abrupt ending to their campaign. There is a lot of thinking to do in that locker room and change is very needed at this point. With all of the talent on this roster there is no reason they cant be competing for a Lombardi trophy. The hiring of Randy Fichtner as offensive coordinator and letting Haley walk was a step in the right direction, as Big Ben has an amazing relationship with the former QB coach.
Main image credit: