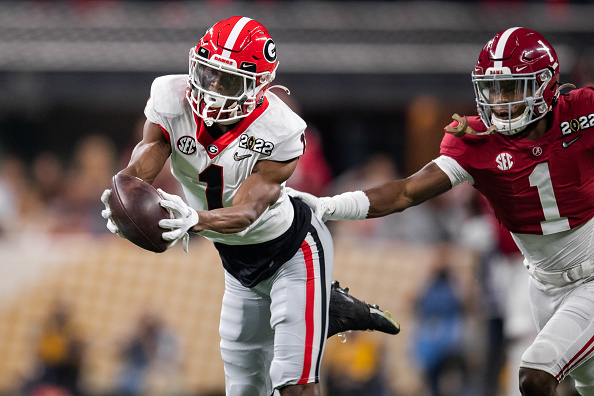 The Chicago Bears draft this season will look to build off of what the team did last year by adding talented young prospects to help Justin Fields, whom they took in the first round last season. The Bears are in a very tough position. Chicago attempting to rebuild without a first-round pick.
On a positive note, they have two picks in the second round. They will pick at 39 and 48, with the 48th pick being part of the return for Khalil Mack from the Los Angeles Chargers. Chicago is coming off of a season where they finished 6-11. The Bears struck out in free agency and will look to the draft to improve their team.
Chicago Bears Draft: 4 Players They Need to Target
The Chicago Bears will sit out of night one of the 2022 NFL draft but will be more than ready for night two where they will pick twice in the second round and once in the third. The Bears will want to make sure they grab a wide receiver with one of their second-round picks in a draft that is extremely deep in talent at the position. Chicago should also grab an offensive lineman on night two. They want to make sure they protect their franchise quarterback and also put people around him to be successful.
George Pickens, Wide Receiver, Georgia
George Pickens is a big-bodied wide receiver that plays with a lot of athleticism. He is excellent at going up and catching the ball with people around him and could be a significant red-zone target for Chicago. At 6'3″, 200 pounds, Pickens ran a 4.47 40-yard dash at the combine to go with his 33-inch vertical jump.
Pickens sat out most of this past season with a torn ACL he suffered last spring. But, in his previous two seasons at Georgia, he was very productive, averaging just over 14 yards per reception each year.
Abraham Lucas, Tackle, Washington State
Protecting Justin Fields is an absolute must and it would be in the Bears' best interest to get Abraham Lucas in the second round. Lucas stands at 6'6″, 315 pounds, and comes from a pass-heavy offense at Washington State. In 477 pass-block snaps, Lucas didn't allow a single sack this past season, earning the first-team All Pac-12 honors.
Lucas can play right guard or tackle, while most of his snaps in college came at right tackle. He also was able to run a sub 5.0 40-yard dash at the draft showing that he does have some speed for his size.
[pickup_prop id="23616″]
Jalen Pitre, Cornerback, Baylor
Cornerback was another position that Chicago struggled with last season and, Jalen Pitre was a pivotal piece to an elite Baylor defense. He had 75 total tackles, two forced fumbles, two interceptions, and 3.5 sacks last season for Baylor. Pitre is a corner that can be very productive in the passing game and the run game. He has a tremendous ability to jump routes.
His versatility will allow Chicago to use him in many different ways and excels at playing in the slot. Pitre is a high-motor guy that showed in college that he can come in from the backside and make tackles in the run game.
John Metchie III, Wide Receiver, Alabama
While John Metchie III is coming off a torn ACL that he suffered in December, he is one of the best route runners in the draft. He isn't the biggest wide receiver, standing at 5'11, 187 pounds, but he showed improved ability to catch contested passes throughout his collegiate career. Metchie was on pace for a 100 reception season this past year at Alabama before his ACL tear. He finished the season with 96 catches for 1,142 yards, all while he missed out on the season's final two games. Metchie seemed unguardable at times and had multiple games with more than ten receptions.
The Chicago Bears draft this season has them walking away from night two with a wide receiver as an absolute must. They need to provide more weapons for Justin Fields and don't be surprised if they work hard to improve their offensive line in the draft. They will want to get young talent that will grow around and help Justin Fields become the elite quarterback Chicago hoped they drafted last year in the first round. The Chicago Bears draft is almost here, and fans are thrilled to see what young prospects new general manager Ryan Poles adds.
Main Photo: