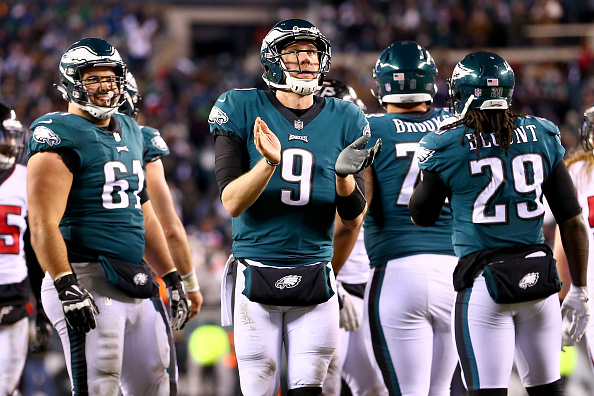 This weekend we watched as the Eagles moved away from what would be considered a traditional NFL-style offense in favor of an RPO—or run-pass option—a play more commonly run in college football. It was apparent that Nick Foles was immediately more comfortable in this system. Using this concept, the Eagles were able to drive the field and set up scoring opportunities.  Obviously not every QB in the league would thrive under such circumstances, but we will see more of them incorporated into the league as early as next year.
Here are a few teams to watch that will likely bring commonly used college formations to their team.
College Football Concepts Come to the NFL
Chicago Bears
The Bears are the obvious option here.  Their newly hired head coach, Matt Nagy, will be the newest protégé of the Andy Reid system to become head coach. A system which is well known for weaving West Coast style offenses with college concepts.  If this influence wasn't enough, look no further than the newly hired offensive coordinator.  Mark Helfrich was the Head Coach of the Oregon program for 3 years, and their OC and QB coach before that.  Mitchell Trubisky has the skillset to be very successful in an Andy Reid/Matt Nagy offense.  He's accurate on the run, and athletic enough to run a successful option scheme.
Kansas City Chiefs
I can't imagine that Andy Reid would abandon these concepts just because he was getting a new offensive coordinator.  With players like Patrick Mahomes, Kareem Hunt, and Tyreek Hill as your key playmakers, we could see plenty of the run-pass option.  We saw plenty of a type of this option in 2017.  The Chiefs picked apart New England's defense with an option where, instead of a pass to a slant route, the option was a shovel pass to Travis Kelce.  It worked to great effect, especially if you have such a dangerous RB as your other option. Unfortunately for the Chiefs, they limited the touches to Hunt in the Wildcard Round, which ended up costing them the game.
Philadelphia Eagles
Doug Peterson is yet another connection to Andy Reid.  Peterson's system is closer to a traditional Pro-style offense, which fits Carson Wentz's skill set as a pocket passer.  But if you look closely, you'll see the traces of some option passes, and some zone read options (where the QB can choose to keep the ball). Both of which are used heavily in collegiate offenses.  I foresee the Eagles limiting Wentz's runs though, considering the consequences if something were to go wrong.
Carolina Panthers
Cam Newton's skillset practically begs to be used for these concepts.  He has his ups and down in the passing game. When he can't get it don't through the air, he uses his legs. Newton is so big that he can take a fair amount of contact during these runs with limited liability.  The 2015 Panthers season was the epitome of letting Cam run these formations, and improvise when things went south.  Carolina has since toyed with the formula, adding and removing offensive pieces in hopes to limit Newton's workload.  It was obvious that by the end of the Wildcard game that Cam Newton was beat up and worn down.
I imagine that, eventually, most teams will use some form of these college based offenses in week to week action. It's unlikely that we will ever see a true triple-option though, with the risk to the QB so high.  With memories of RGIII still fresh in many minds, protecting a QB behind a stout offensive line seems vastly more appealing than throwing one to the mercy of Safeties and Line-backers.
Main image credit:
Embed from Getty Images