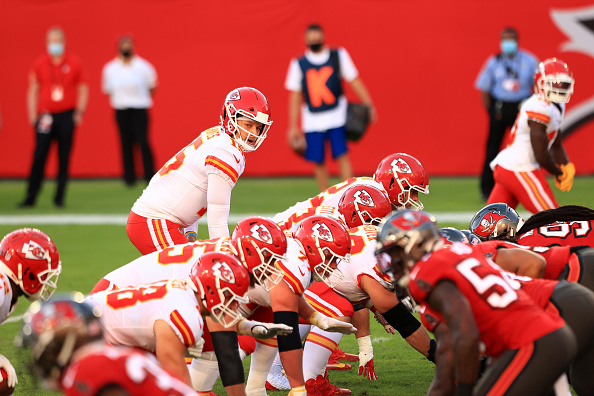 In preparation for the super bowl, I wanted to revisit the Kansas City Chiefs vs Tampa Bay Buccaneers Week 12 film. and how it impacts Super Bowl LV. The lopsided win for the Chiefs may not be shown by the scoreboard, but it was clear the Chiefs were the better team in Week 12. The offensive gurus in Andy Reid and Bruce Arians are proven in the NFL and are deemed to put on a show for Super Bowl LV.
Kansas City Chiefs vs Tampa Bay Buccaneers Week 12 Film Review
Comparing the Chiefs' and Buccaneers' Defense
Team Defense Table

| | | Tot | Tot | | Pass | Pass | Pass | Pass | Pass | Rush | Rush | Rush | Rush | Rush | Pena | Pena |
| --- | --- | --- | --- | --- | --- | --- | --- | --- | --- | --- | --- | --- | --- | --- | --- | --- |
| Rk | Tm | Y/P | TO | 1stD | Cmp | Att | Yds | TD | Int | Att | Yds | TD | Y/A | 1stD | Pen | Yds |
| 8 | Tampa Bay Buccaneers | 5.1 | 25 | 319 | 426 | 617 | 3945 | 29 | 15 | 358 | 1289 | 10 | 3.6 | 78 | 95 | 1015 |
| 11 | Kansas City Chiefs | 5.6 | 22 | 353 | 349 | 557 | 3779 | 29 | 16 | 433 | 1954 | 14 | 4.5 | 113 | 97 | 760 |
| | | Tot | Tot | | Pass | Pass | Pass | Pass | Pass | Rush | Rush | Rush | Rush | Rush | Pena | Pena |
| Rk | Tm | Y/P | TO | 1stD | Cmp | Att | Yds | TD | Int | Att | Yds | TD | Y/A | 1stD | Pen | Yds |
| | Avg Team | 5.6 | 20.8 | 347.1 | 367.4 | 563.1 | 3842.4 | 27.2 | 12.3 | 431.0 | 1902.1 | 16.6 | 4.4 | 111.3 | 89.9 | 778.6 |
The Chiefs and Buccaneers have pretty similar defenses. Starting with interceptions, the Chiefs are tied second in the league with 16 interceptions with two other teams, the Washington Football Team and the New England Patriots. Tampa Bay isn't far behind them as they have 15 interceptions that are tied with four other teams.
The main thing that stands out is the Buccaneer's stout front seven which led the NFL in the least rush yards and rushing touchdowns allowed. With the Bucs leading with a whopping 80.6 rush yards allowed per game with ten rushing touchdowns allowed in comparison, the Chiefs allowed 122.1 yards per game which stood 20th in the NFL with 14 rushing touchdowns allowed.
Going back to similarities, the Bucs allowed 236.2 passing yards per game while the Chiefs allowed 246.6. Alongside the yards, Tampa Bay is sixth in the NFL in total yards allowed with 327.1 per game as Kansas City allows 358.3.  Both teams have a similar blitz per drop back rate with Tampa bay blitzing 39% of the time and Kansas City blitzing 35.6%. The Buccaneers were second in the NFL blitz plays runs as the Chiefs were tenth. Even the scoring defense for both teams was almost tied as Tampa Bay was sixth in the NFL with 22.2 points per game, as Kansas City allowed 22.6, tied for tenth in the league with the Indianapolis Colts.
All in all, the defenses are almost the same in stats but differ in personnel. Among the two teams are separated by two groups front seven for Tampa Bay led by Devin White, Shaquil Barrett, Jason Pierre-Paul, and Lavonte David. For Kansas City, it's more so the secondary led by Tyrann Mathieu and Bashaud Breeland even though the Chiefs have arguably the second-best defensive tackle in the league in Chris Jones. 
Comparing the offenses
Passing Offense Table

| Rk | Tm | G | Cmp | Att | Cmp% | Yds | TD | TD% | Int | Int% | Lng | Y/A | Y/C | Y/G | Rate | Sk |
| --- | --- | --- | --- | --- | --- | --- | --- | --- | --- | --- | --- | --- | --- | --- | --- | --- |
| 1 | Kansas City Chiefs | 16 | 420 | 630 | 66.7 | 4854 | 40 | 6.3 | 7 | 1.1 | 75 | 7.9 | 11.9 | 303.4 | 107.3 | 24 |
| 2 | Tampa Bay Buccaneers | 16 | 410 | 626 | 65.5 | 4626 | 42 | 6.7 | 12 | 1.9 | 50 | 7.6 | 11.6 | 289.1 | 102.8 | 22 |
| | Avg Team | | 367.4 | 563.1 | 65.2 | 3842.4 | 27.2 | 4.8 | 12.3 | 2.2 | 69 | 7.2 | 11.1 | 240.2 | 93.6 | 35.5 |
It's no secret that the Kansas City Chiefs are the most explosive team in the NFL as they led the league in yards after catch also known as "YAC". Bruce Arians is known for his attacking vertical offense which resulted in the Buccaneers finishing third in scoring offense with 30.8 points per game as the Chiefs weren't far behind with 29.6.
But, Tampa Bay had a bottom five rushing attack even with the additions of Leonard Fournette and LeSean McCoy. Kansas City had their own rushing struggles as they only had 280 more total rushing yards through the regular season after making picking up a former all-pro in Le'Veon Bell, who was released by the New York Jets.
Comparing the Quarterbacks
Per Game Table
Passing
Rushing
Rk
Player
Year
Cmp
Att
Yds
TD
Int
Sk
Yds
Att
Yds
TD
1
Tom Brady
2020
25.1
38.1
289.6
2.5
0.8
1.3
8.9
1.9
0.4
0.2
2
Patrick Mahomes
2020
26.0
39.2
316.0
2.5
0.4
1.5
9.8
4.1
20.5
0.1
The undisputed greatest quarterback of all time in Tom Brady has rejuvenated himself again when he joined Tampa Bay. He even broke Peyton Manning's record for most touchdowns thrown by a quarterback in his first season with a new team. But Patrick Mahomes led the Kansas City Chiefs to a 15-1 record with him being rested in Week 17. Tom Brady is entering his 45th playoff game and his tenth Super Bowl. While Patrick Mahomes is the reigning Super Bowl LIV MVP, he is on the brink of his own greatness.
Week 12 Buccaneers vs Chiefs Analysis
1st Quarter
The Buccaneers won the coin toss and deferred, bringing on the scorching hot Chiefs offense first. And Tyreek Hill's presence was felt immediately on the first play of the game, going for a 34 yard gain on a Run-Pass-Option play. With Tampa Bay being undisciplined early they had back to back neutral zone infractions.
But the only run of the drive ended up being stonewalled as the best rush defense in the league showed up early. But when you have a top-five receiver in the game, why do you even need to run?
Tyreek Hill pic.twitter.com/Xqta23ztIu

— Xavier Dixon (@GOOBVILLE) February 2, 2021
Tyreek Hill showed early that he wouldn't be denied as he soars over Carlton Davis to catch a pass as an All-pro wide receiver does. Eric Bienemy chooses to stay with the trial attack, where he called three pass plays inside the red zone and even threw in a trick play with Travis Kelce attempting a pass.
Jason Pierre-Paul was able to get pressure on Mahomes on third down forcing the Chiefs to settle for a field goal. The Chiefs ended up with a six to one; run to pass ratio on the first drive.
The Tampa Bay Buccaneers' first drive had a couple of Ronald Jones runs, but it was clear Bruce Arians wanted to get his number one receiver Mike Evans going early. Tom Brady was only able to connect on one of the three targets intended for Evans. Kansas City was able to get home on a blitz on second down which resulted in an overthrow. Bashaud Breeland had Mike Evans smothered on third down to force the punt.
The second offensive drive for the Chiefs resulted in a three and out. Giving up a short pass on first down, Andy Reid tried his hand with some more trickery trying to free up Tyreek on a sweep. While the Tampa Bay rush defense came up big again with huge third-down run stuff.
On the Buccaneer's second drive, Byron Leftwich decided to stay with the usual Tampa Bay run on first down. Rob Gronkowski was able to get his first catch of the game on second down and Tom Brady began to look Gronkowski's way more.
i like it bruce pic.twitter.com/3flSSeOemj

— Xavier Dixon (@GOOBVILLE) January 29, 2021
Arians and Leftwich tried some trickery on third down, by motioning Antonion Brown (who was split out in the slot) into the backfield. Brown was targeted coming out of the backfield but was defended well by Josh Lidell.
Tyreek Hill = Fast pic.twitter.com/9kciJNh6ZQ

— Xavier Dixon (@GOOBVILLE) February 4, 2021
The Kansas city chiefs had a one-play drive touchdown on their third possession. And all I can say to explain the touchdown is Tyreek Hill.
Tampa Bay decided to start the drive with a pass, finding Gronkowski again on a stick route. The drive ended with a three and out after a second-down run and an inadvertent throw after the blitz on third down.
On the following Chief's possession, Beinemy went with a speed option run on first down, where Mahomes pitched it to Bell for an eight-yard gain.
As Tyreek Hill kept his first quarter tirade alive with a 19-yard catch, Travis Kelce also got his first catch on the fourth drive from the chiefs. After an incompletion, Mahomes found Hill again on a seven-yard gain.
Carlton didn't have a chance pic.twitter.com/KLUVjxNKGU

— Xavier Dixon (@GOOBVILLE) January 31, 2021
To this point, Carlton Davis wasn't having much fun, but in Carlton's defense this an extremely tough task to stay near hip with arguably the fastest guy in the NFL.
With the scoring being 17-0 Chiefs, Byron Leftwich got a lot more aggressive on the next drive with no success. Tampa Bay went with three straight passes into a three in-out, with Brady targeting Chris Goodwin twice, once for a two-yard and game and the other an incompletion.
What the First Quarter means for Super Bowl LV
Tom Brady struggled early when pressured and seemed off with his connection with players on passing plays. Chiefs had struggled to run the ball with Mitchell Schwarts being injured since Week 6. But with Tyreek Hill having his way in pretty much every target the Chiefs wasn't bothered by the run game.
The Chiefs have bigger problems now that Eric Fisher tore his ACL in the AFC Championship game and Daniel Kilgore had recently been named as a close contact for Covid-19. But there is a possibility he could be cleared in time for the Super Bowl.
Tyreek Hill showed in the first quarter alone why- he should see more bracket coverage in his future. If Bowles keeps a safety over top of Hill it would allow the underneath defender to make more plays on the ball.
Second Quarter
Patrick started his first drive of the second quarter with a beautiful pass in a tight window to Travis Kelce for a 20 yard gain. It's not a throw in the book Patrick Mahomes cant make.
The Kansas City Chiefs stayed on attack mode up 17, as they called ten pass plays to two run plays on the drive.
Kelce would continue to get involved, tallying two more catches and gaining 41 yards total on the three touches. After the monster first quarter from Tyreek Hill, the Buccaneers were able to contain him this drive.
Todd Bowles played more split safety coverages, allowing more help on the back-end for the speedy Hill. Ndamukong Suh woke up the whole pass-rushing unit with his tackle for loss and his play where he beat a double-team and got a Quarterback knockdown.
Tampa Bay was able to get to Mahomes on several pass plays once Suh made those plays, as Pat even had a rare miss when the Bucs blitzed him. But the Chiefs continued to drive the field and ultimately got the Tampa Bay Buccaneers eight-yard line.
Shaq Barrett beats Eric Fisher pic.twitter.com/Qy6gxBAUsh

— Xavier Dixon (@GOOBVILLE) February 4, 2021
Shaq Barrett beat Eric Fisher on a move where he faked inside to go outside, where he was able to sack and force a fumble on Patrick Mahomes. The red zone stop was huge as the Chiefs were about to lead 24-0 if they would've scored a touchdown.
Tom Brady would rely on some familiar faces on the Buccaneer's first drive of the quarter. Rob Gronkowski was able to beat Daniel Sorenson in man to man coverage for a nine-yard gain. Antonio Brown then was able to convert a crucial third down.
Rob Gronkowski gashes the Chiefs pic.twitter.com/ZmfNTmP5mv

— Xavier Dixon (@GOOBVILLE) February 4, 2021
Gronkowski was able to stretch the defense going vertical on a 29-yard gain. Tom Brady then hit Ronald Jones on a play-action pass for a touchdown, where the Chiefs missed a series of tackles.
The Tampa Bay Buccaneers were given life as they narrowed the score. But that didn't stop Eric Bienemy from being aggressive as the chiefs continued their heavy pass attack. Mahomes was forced to take more underneath throws because Bowles was able to limit the big plays downfield.
Patrick Mahomes still lead the Chiefs to Buccaneer territory. Bienemy called five straight pass plays inside the red zone and three straight passes at the Tampa Bay ten-yard line. The Buccaneer pass rush came up big again, as they got pressure on every single Mahomes throw at the ten-yard line.
What the Second Quarter Means for Super Bowl LV
Getting back to back red zone stops was huge for the Buccaneers, but the Chiefs were still able to sustain long drives. The time of possession for the second quarter was ten minutes and 37 seconds for the Chiefs. Resulting in Tampa Bay only having one full drive, where the offense did look better.
The Bucs pass rush came alive in the second quarter as they were able to get constant pressure on Mahomes. With Eric Fisher tearing his Achilles in the AFC championship game the Chiefs will now be without starting both starting tackles.
Kansas City could also be without their center Daniel Kilgore as he has been put on the Covid-19 list as a close contact. Tampa Bay has to take advantage of the hobbled Chiefs offensive line to give them their best shot at winning.
Travis Kelce heating up showed how the skilled tight end could maneuver around zone coverage. He ended the half with six catches for 77 yards and an incompletion on a throw where Patrick Mahomes was standing in the endzone wide open.
Advanced Defense & Fumbles Table

| | | | Game | Pass | Pass | Pass | Pass | Pass | Pass | Pass | Pass | Pass | Pass |
| --- | --- | --- | --- | --- | --- | --- | --- | --- | --- | --- | --- | --- | --- |
| Year | Pos | No. | G | Tgt | Cmp | Cmp% | Yds | Yds/Cmp | Yds/Tgt | TD | Rat | YAC | Bltz |
| 2020 | ILB | 45 | 15 | 85 | 71 | 83.5% | 626 | 8.8 | 7.4 | 3 | 109.1 | 315 | 91 |
Devin White should be called on to guard Kelcee because of the athletic edge he has on Lavonte David. White had coverage issues throughout the regular season allowing a 109.1 passer rating when targeted. But I expect White to step up big for the Super Bowl.
Rob Gronkowski also had his fair share of touches in the first half. The blocking tight end was able to get going with four catches for 50 yards in the first half. Entering the playoffs, Brady and Gronkowski played 16 playoff games together, connecting on 83 catches for 1,163 yards and 12 touchdowns. Gronk will have to show up big in the Super Bowl to give the Buccaneers their best shot at winning.
Third Quarter
Tampa Bay got the ball coming out the half and sustained a 67-yard drive. Brady leaned on Gronkowski, who had back to back catches including a monster 48-yard gain on a play-action pass. Brady missed Gronk on third and goal, but Tyrann Mathieu was underneath the play so Tom essentially threw it away.
On the first Chief's possession of the second half, Eric Bienemy called the exact same Run Pass Option play that Kansas City ran to open the game. Mahomes went with the check down hitting Kelce for a minimal gain.
Tyreek Hill got back into the game plan on the next play, as Patrick Mahomes threw a beautiful pass to beat the Cover 2 zone defense. Hill then caught a short pass and Devin White attempted to taunt Hill. (He clearly didn't pay attention in the first quarter)
Kansas City was able to finally make noise on the ground. Clyde Edwards-Helaire 10-yard gain set up a big third and one.
Pat gonna Pat pic.twitter.com/KgMRiahQrL

— Xavier Dixon (@GOOBVILLE) February 3, 2021
Bienemy with all the trust in the world in his quarterback called a speed option where Mahomes was able to fake out Devin white and gain 17 yards on the play.
Carlton Davis was in soft coverage after the Mahomes run and Pat ended up throwing it to Hill who was clearly given space to limit the big plays like the first quarter.
It's nothing you can do Carlton pic.twitter.com/8N4jrrHhIC

— Xavier Dixon (@GOOBVILLE) February 3, 2021
The Mahomes to Hill connection is something special. Pat hit Tyreek Hill on a back-shoulder throw, Davis was literally in Hill's pocket but the pass was thrown so only Hill could catch it.
Tampa bay had their back against the wall again as the game was getting out of reach.  After a near interception on the first play, Leftwich turned back to the run hoping for a spark.
Ali Marpet was called for offensive holding bringing up a third and long. Brady heaved a bomb to the streaking Chris Godwin for a 44-yard gain. Brady got hit full speed by two defenders at the same time on the play.
Brady threw an interception on the following play on a play-action pass. The Chiefs defense was able to get home with the blitz altering Brady's throw. Bashaud Breeland was able to pin Scotty Miller to the sidelines in man to man coverage.
There was good news for Tampa Bay. Mahomes whiffed on a pass intended for Mecole Hardman who may have scored a 90-yard touchdown if the throw was on target.
Jason Pierre-Paul got pressure on third down to force a punt.
With four minutes left in the third Antonio Brown was able to show his athleticism catching a Tunnel Screen for a nine-yard gain on first down. The quick throw countered the Spagnulo blitz, where he tends to blitz the slot most.
Ronald Jones would then get the LONGEST RUN OF THE GAME. On the gashing 34-yard gain – Mathieu rolled down, likely part of a disguise and it ended up getting him out of his run fit. On second down Chris Jones took on the held up the double team allowing his team to pursue.
On second down – Spagnulo sent another blitz and Brady simply was not going to take the hit. Brady forced the throw so fast it hit off the back of his own lineman.
After back-to-back interceptions were thrown by Brady, Eric Bienemy just wanted to shorten the rest of the game. Kansas City was able to drain one minute and 50 seconds off the clock in just three plays. Le'veon caused a couple of missed tackles on the second down pass and he looked back in his prime.
What the Third Quarter Means for Super Bowl LV
Through three quarters, it was easy to see that Tom Brady and the offense held the team back in Week 12. Brady is going to his tenth Super Bowl on Sunday I wouldn't plan on him having another bad game, especially after nearly costing the NFC championship games with interceptions.
Steve Spagnuolo was able to disguise coverages and blitzes all game against the Bucs, and Brady couldn't quite figure it out. Bruce Arians will have to run more pre-snap motion plays that can Tom Brady can see if the defense will show their hand at all.
For the Chiefs, I think Le'Veon bell can be a difference-maker in the passing game. Get him the ball in space and it even may open up the running lanes for him.
Fourth Quarter
Mike Evans scored two garbage-time touchdowns in the fourth quarter.
Thornhill plays outside. 2 man coverage bust? Guess Watts was looking at Bradys eyes pic.twitter.com/A9hMSsovpo

— Xavier Dixon (@GOOBVILLE) February 5, 2021
And the first touchdown was a clear miscommunication between the corner and safety. Charvius Ward thought it was a 2-Man Under call where its man-to-man across the board and the safeties are to help over-top and outside. But Armani Watts got caught looking at Brady's eyes as Ward was beaten off the line.
With almost 13 minutes remaining in the game and the Buccaneers cutting the lead to ten. Eric Bieniemy called a semi-aggressive, nine-play drive that ended up taking six minutes and 23 seconds off the clock.
Offensive holding penalties held back the offense. Kansas City was near the 50-yard line and it honestly felt like they could score again.
Chiefs running Wasp vs bucs pic.twitter.com/i9wggMVWGi

— Xavier Dixon (@GOOBVILLE) February 5, 2021
The Chiefs ran the infamous Super Bowl play Wasp and almost connected on third and 27.
Top Ten Plays of the Andy Reid Era: #2 Jet Chip Wasp
Chiefs needed a spark.11 step drop to buy time and let Hill get open down the field. SF in Zone playing the first-down marker with the High safety playing the deep ball when Hill broke his route off. @ArrowheadLive cnt. pic.twitter.com/P3wqLcKalU

— Caleb James (@CJScoobs) April 12, 2020
Tampa Bay got the ball with six minutes and 21 seconds left and it would be their last possession of the game. The Buccaneers scored a touchdown on a ten-play drive(most plays of any drive for the whole game for the Bucs) hitting Mike Evans for the touchdown.
Kansas City Chiefs vs Tampa Bay Buccaneers Week 12 Film Review
Patrick Mahomes and the Kansas City Chiefs play better under pressure. Bieniemy called great plays, but Mahomes makes everything look better. Mahomes was able to evade the pocket to scramble and be swift when stepping up in the pocket and making throws.
The Chiefs ran seven plays and a kneel to end the game. Patrick Mahomes showed how dynamic he was, the Tampa Bay defense didn't quit. The pass-rush got to Mahomes some but he just fought through it.
What the Fourth Quarter Means and Conclusion
The fourth quarter showed that Tampa Bay will have to come out better in every facet of the game. No one wants to lose by a knee, so I know that game burned for Tom Brady. With Brady almost having a regular-season amount of Super Bowl games played.
Brady should be more than comfortable going into the Super Bowl, he can keep up with the Chiefs scoring accompanied by his talented offense. Leonard Fournette, Le'Veon Bell, Scotty Miller, and even Tyler Johnson are names you should look out for Sunday.
I mention those names because Tom Brady has built his career off performing with guys that don't always the biggest names. Brady will have to bring the best out of those players to give the Kansas City Chiefs secondary a real test.
With two potential offensive line starters for the chiefs to be sidelined, the Buccaneer defensive line should be more than confident especially with Vita Vea cleared of the injury report. Jason-Pierre-Paul and Shaq Barrett will have to win their matches up consistently to rattle Mahomes.
Main Photo: