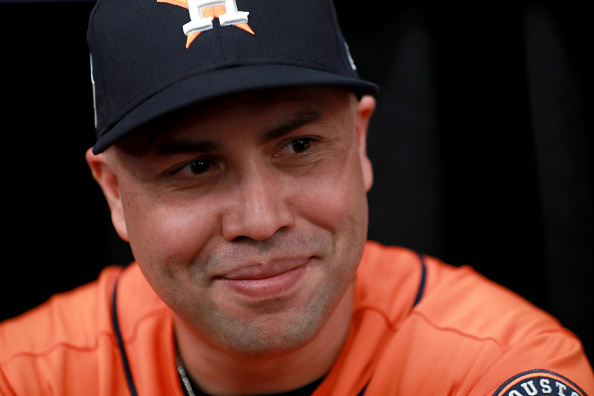 At the end of the 2017 MLB season, outfielder Carlos Beltran decided it was time to hang up the spikes and retire from Major League Baseball. Beltran went out on top, however as in his twentieth season in the league the Puerto Rican native won his first and only World Series. Let's take a look at how he got here.
MLB Draft/ Early Career
Carlos Ivan Beltran was selected in the second round of the 1995 Major League Baseball draft by the Kansas City Royals.
Beltran spent three season in the Royals minor league system, hitting a combined .272 with 42 home runs and 192 RBI's.
Kansas City Royals
On September 14, 1998, Beltran made his big league debut. He lasted 15 games with the Royals, hitting .276 with sixteen hits, five doubles, three triples, and seven RBI's.
Beltran won a starting job out of camp in 1999, and was hitting leadoff and playing everyday in centerfield. The 22 year old won Rookie of the Year that year, slugging 27 doubles and 22 home runs, driving in 108 runs, and stealing 27 bases. Defensively, Beltran led the league in assists, putouts, and defensive games as a centerfielder.
In 2000, Beltran had an injury plagued season, appearing in only 98 games and hitting .247. However, in 2001 the switch hitting slugger picked up the slack with a .306 season with 32 doubles, 12 triples, 24 home runs, 31 stolen bases, and 101 RBI's.
Beltran finished the 2003 season ninth in AL MVP voting after yet another stellar season. Hitting in the middle of the Royals lineup, Beltran hit .307 with 160 hits, 14 doubles, 10 triples, 26 home runs, 41 stolen bases, and 100 RBI's.
Houston Astros – First Stint
On June 2004, the Royals traded Beltran to the Houston Astros as part of a three team deal. Though Beltran was still producing at a high level – .278 BA, 15 HR, 51 RBI in 69 games – the inability to negotiate a longterm deal led to the departure.
Beltran made his first career All-Star game in 2004. Although at first he was ineligible to play due to the trade, Beltran eventually replaced injured Ken Griffey Jr. on the NL roster.
In his first stint with the Astros, Beltran appeared in 90 games and hit .258 with 17 doubles, 23 home runs, and 51 RBI's. Houston made the playoffs that year, and Beltran was on a tear. He hit .435 with 14 RBI's and 21 runs scored in 12 games. Beltran tied Barry Bonds single postseason record with eight home runs, as he hit at least one home runs in a five consecutive games – another MLB postseason record.
New York Mets
In the 2004 offseason, the New York Mets signed Beltran to a seven-year $119-million contract, the largest in franchise history at the time. Beltran played some of his best baseball as a Met. He was an All Star in six of the seven seasons he spent in Queens.
Due to injuries, Beltran put up career low numbers in his first season in New York. In 152 games, he had only 16 home runs, 17 stolen bases, 78 RBI's and was hitting .266.
Determined to prove he was worth the money, Beltran went on a tear during the Mets successful 2006 season. Beltran, along with five of his teammates, made his third career All Star game.
Carlos finished the season fourth in MVP voting, only behind Ryan Howard, Albert Pujols, and Lance Berkman. Beltran tied Todd Hundley for the Mets' single season record with 41 home runs. He also set the Mets' single season record for runs scored with 127. Beltran received his first Gold Glove along with his first Silver Slugger, and the Fielding Bible Award as the top centerfielder in the league.
2006 Postseason
Beltran's most famous and dreadful moment as a Met came in that 2006 postseason. In Game 7 of the NLCS against the St. Louis Cardinals, Beltran struck out looking on a filthy Adam Wainwright curveball with the bases loaded and two outs in the ninth inning, ending the Mets season.
Beltran again was playing at the top of his game in the 2007 and 2008 seasons. He finished in the Top-20 in MVP voting in both seasons. He was also named to his fourth All Star game, and took home another Silver Slugger and two more Gold Glove awards.
Beltran appeared in only 81 games during the 2010 season due to knee surgery. However, he finished third in All Star voting and hit .325 with 22 doubles, 10 home runs, and 48 RBI's.
Around the 2011 trade deadline, Beltran waived his no trade clause and was traded to the San Fransisco Giants in exchange for Zack Wheeler. He appeared in 44 games as a Giant, and hit his 300th home run of his career and finished the season 20th in MVP voting.
St. Louis Cardinals
Entering his age 35 season, Beltran signed a two year deal with the St. Louis Cardinals. In his fifteenth year in the league, Beltran accomplished some major milestones.
On June 15, Beltran stole second base, becoming the first switch hitter in MLB history to have a 300 career home runs and stolen bases. Two weeks later, he picked up his 2,000th career hit, becoming the 270th player in MLB history to do so. The very next day, Beltran picked up his 400th career double.
With the Cardinals, Beltran returned to the postseason for the first time since 2006. Beltran played a key role in St.Louis' NLDS series win, hitting .444 with a pair of home runs and four RBI's. The Cardinals fell in Game 7 of the NLCS, with no fault to Beltran as he hit .300 with two RBI's.
The Cardinals returned to the postseason again in 2013. After defeating the Dodgers in a six game NLCS, Beltran advanced to the first World Series of his career. Beltran injured himself in Game 1 of the series, however he went on to play in all six games. Beltran hit .294 with three RBI's, despite falling to the Red Sox 4-2 in a six game series.
New York Yankees
Beltran returned to New York for the 2014, 2015 and 2016 season, this time wearing Yankees pinstripes. Beltran showed some signs of slowing down in his first season in the Bronx as he only hit .233 with 15 home runs and 23 doubles in 109 games.
With sky-high trade value, the Yankees unloaded Beltran at the 2016 trade deadline, sending him to the contending Texas Rangers. At the time, Beltran was hitting .304 with 21 doubles, 22 home runs, and 64 RBI's.
With the Rangers, Beltran added a veteran presence and provided some pop with seven home runs and a .280 batting average.
Houston Astros – Second Stint
In his twentieth and final season in the league, Beltran signed a one year deal to return to the young and talented Houston Astros. Beltran DH'ed most of the time, as their wasn't a spot for the 40-year old in the outfield.
Though, Beltran did serve as a tremendous mentor for younger guys like Alex Bregman, Carlos Correa, and Jose Altuve. In 129 games, Beltran hit .231 with 29 doubles, 14 home runs, and 51 RBI's.
With a very talented roster, Houston won the AL West and advanced to the playoffs. Houston defeated the Red Sox in five games in the ALDS. In a thrilling seven game ALCS, Astros defeated the New York Yankees. Beltran's leadership helped keep the team composed after falling behind 3-2 in the series.
Then in another classic seven game series for the ages, the Astros defeated the Dodgers, taking home their first World Series berth in franchise history. Beltran's words of wisdom again helped keep the team composed when facing a 3-2 series deficit.
2,723 hits, 565 doubles, 435 home runs, 1,587 RBI's, 312 stolen bases, and ONE World Series championship.
Congratulations to Carlos Beltran on an outstanding 20-year MLB career, thanks for the memories, we'll see you in Cooperstown soon!
Main Photo: