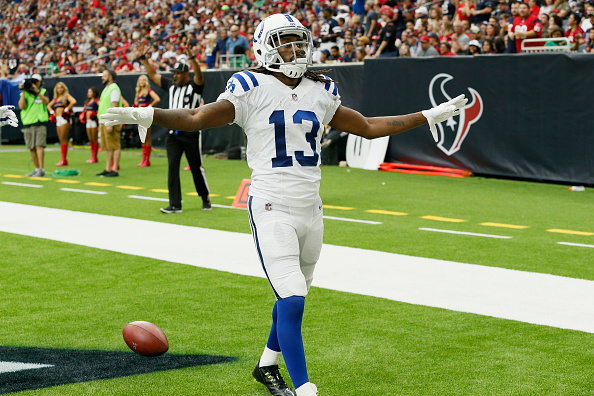 The NFL is now officially into the second half of the season and playoff contention and end of the year awards are becoming the highest talking points. Week 9 came and went but was perhaps the most exiting week of football in 2017. Despite six teams having byes, NFL action only seems to be ramping up. Here are five winners from the NFL's ninth week.
Five NFL Week 9 Winners
Carson Wentz Throws His Name In For MVP
Carson Wentz continued his red hot streak — throwing for four touchdown passes against one of the NFL's top defensive units.
This effort gave Wentz a league leading 23 touchdown tosses on the year, 17 of those in his last five games. Wentz went 15 for 27 with 199 yards through the air — including a laser accurate 27 yard touchdown strike to tight end Trey Burton.
Wentz and the Eagles dismantled the Denver Broncos for 419 yards of total offense, and continued steam rolling through their opposition this season with a 51-23 victory. With a well balanced roster, and a peaking Wentz, the Eagles looked primed to make a deep playoff run.
Wentz has looked fantastic in the pocket this season, and is reminiscent of a young Ben Roethlisberger; creating plays out of nothing with great pocket awareness and escapability. This is especially impressive considering the injury to offensive lineman Jason Peters. The All-Pro left tackle was put on injured reserve last week, and Wentz has had significantly less protection on his blindside.
If he wasn't already the front-runner for MVP, he certainly has a case now. Make sure to grab tickets to board the Wentz Wagon while you can — seats are going fast.
Adrian Peterson Showing He's Still Got It
Adrian Peterson had 81 rushing yards through four games with the New Orleans Saints. He has now rushed for 314 yards in his last three games since joining the Arizona Cardinals.
Peterson was rarely used in a running back rotation in New Orleans that featured rookie sensation Alvin Kamara and incumbent starter Mark Ingram. Peterson never really saw eye-to-eye with head coach Sean Payton, and was quickly a topic of trade discussions after signing a two-year deal with the Saints.
Fast forward to week five of the NFL season. The Arizona Cardinals traded a conditional sixth-round pick to Saints to acquire Peterson's service. The Cardinals were hoping Peterson could inject some life into the ground game after their franchise running back David Johnson was put on injured reserve — and boy did he.
Peterson burst on the scene with 134 rushing yards against Tampa Bay in week six, and gashed the 49ers for 159 yards on the ground on Sunday. Peterson is proving that he can still put an offense on his back at age 32, and looks to have much more left in his tank.
Doubters — myself included — we were awfully wrong. Peterson is on a mission for vengeance against those who did not believe in him.
Jared Goff Looks Great
Jared Goff carved up the New York Giants for four touchdown passes on Sunday and is showing everyone why the Rams selected him with the first overall pick in the 2016 NFL Draft.
Under Head Coach Sean McVay's new offensive scheme, Goff has thrown 13 touchdowns this season — a mark that is already more than double what he threw in seven games last season. Goff went 14 of 22 for 311 yards on Sunday, including a magical improvisational throw on third and two to find tight end Tyler Higbee in the endzone.
Goff is looking like he can command a huddle, and is coming to grasp McVay's offense more-and-more with each coming week. The Rams are averaging 32.9 points a game this season, and Goff is in the driver's seat.
A lot of people wrote off Goff last season after a historically bad rookie campaing — no I'm serious — it was historically bad. Thus far, Goff has rebounded from it, and looks like he was worthy of the number one pick in last year's draft.
The Rams are sitting at 6-2, and are in sole possession of the NFC West and Goff is a big component to their success.
Father Time Can Not Best Dwight Freeney
Is Dwight Freeney a cyborg?
Freeney had two sacks, and two quarterback hits against a leaky Washington offensive line on Sunday. Crazy to think this is year 16 for the defensive end, and he's still producing numbers.
Freeney was a bright spot for the Seahawks on what was a rather disappointing day, abusing Washington's offensive line on a day stalwart tackle Trent Williams was inactive. The veteran looked like he still had several years of football left, providing constant pressure every time he was inserted into the game.
The Seahawks do not need Freeney to be the Pro-Bowl caliber pass rusher he was with the Indianapolis Colts in his heyday — just a solid rotational piece on one of the NFL's most deep defensive line rotations.
With limited action and play on obvious passing situations, Freeney is providing the Seahawks with just the pass rush help they were looking for after signing him to replace the injured Cliff Avril.
Someone come get me when Freeney retires, I don't think it'll be anytime soon. In fact, I might be dead before that happens — seriously.
T.Y. Hilton is Still Balling Out
Hooray — T.Y. Hilton is getting the ball.
Hilton has been hit or miss all season. With quarterback Andrew Luck missing the entire season, Hilton who had a strong rapport with Luck, found himself subject to an inconsistent amount of targets from quarterback Jacoby Brissett.
Through eight weeks, Hilton only had two games of 100 yards receiving or more. On Sunday, Hilton exploded for 175 yards receiving to go with two touchdown grabs. Hilton looked more in sync with Brissett, especially on his 80 yard catch-and-run touchdown.
The Colt's offense has often looked anemic this season without their franchise quarterback behind center. However, they also seemed to have forgotten that they had a game changing offensive weapon split out wide.
In the first eight weeks of the season, Hilton was only averaging a pedestrian 3.6 receptions per contest — a mediocre stat line for a number one option. Hilton was frustrated to the point of publicly pining for more touches.
Well T.Y., looks like you got your wish.
P.S., Chuck Pagano, make sure you keep on feeding Hilton. Good things will probably happen.
Image Credit:
Embed from Getty Images