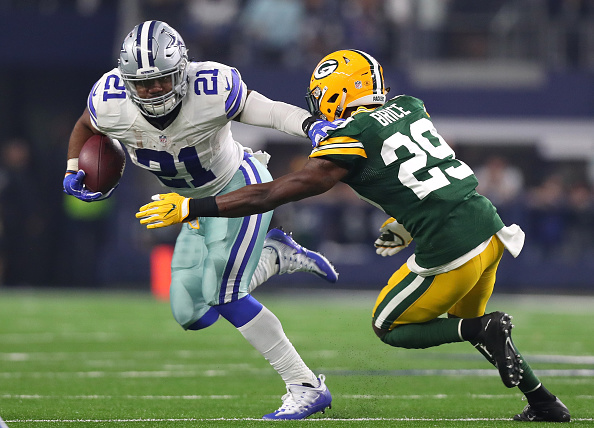 The NFL regular season is just weeks away and one of the biggest stories of the offseason have been the running backs. From Leonard Fournette being picked with the no.4 overall pick, the return of Marshawn Lynch, and the suspension of Ezekiel Elliott, running back seems to be the most intriguing but undervalued position in pro football today. Le'Veon Bell has been attempting to make a change as he holds out from camp for hopes of a more suitable contract, but Pittsburgh has not moved. Even though Bell would become the leagues highest paid RB by signing his franchise tag, but he does not feel $12.12 million is enough.
The value of running backs in the NFL is down played but they are still franchise cornerstones. When an NFL fan thinks of any team, they will say to themselves "who is their starting running back?". The position is making a return to relevance and before you know it, they will once again be given the title of superstars.
Top 5 Running Back of 2017
Honorable Mention: Adrian Peterson – New Orleans Saints
This may come as a shock to a lot of people but Peterson still has the potential to be an elite back. Why? Because he is ADRIAN PETERSON.
Peterson has been one of the model backs of the last decade and even if he is now 32 years-old, he could be one of the few RBs to heavily defy father time. Not to mention the amount of rest he had last season. After a torn meniscus put a giant hole in Peterson's 2016 campaign, the running back was limited to three games. Those games were not very impressive either. On 37 total attempts in 2016, Peterson was limited to a minuscule 1.9 yards/carry and no TDs. Not a very convincing case for a top-tier running back.
However, last season could become just an outlier in his stellar career.
When AP is coming off of extended rest, he find a new part of himself. In 2012, after sustaining a torn ACL during week 16 of the previous year, Peterson went on an absolute tear. It was as if the time spent off of the field only fuelled him to reach his full potential. In that season, Peterson had one the best seasons by any NFL running back in history. He would start every game, punch in 12 scores and finish eight yards shy of the single season rushing record. Then in 2014 after being suspended for all but one game in 2013, he would come back and lead the league in rushing yards and rushing touchdowns.
The case for Peterson certainly is an odd one, but with the incredible parity every year in football, it is hard to put the notion of being a top-back past the veteran.
5. Jay Ajayi – Miami Dolphins
Of the top five backs, the fifth spot is easily the most debatable. Arguments could be made for upwards of five running backs but Ajayi has the strongest case.
As a second year RB in 2016 Ajayi was not expected to be the starting running back coming into training camp. Infact, Ajayi did not even get his first start until week 5. In his first game as a starter, he would compile a solid 13 carries and rush for 42 yards plus a score. A solid start for a young back, but in the following week, Ajayi cemented his job. In a game that no one expected the Dolphins to win, the young running back put the team on his shoulders against a heavily favoured Pittsburgh Steelers team. Ajayi broke out for a crazy 204 yard game, as he ran all over Pittsburgh's defence. He had quite the encore the following week when he had an equally impressive 214 rushing yards against the rival Bills.
The insane games aside, Ajayi is about as determined a runner as there is. At six-foot, 223 lbs, Ajayi strikes fear into any defender when he runs at them but he is more than just a strong back. Ajayi is the combination of pure hard work and elusiveness that any offence would love to have. Watching Ajayi meet defenders head on and run through them but also avoid tackles is a skill set that can be paralleled by few backs. His ability to have huge games put him 4th in total yards in 2016 despite not starting a game until week 5. Ajayi lead all running backs in forced missed tackles last season and should do more of the same now that he is another year older.
Everyone knows who McCoy is but he has quietly become one of the NFL's most consistent running backs. Not since his rookie year has McCoy had a season where he has rushed for less than 800 yards and has only had three seasons with less than 1000 yards. In those three seasons McCoy never started more than 12 games. With all that in mind, 2016 was one of – if not his best – seasons to date.
2016 was McCoy's second year as a member of the Bills and he stepped up in a big way. McCoy increased his YPC by a full yard (4.4 in 2015 to 5.4); a stat good enough to lead RBs with more than six starts. Not only that but he scored nine more TDs than in his first year with the Bills. What makes McCoy so special is his mix of speed and agility. McCoy may be the NFL's most elusive running back and can make defenders look silly on a daily basis. His jukes can break defenders ankles and he has the speed to exploit and burst through any opening.
McCoy may not have age on his side as he is set to turn 30 at the beginning of next season, but do not look for him to slow down. The Bills will be relying on him to have another great season in 2017 and will his chances on every down.
As the no.4 overall selection in the 2016 NFL Draft, Zeke spent no time waiting to make an impact on the big leagues. Touted as the best running back prospect since Adrian Peterson, the expectations were sky high for the former Ohio State Buckeye.
Even though his first game as a Cowboy did not go as smoothly as he may have hoped, he ramped his production up very quickly. After Dallas's week two win in Washington, Elliott put up four straight games of 130+ yards and would never have a game with under 80 yards all season. All those rushing yards would ascend him to the top of the NFL rushing leaders as he became the first rookie since 1999 to lead the league in rushing yards. That stat alone thrust him into MVP conversations around the league and if not for his impressive, teammate Dak Prescott, a sure fire Rookie of The Year winner.
Some of Elliott's success can be attributed to his stellar offensive-line but there is no denying his talent. Zeke is a perfect fit as a downhill runner in Dallas and should continue to have success as long as he is on the field. He is the perfect mix of speed, technique and agility and at the pace he is setting, could become one of the best backs the league has ever seen.
2. Le'Veon Bell – Pittsburgh Steelers
Over just four years in the NFL, Bell has become something very special. He has a weird running style that coaches seem to hate but players can not stop. What makes his style so odd is Bell's incredible patience. When Bell has the ball in his hands, he waits so long to make his initial cut that it almost looks like he is jogging behind his o-line. But this style of running is what has made Le'Veon so effective over his career. After strolling in behind his offensive line, he has the agility and burst to find holes where none exist and explode through them.
Another dimension Bell possesses is the ability to lineup anywhere on the field. Bell carries the ball as much as an every-down back but is also targeted like a no.2 wide receiver. This incredibly diverse skill set makes him a threat everywhere he lines up.
Now going into his fifth NFL season, Bell has become the most impactful running back in the league when he is on the field; every year he almost puts up video game numbers. In 2016 he totalled 1268 rushing yards and added another 616 through the air. Those totals were good enough for 3rd most of RB or receiver in all-purpose yards. . All that in just 12 games.
The numbers really do say it all for Le'Veon but if he can not stay on the field he will never be able to achieve his full potential. 2017 will be the first season since 2014 that he will go into the regular season without a suspension. If Le'Veon is able to stay on the field for all 16 games this season he could yield results unlike any running back before him.
The Reason that Johnson reigns over every other running back in the NFL is that he does absolutely everything that is asked of him. Since breaking into the league late in 2015, Johnson has proved that he can do anything on offence and more.
Picked in the 3rd round of 2015, Johnson was originally brought in to provide depth in the back field and return kicks. He put those return skills on display early when he returned a kick 108 yards in just his second NFL game. Johnson was obviously an incredible athlete but did not earn his first start until week 13 of his rookie year. In those last five starts however, he was able to put up an all-purpose yards average of 131.6 yards per game. Players then took notice of Johnson going into 2016 but he was still able to dominate. Johnson would lead the league in all-purpose yards as a sophomore and tack on 20 TDs; 16 rushing and 4 receiving.
At 6'1″, 224 lbs, Johnson truly is a rare talent. His combination of size, elusiveness and agility, make him incredibly hard to take down between the tackles and in open field. Pair that with his ability to catch and he is almost impossible to take down 1-on-1. That blend is rare these days and is why Johnson will continue to be in the upper echelon of NFL running backs for a long time.
Image Credit:
Embed from Getty Images